INSIDE: Grandma Marge's Spritz Cookie recipe to make and enjoy this Christmas season. It is fun to embrace Holidays Traditions for delicious and tasty treat while making wonderful winter memories. Learn to bake this delicious Spritz Cookie recipe today.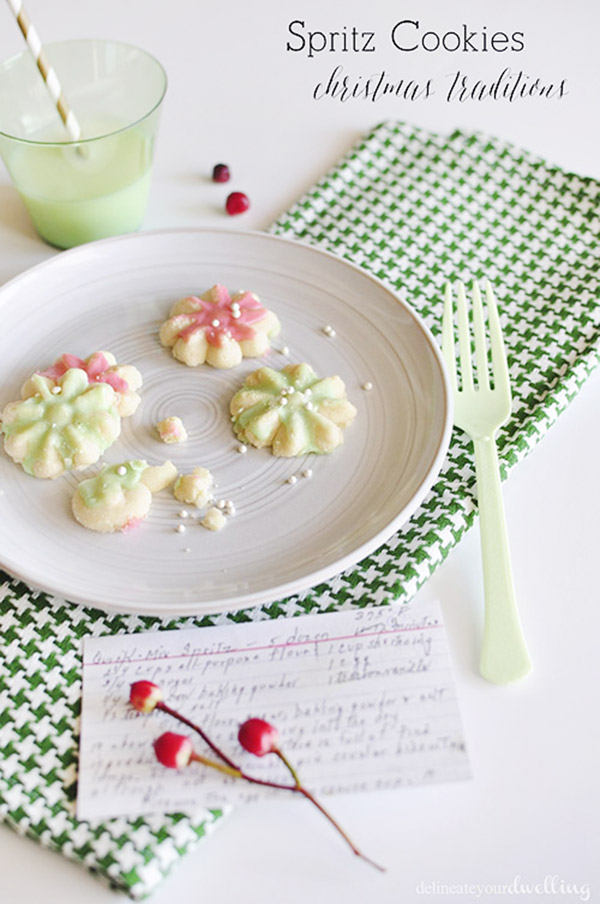 This post may contain affiliate links. See my full disclosure.
This post has been updated since it's original December 2014 publish date.
When Rachel from Like A Saturday contacted me to share one of our Christmas Traditions, I knew exactly what I wanted to share. I lost my last two grandparents early this year, first my Grandpa Don and three months later his wife, my sweet Grandma Marge. I dearly loved all my grandparents but my Grandma Marge was just a special person to me.
Today I am honored to share her Spritz Cookies, a Christmas Tradition with you all.
Grandma's Cookie Recipe
Even though we lived across the country from each other, my Grandma and I still kept in touch via hand written letters. A few years ago, I asked my Grandma Marge if she could send me a few of my most favorite holiday recipes of hers. I just love having them written out in her signature boxy lettering.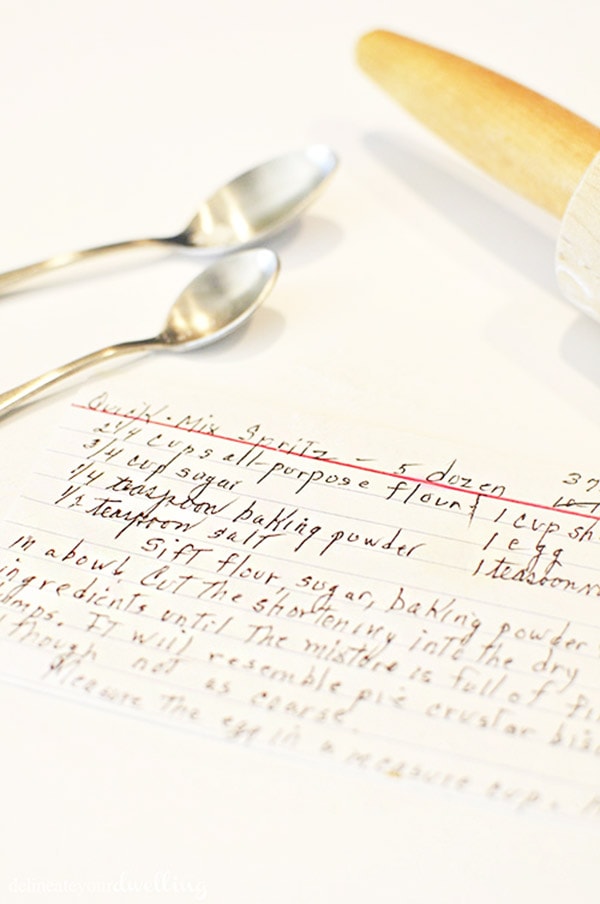 Each year at her house, she would spend days baking Christmas cookies. When we arrived to her house my sister and I would follow her to the guest room where she was storing all the cookies. My grandparents left the doors and vents closed in unused rooms so it was nice and chilly in there to store cookies, ha.
It looked like a cookie dream to my little girl eyes. She always had us carry two or three tins of cookies out to sit on the kitchen counter and I always chose to bring out her Spritz cookies!
This year I had my three year old daughter help me to make Grandma Marge's Spritz cookies. She loves baking with her mama and we even have matching aprons.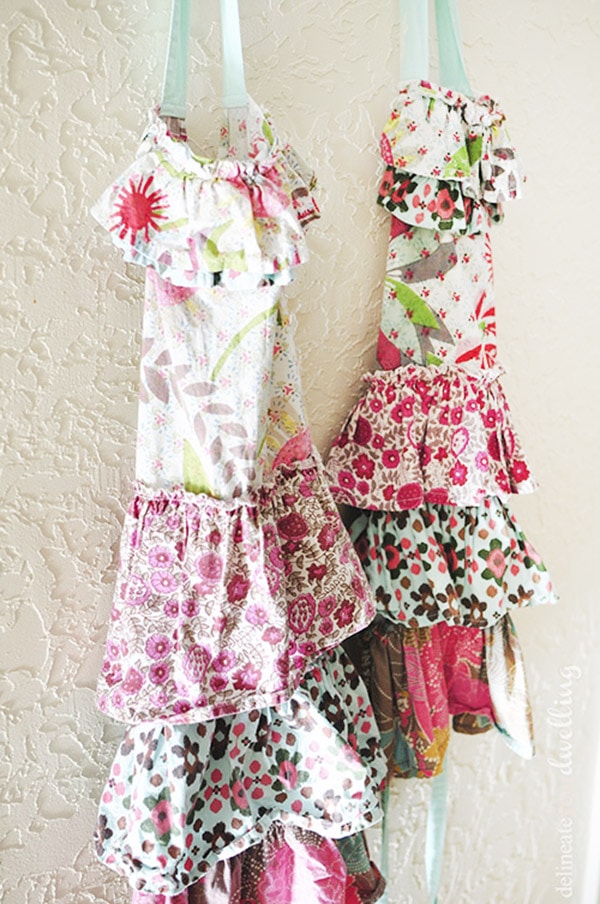 The ingredients are simple and it makes me think of my Grandma and Christmas. It makes me so happy (and just a little sad).
Why are they called Spritz cookies?
What are Spritz cookies? Well spritz is a German word (spritzen) that means to squirt. If you have made Spritz cookies before, you know they have very soft buttery cookie dough. And to give them their unique and fun shapes, you place the dough into a cookie press with various design lids and then press or squirt them onto the baking sheet.
How to make Spritz cookies
Start by sifting all the dry ingredients together into a mixing bowl. Then pour it into a Kitchen Aide. Grandma Marge always used a hand mixer, but I don't own one.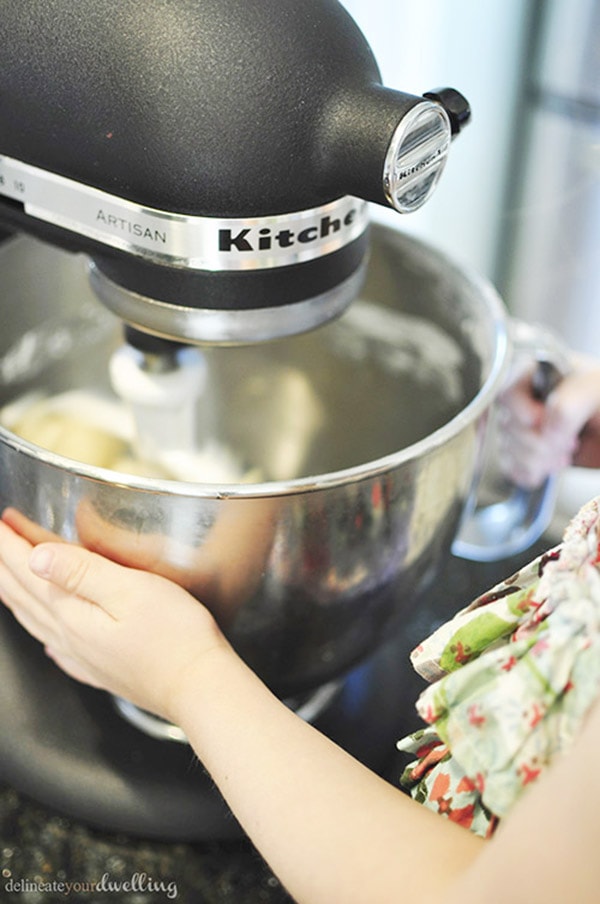 Next add in a large egg and your extracts, vanilla and almond and beat in with your dough mixture.
Using a cookie press for Spritz Cookies
My mom knew how special these cookies were to us and she bought my sister and I a Wilton cookie press a few years ago. This gives the cookies their fun Spritz shapes! I love this press, it's so easy to use and comes apart to clean and wash.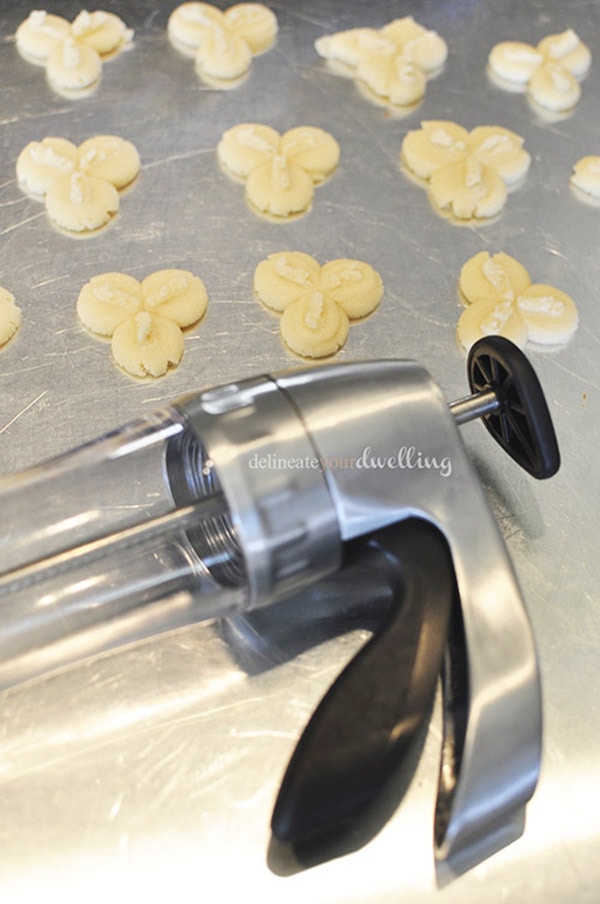 You simply fill the press clear container with your dough and select from over 12 different shapes and patterned discs. Once you select and screw in your disc, you pump the press's handle and are ready to start pressing out those cookies!
Spritz Cookie Frosting
The Spritz Cookie frosting is not a typical buttercream frosting like sugar cookies. The Spritz cookie frosting is more of a lighter glazed frosting. To make it you combine powered sugar, water, melted butter, a little vanilla extract and food coloring of your choice.
I always do a red frosting, a green frosting and a white frosting. It's fun to add sprinkles to them once you have iced the cookies as well.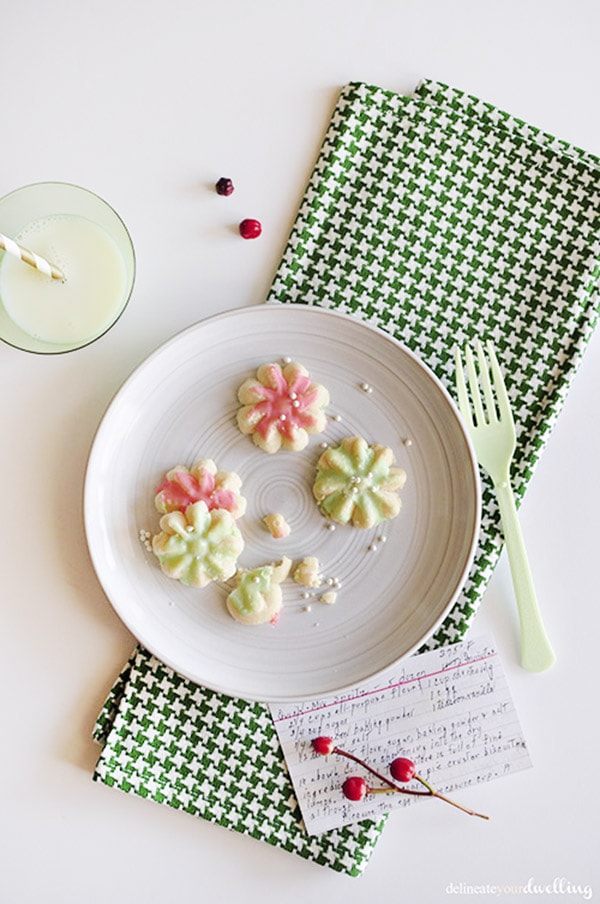 I hope my grandma is in heaven smiling down as she hears her great grand-daughter saying to me, "Mama, what does Grandma Marge say to do next for the cookies?"
Spritz Cookie Recipe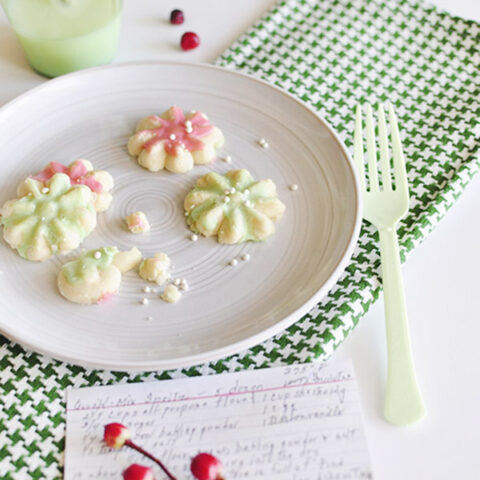 Spritz Cookies
Additional Time:
20 minutes
Total Time:
1 hour
1 minute
Grandma Marge's Spritz Cookie recipe to make and enjoy this Christmas season. It is fun to embrace Holidays Traditions for delicious and tasty treats and make wonderful winter memories.
Ingredients
Cookie
3 1/2 Cup All Purpose Flour
1 Cup Sugar
1/2 Teaspoon Baking Powder
1/2 Teaspoon Salt
1 Cup Shortening
1 Large Egg
1 Teaspoon Vanilla
1/2 Teaspoon Almond Extract
1 Tablespoon Milk
Glaze (Frosting) Ingredients
2 1/2 Cup Powdered Sugar
2 Tablespoon Water
2 Tablespoon Butter, softened
1/2 Teaspoon Vanilla
Food Coloring
Tools
Instructions
Sift flour, sugar, baking powder and salt in a bowl.
Cut the shortening into the dry ingredients until the mixture is full of fine lumps. It will resemble pie crust or biscuit mix.
Measure the egg in a measuring cup. A large egg will measure 1/4 cup. If it does not, add water to the 1/4 cup line.
Add the egg, vanilla and almond extract and beat the dough well.
Put the dough through your cookie press on an un-greased cookie sheet.
Bake at 375' F for 10-12 minutes.
Put together the glaze frosting ingredients and frost your cookies.
M-m-m-m very good! Enjoy, Grandma Marge.
Nutrition Information:
Yield:

60
Serving Size:

1
Amount Per Serving:
Calories:

75
Total Fat:

4g
Saturated Fat:

2g
Trans Fat:

0g
Unsaturated Fat:

2g
Cholesterol:

6mg
Sodium:

26mg
Carbohydrates:

9g
Fiber:

0g
Sugar:

5g
Protein:

1g
Do you have special Christmas traditions? I would love to hear them.
You can also see all the other amazing ladies participating in this Christmas Traditions blog tour here.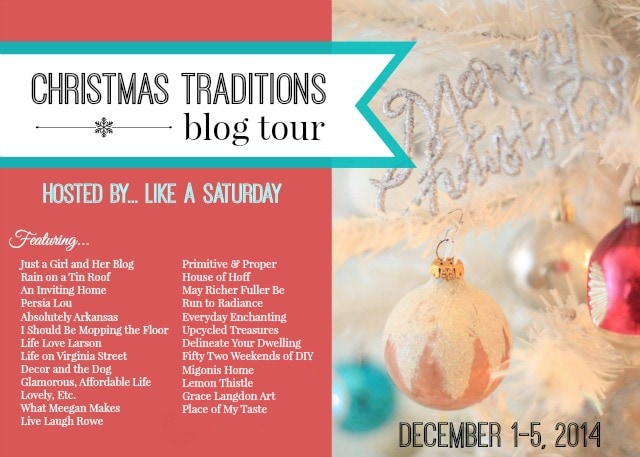 Just a Girl and Her Blog, Christmas Table
Rain on a Tin Roof, Unusual and Meaningful Ornaments
An Inviting Home, Christmas Decorating Tradition
Persia Lou, Christmas Countdown Book Advent
Place of My Taste, Advent Calendar
I should be Mopping the Floor, Jesse Tree Christmas
Life Love Larson, A real Christmas Tree
What Meegan Makes, Christmas Traditions
Live Laugh Rowe, Holiday Gift Cake Recipe
House by Hoff, Penguin Feet decor
Run to Radiance, Christmas Traditions
Delineate Your Dwelling, Spritz Cookies
Life on Virginia Street, Christmas Eve Fondue Tradition
Lemon Thistle, Deck the Halls Pickle