INSIDE : How to create a simple Sharpie Mug Art to give as a gift or just keep for yourself! Follow these step by step directions to create your own masterpiece.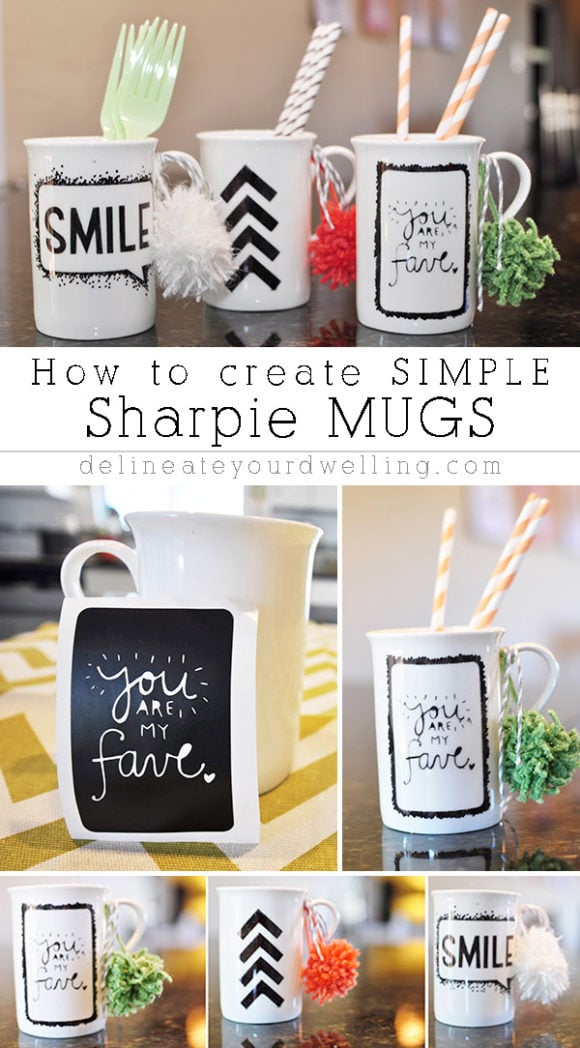 With the holidays fast approaching, my mind is in over-drive for simple but personalized gifts for friends and family. Today I am so excited to share with you one of my new favorite gift ideas,
Sharpie Mug Art
.
This is such a fun and easy gift to make. I made three in a sitting and already have more in mind to make!

This post may contain affiliate links. See full disclosure here.

What supplies do you need for Sharpie Cup art?
Mug
Sharpie, Oil Based

Oven
A bit of baker's twine
Pom Pom maker
Optional : Silhouette Portrait Printer + Black Vinyl
How do I make Sharpie Mug Art?
There are many methods you could use when starting the design of this cup project . You could free-hand a design, write out a poem, doodle, or so much more.
For my project, I used my Silhouette printer to create my designs. I came up with three different designs for my three mugs and printed them out on my black vinyl adhesive. You can see the printed out design below.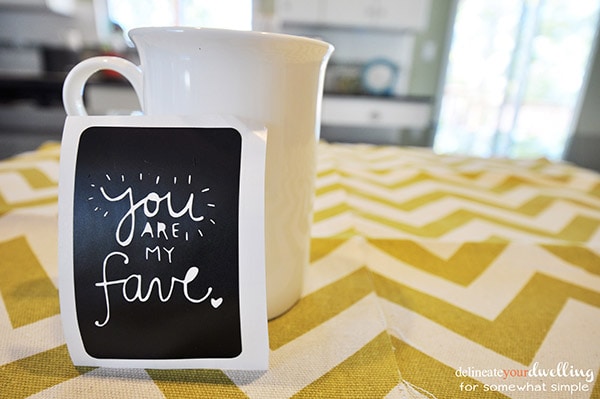 Before doing anything to the mugs, start by cleaning them with a cotton ball and rubbing alcohol to remove any grease from handling. The sharpie will not adhere as well to a dirty mug.
After I cut out the vinyl, I carefully placed it on the mug. I had to peel it off a few times to get it just right, but since it's adhesive, it easily came right up without issue.
Once you have your designs in the right spot on your mug, m

ake sure to press gently at all the edges to ensure the vinyl is adhered snuggly to the mug… you don't want sharpie to make it's way under there!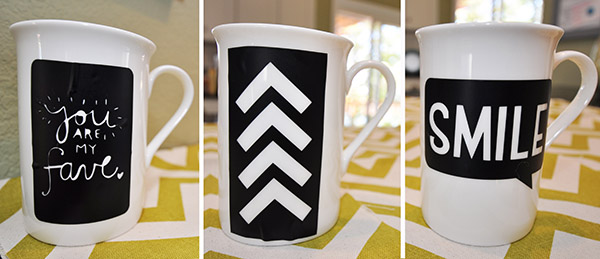 Now grab your Sharpie, Oil Based
and go to town. I learned to trace all the edges first and then fill in the designs.

After my designs were done, I carefully removed the vinyl.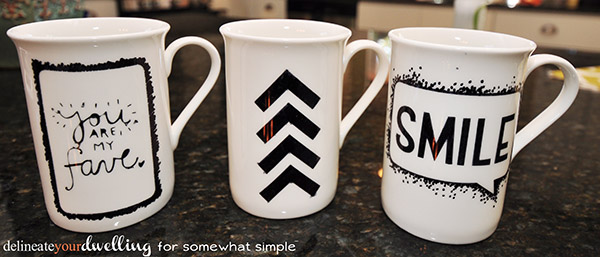 Next, place your mug on a baking sheet and put in the oven. And then set your oven for 450F. It is important to put your mug inside the oven as it slowly heats up, this will help prevent any cracking.
Once at 450F, set a timer for 30 minutes. After the 30 minutes are up, turn the oven off and allow the mugs to slowly cool. (The entire "cooking" process took me about 40-50 minutes with all the warming up, baking and then cooling down.)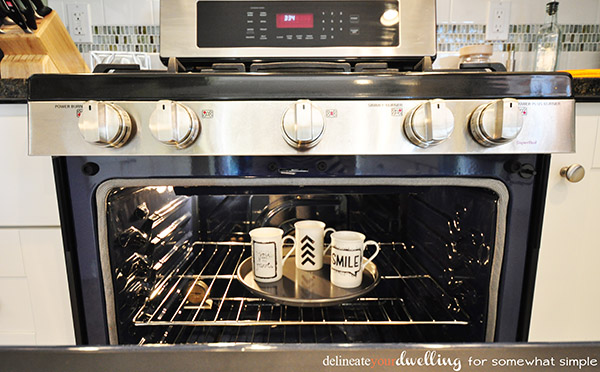 Once your mugs have cooled, you can remove them and enjoy your hand-work.

Dress up your mug with some baker's twine and a few poms. They make a perfect personalized gift for family or friends!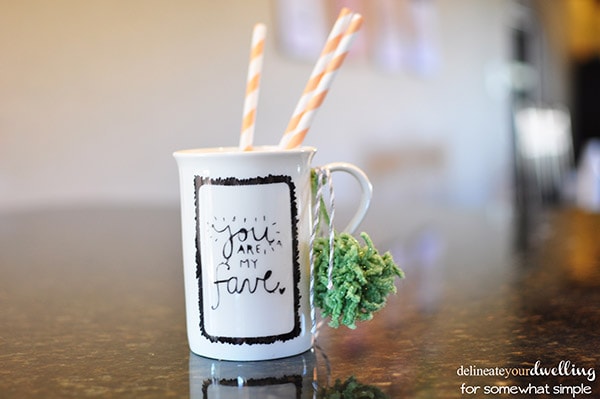 Can Sharpie Mugs be Washed in the Dishwasher?
This is a great question and I was very curious to find out if this project would actually last when washed in the dishwasher. At the above noted temperature that I used and using an oil based sharpie marker, my three mugs have been dishwasher safe. I would imagine that over time, the sharpie may start to fade a bit since it's not professionally printed on the mugs, but so far my mugs have held up very well.
Now, go grab a mug or ceramic cup and a Sharpie and get creative!