INSIDE : Be sure to check out my favorite graphic tees out there for this season. From soft peach colors to gorgeous heathered grays, there is a perfect colorful graphic t-shirt out there for you!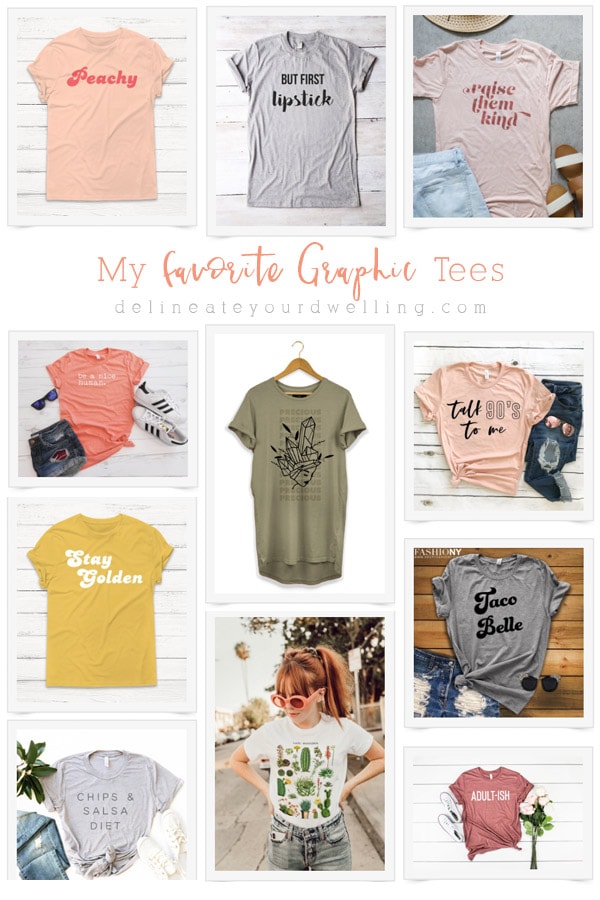 This post was updated from it's original September 2018 publish date.
There is something about cooler fall weather that makes most of us want to add in those warm layers! I love a perfect pair of jeans, my favorite tee and a cardigan. Although, I have quite a few go-to fave tee shirts, I am pretty selective about the ones I get. So, I thought today I would share some of my favorite Graphic Tees with you all!
And you can check out what's currently in My Closet right now for some other fun clothing finds.
This post may contain affiliate links. See full disclosure here.
Although, I love me some big box store shopping (Target and Old Navy, I'm looking at you!)… there is nothing quite like buying from smaller venders like on Etsy. I love being able to easily see a huge variety of tee shirts and still being able to support small business!
Here are some of my favorite new graphic tees for woman.
Graphic Tee Shirts
The greens:


The peaches:


The pinks:


The grays:


Okay, now you tell me! Am I missing any other must check out cozy graphic tees? Share them in the comments below, if so.