Modern Woodland themed Baby Shower
INSIDE : Learn how to host and setup the perfect Modern Woodland themed Baby Shower decorations, invitations and party decor for that special little soon-to-be mama!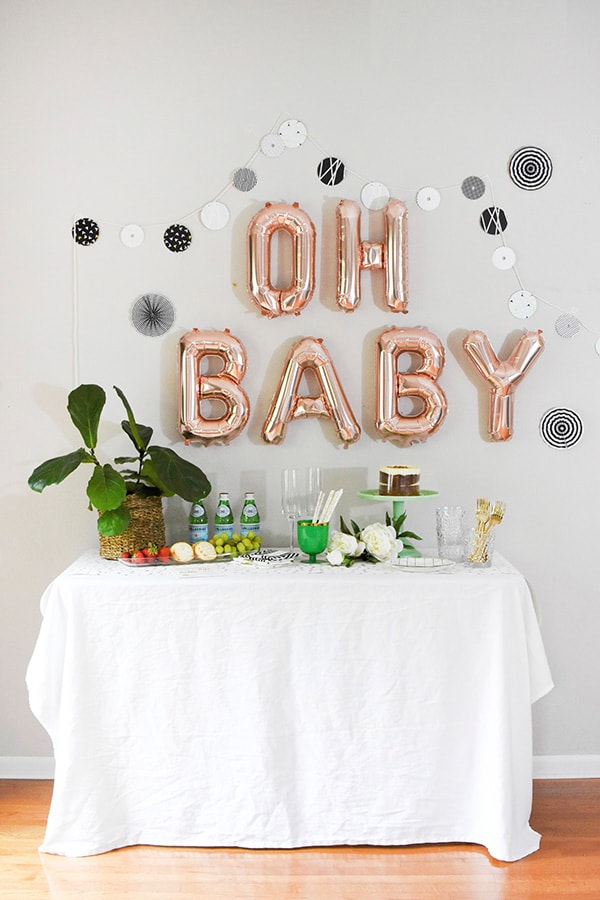 This post may contain affiliate links. See full disclosure here.
Are you even ready for this? My little sister has a baby boy in her belly! Yes, it's true. I cried when I found out. I cried when I saw her for the first time (at week 34) and I am fairly confident I will cry when I meet her little bundle of joy.
I was beyond honored to celebrate her and her soon to be babe by recently hosting a baby shower and today I am sharing her fun Modern Woodland themed Baby Shower… which I think we cried during 3x. #bigsistercanthelpit
How to host and setup the perfect Modern Woodland themed Baby Shower :
Pick a Woodland Baby Shower Invitation.
The first thing Lisa, my sister, and I did was to pick an invitation. The invitation really set the entire baby shower's overall theme and look. I partnered with Minted on this Modern Woodland themed Baby Shower, so the gorgeous invitation options were endless.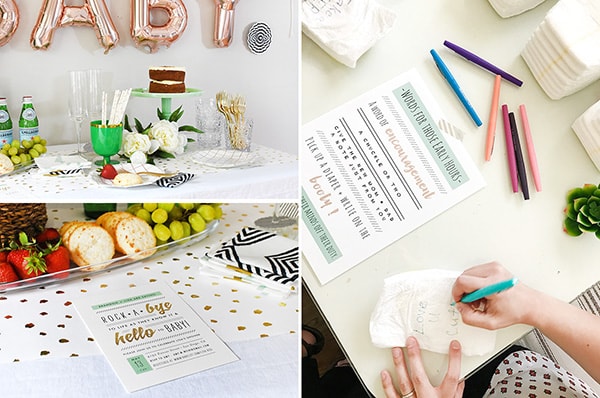 We were able to narrow it down to the Rockabye + Hello Invitation in black, white, gold and mint. The colors were pretty much set at that point and this fun baby shower started to take shape!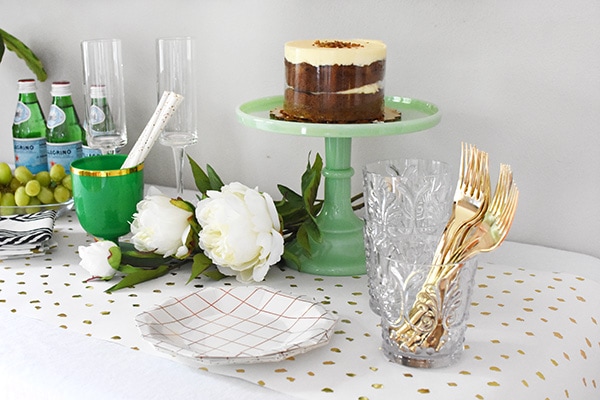 And how precious is that little pregnant sis of mine?!!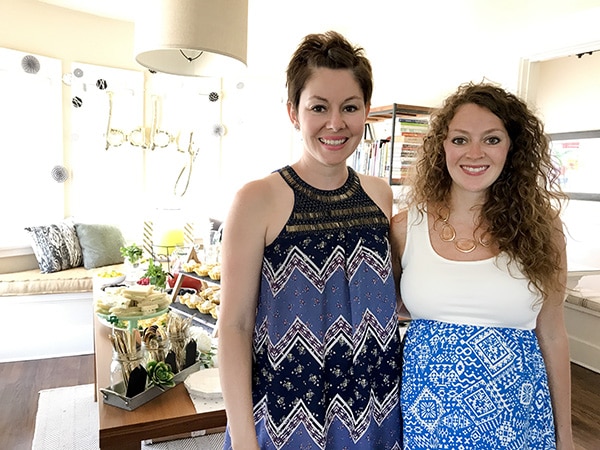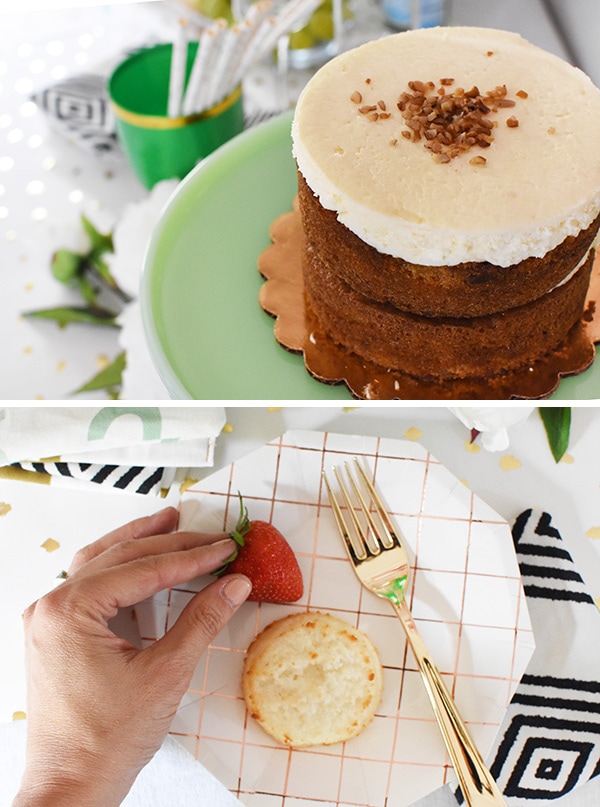 Pick your Woodland Baby Shower Party Decor.
I used Minted's Modern Mint paper party decor, as the colors and patterns went perfectly with our theme. Their garlands help bring any party to the next level. And this script baby balloon was the perfect touch to the room.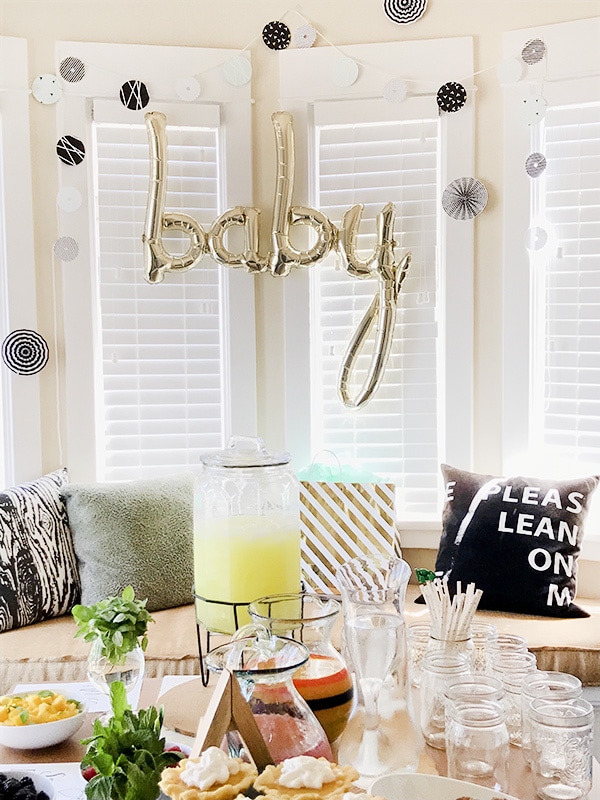 Setup a Woodland Baby Shower Drink Station.
A longtime friend, Megan of Hayesy Kitchen, helped with this beautiful drink station. She set up all the ingredients for two delicious make-your-own sangria recipes!
One was Mango with basil and white wine, while the other was a refreshing Summer Berry Sangria with white wine. Both were such a hit and looked so lovely filled with fruit and fresh herbs.
How fun are those wood slice placemats? They go so perfectly with our Modern Woodland themed.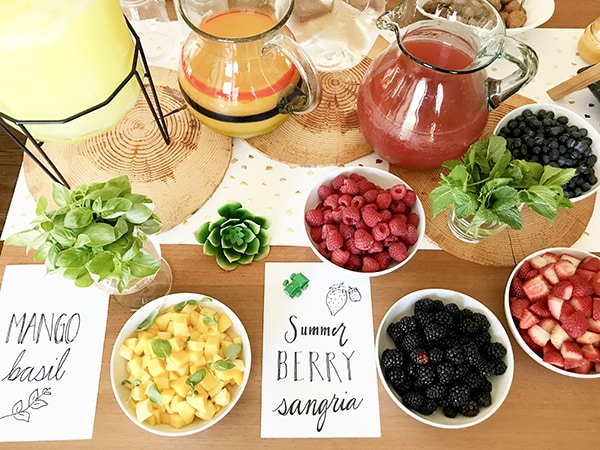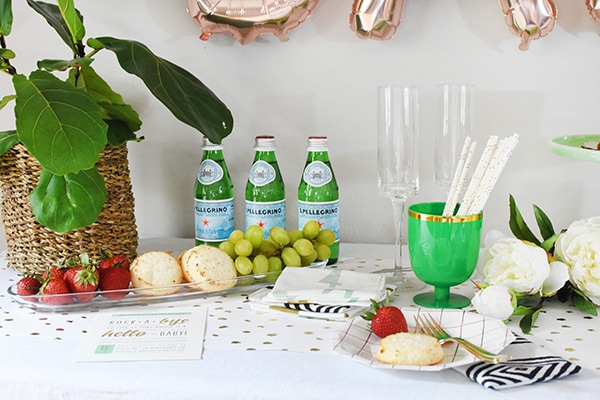 I'm loving self inflatable balloons and this OH BABY was used in another space. They are so convenient and you don't even need a balloon tank to inflate them.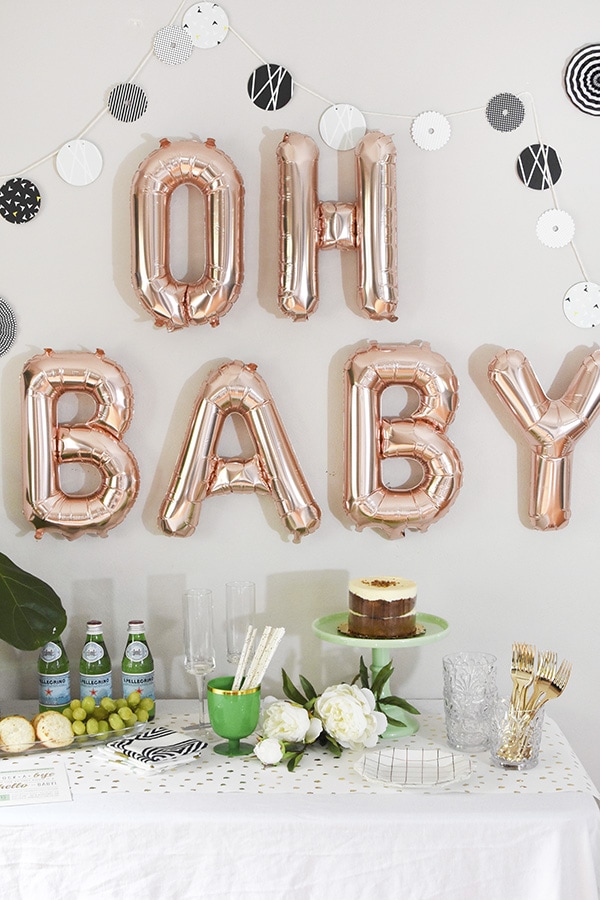 I used a paper Gold + White polka dot table runner as the base for the tables. It's such a durable heavy weight paper, that it can be saved and used again.
And I'm such a fan of Minted's fabric line that I always try to find coordinating fabrics and sew them into simple cocktail napkins. I fell deeply in love with these three fabrics – one, two, three.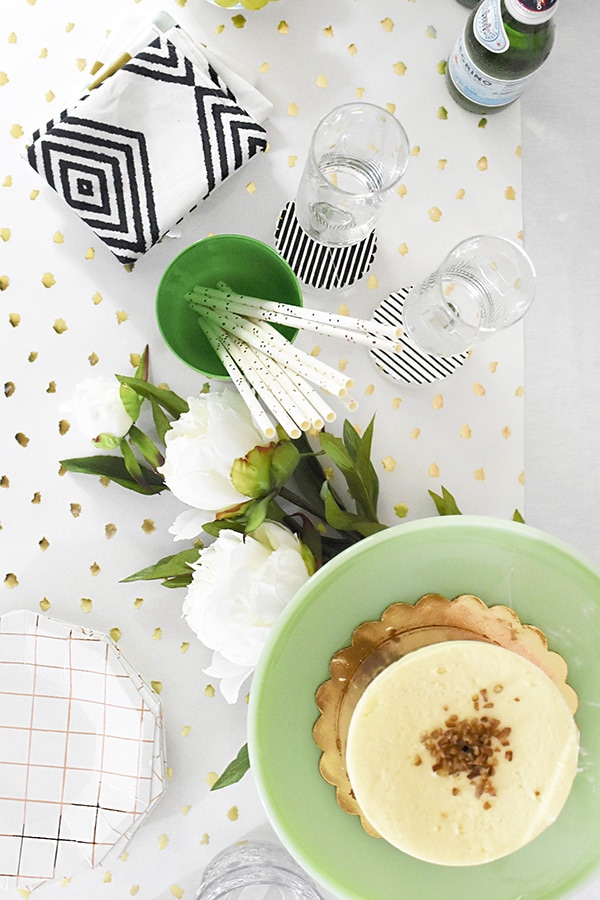 Select your delicious Woodland Baby Shower themed food.
A few of Lisa's sweet friends helped with filling our table with food! There was a vegetable tray, deviled eggs, fresh fruit, cucumber tea sandwiches and more.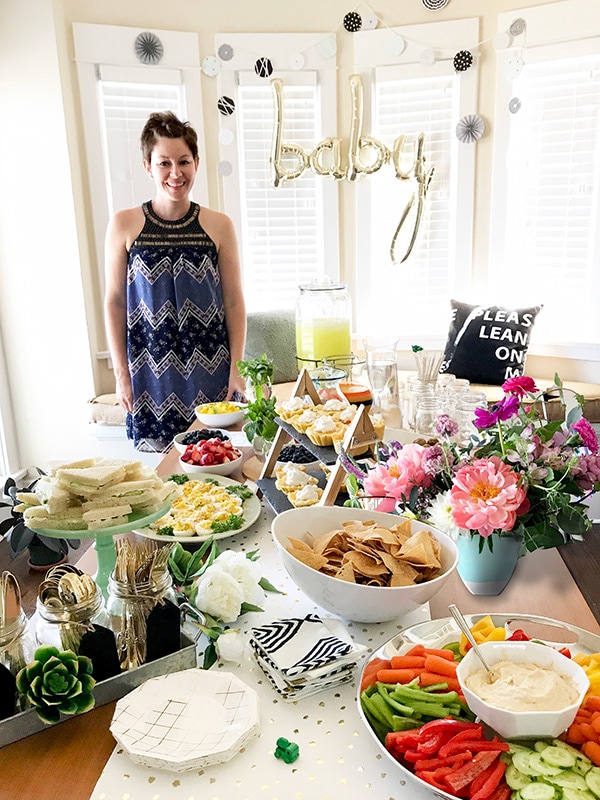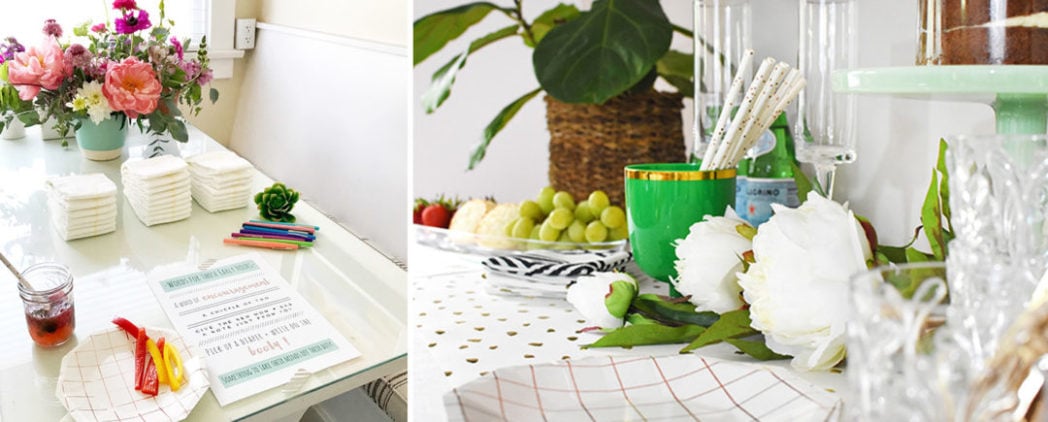 Plan for a Woodland Baby Shower activity.
We also had a diaper message station for guests to write notes of encouragement or something silly for those late night diaper changes.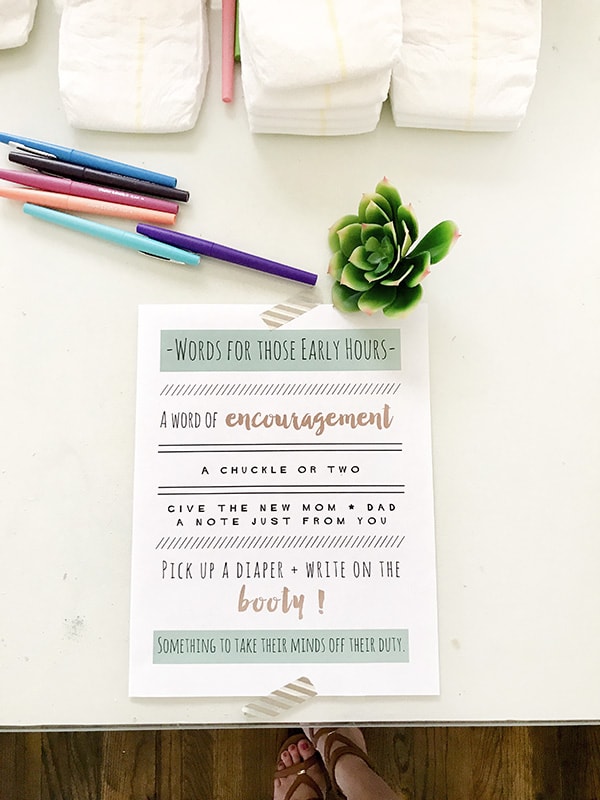 Small Grid Plates were added, along with gold plastic cutlery to our food table.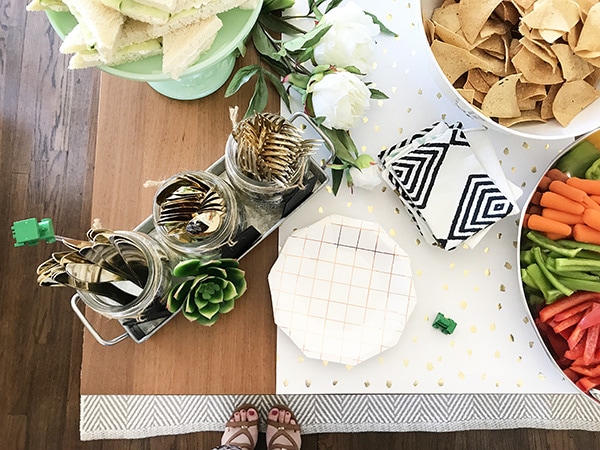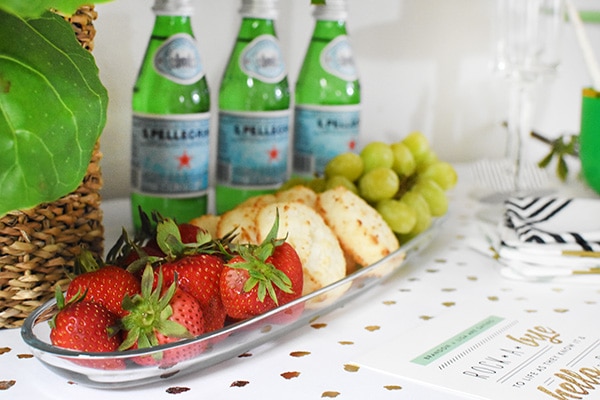 And what kind of baby shower would it be without cake! This gorgeous Mint Green Milk Glass Cake plate really set it apart.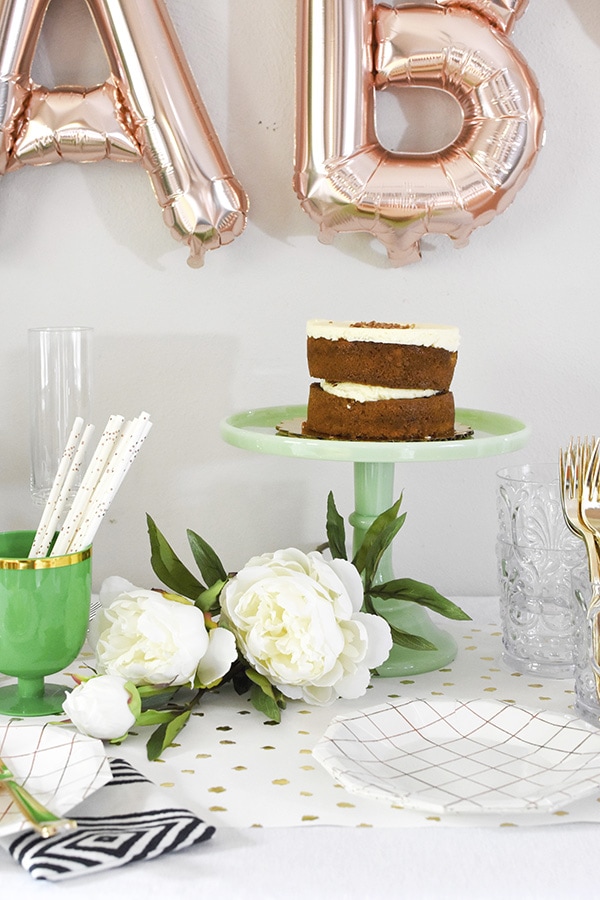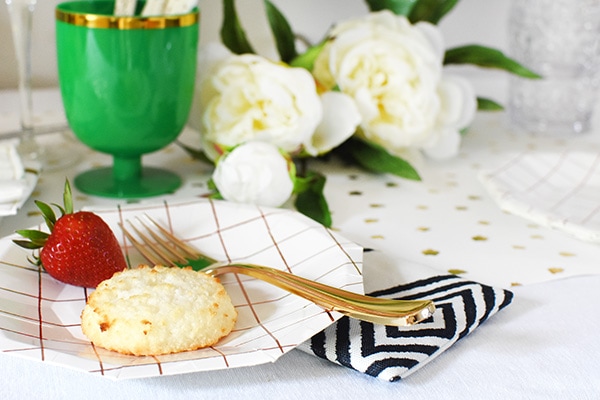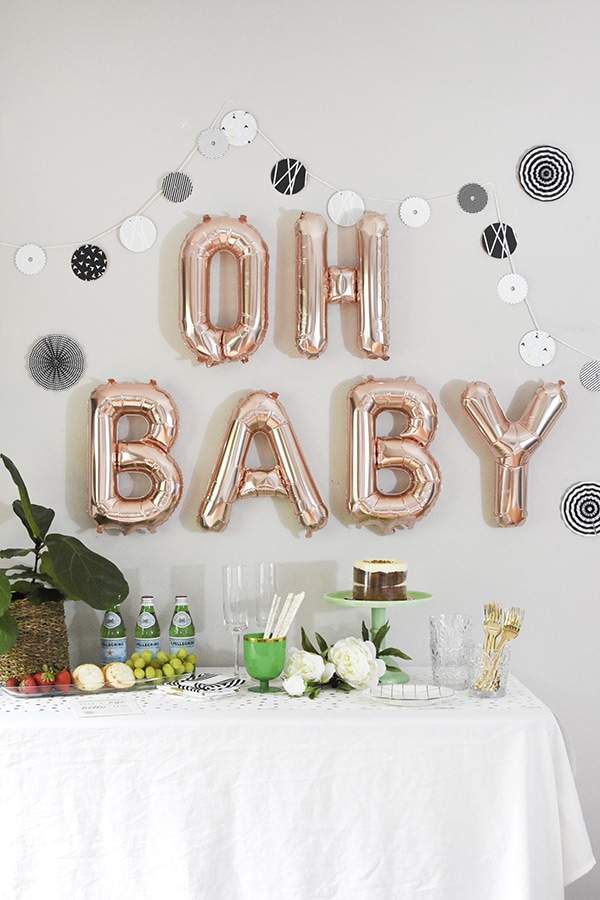 There was so much love and joy in celebration of Lisa's little babe that day. Many tears were shed (mostly by Lisa and I) but they were all happy tears!
Thank you to Minted for providing product for this wonderful occasion. All opinions are 100% mine.
To shop this fun party, check out the links below.

Looking for other fun baby shower ideas?
How to host a neutral baby shower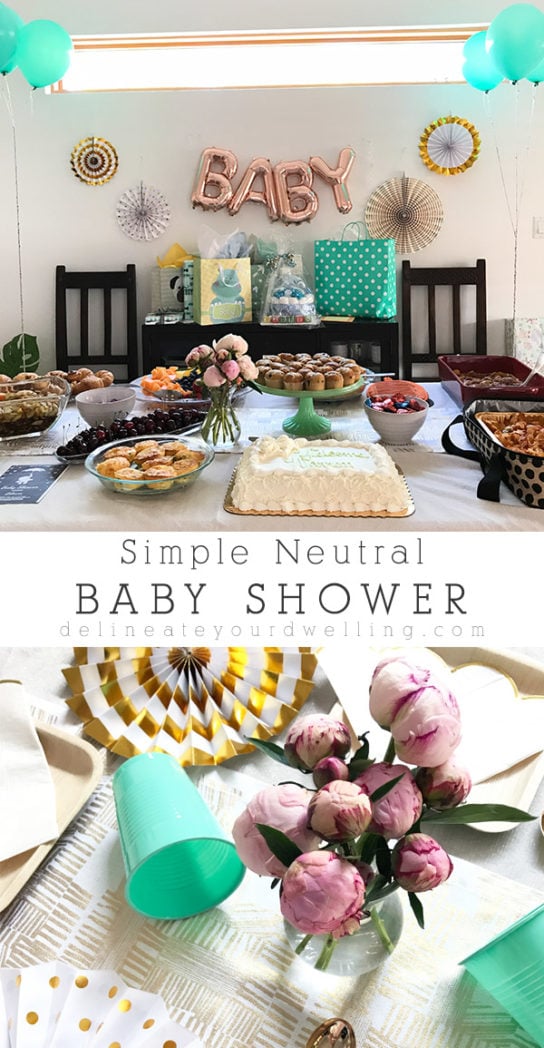 SaveSave