INSIDE : How to create a great entertaining statement piece, a Colorful Buffalo Check Water Dispenser. It is basically a giant Mason Jar and perfect for your next Spring or Summer outdoor party!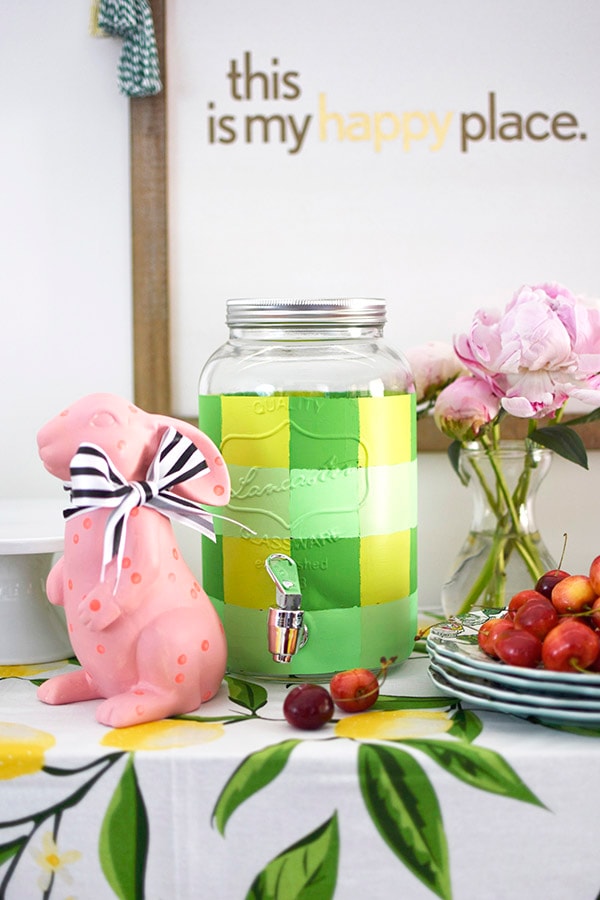 Buffalo check is still having quite a thing and to be honest, it is one of those classic patterns that unlike the chevron, I think will be here forever. Some call it gingham (which I think is used more when it's related to clothing), I call it Buffalo Check and I love it. Today I am sharing How to create a Colorful Buffalo Check Drink Dispenser because let's face it… we all never knew we needed even our drink dispenser to be buffalo check, but we do.
This post contains affiliate links. See my full disclosure.
Drink Dispenser / Giant Mason Jar Supplies:
Drink Dispenser | Martha Stewart Acrylic Paint | Paint Brushes
Buffalo Check inspiration towel | Painting tape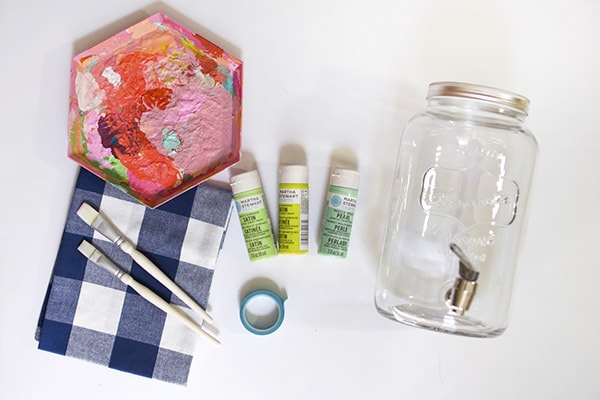 How to paint a Drink Dispenser / Giant Mason Jar with a Buffalo Check:
This project took me a few times of taping and re-taping and then re-taping once more. Let me share my mistakes to help you speed this craft up, ha!
Decide where you want your first buffalo check stripe to start and add your painting tape from top to bottom. Next, from the inside line of your tape, measure 3″ and add another piece of tape.
Your next piece of tape needs to be measured from the second piece of tape's inside line. The reasoning is you want 3″ squares evenly around the entire dispenser. If you measure from the outside line, then you will end up with 3″ squares and a few 2.5″ squares.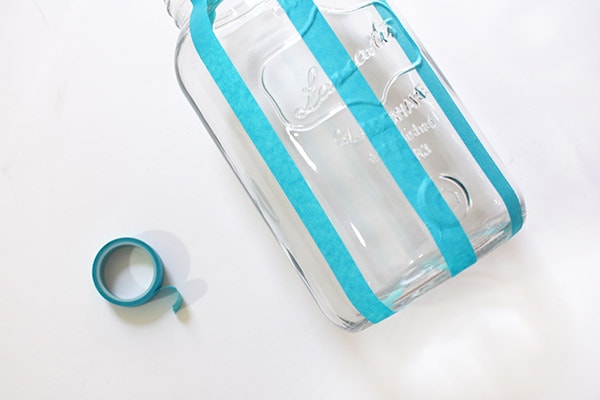 Once you have all of your vertical 3″ lines measured out, it is time to tape off the horizontal lines. Start with your first vertical line being the very top portion you want painted and then measure down from there in the same way you did the verticals.
NOTE: When you are taping everything out, it will look off – spacing wise. Again, this is because you are measuring the inside lines and not having them all be equal (for now).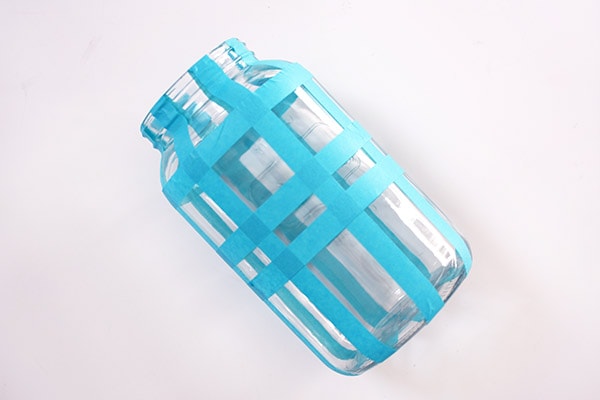 After you are done taping off all the lines, you can FINALLY begin to paint. I started with my most vibrant and bold green color first.
Note: I tried using a few different brands of paint and for this particular project, HANDS DOWN Martha Stewart Acrylic paints were the way to go. All the other paints, pulled and peeled away.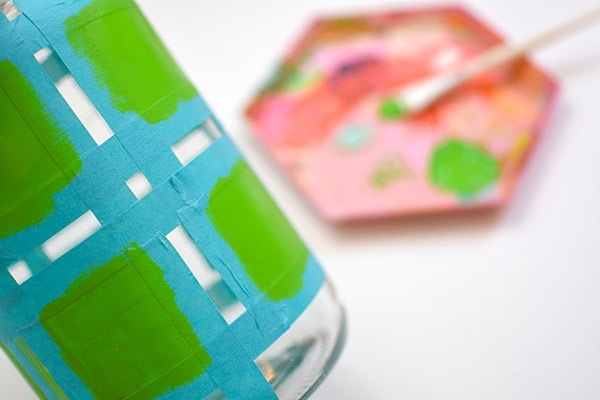 Then, I started painting the softest lime green color (which ended up being pretty much more yellow than I anticipated).
Continue on in this pattern until all the painters tape has been removed and you are left with a gorgeously colorful Buffalo Check inspired drink dispenser!!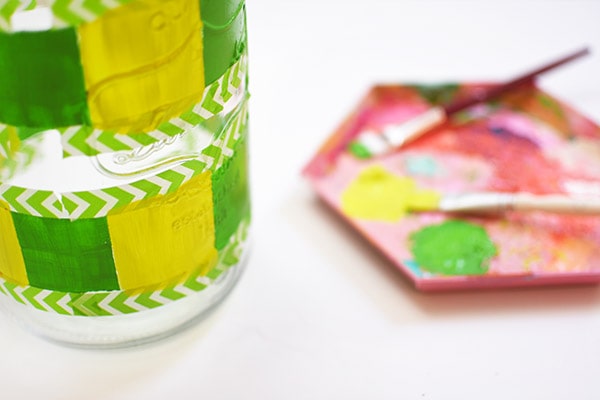 All you need to do next, is grab the most beautiful red cherries and a colorful yellow lemon tablecloth and get yourself ready for a party.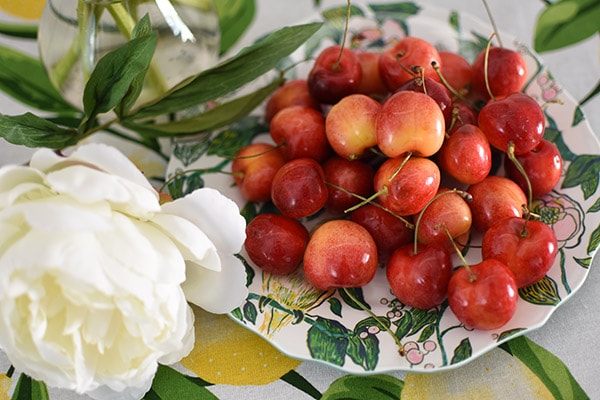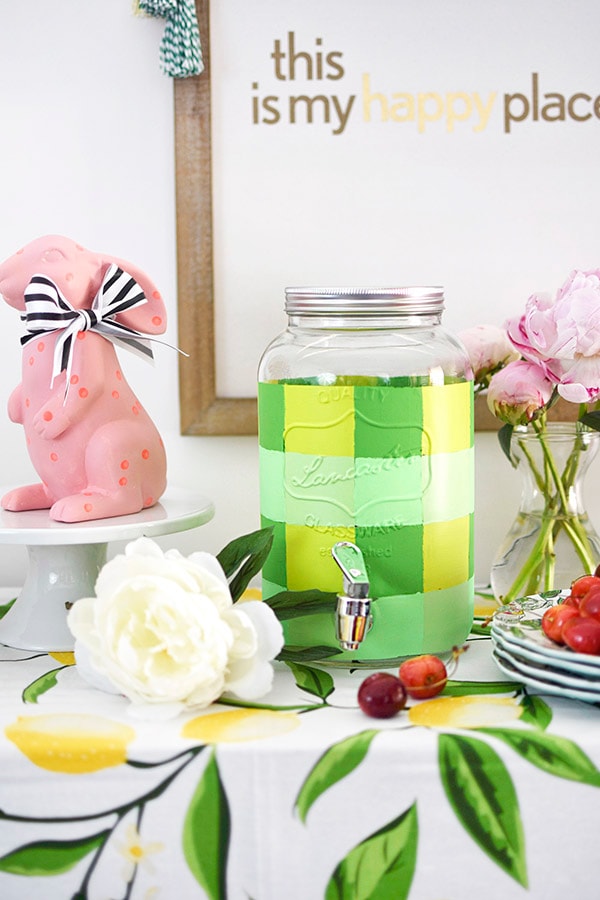 Summer calls for color and fruit and pretty table settings and I think this project checks the box for all of those categories!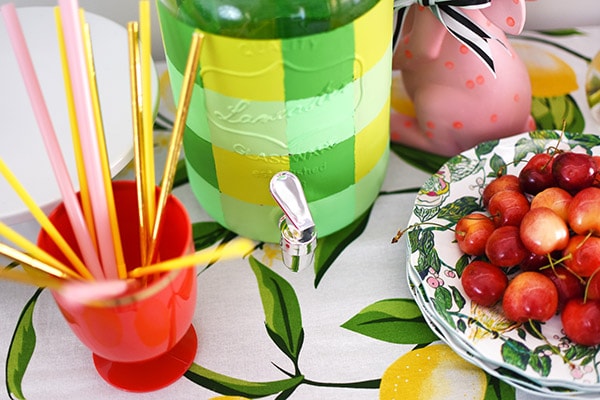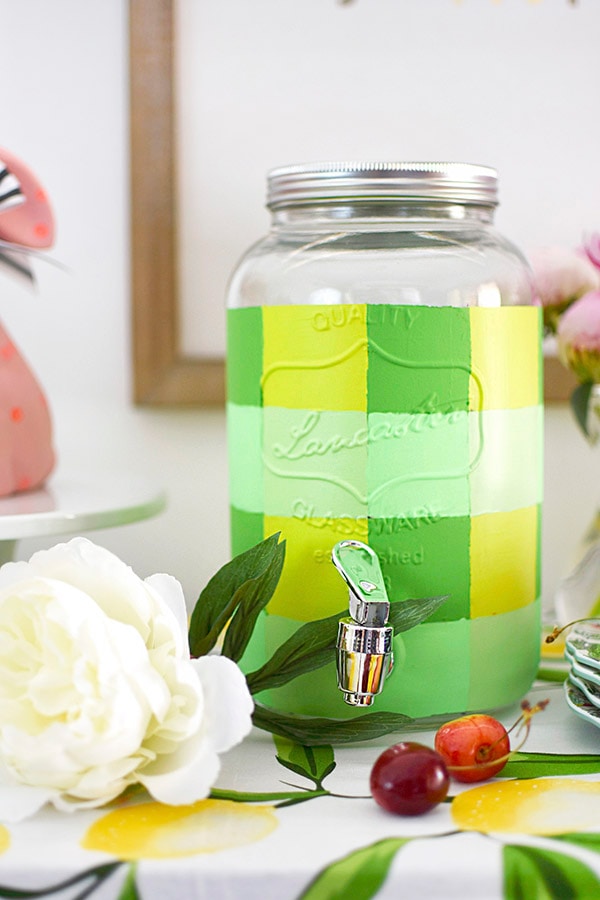 Oh yes also peonies and pink polka dotted bunnies – because yes.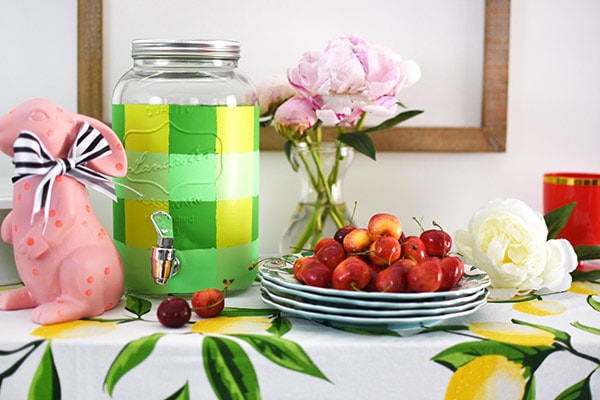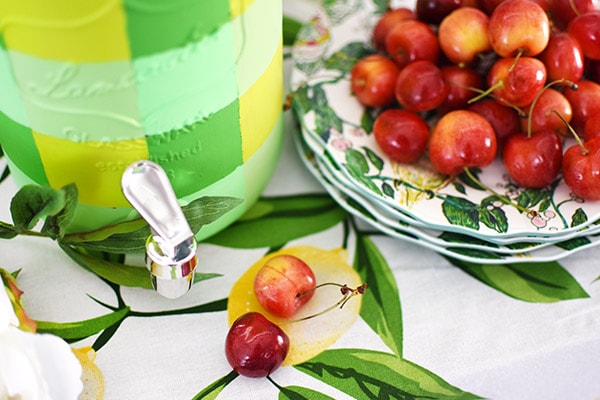 Don't forget to pin this project for later!!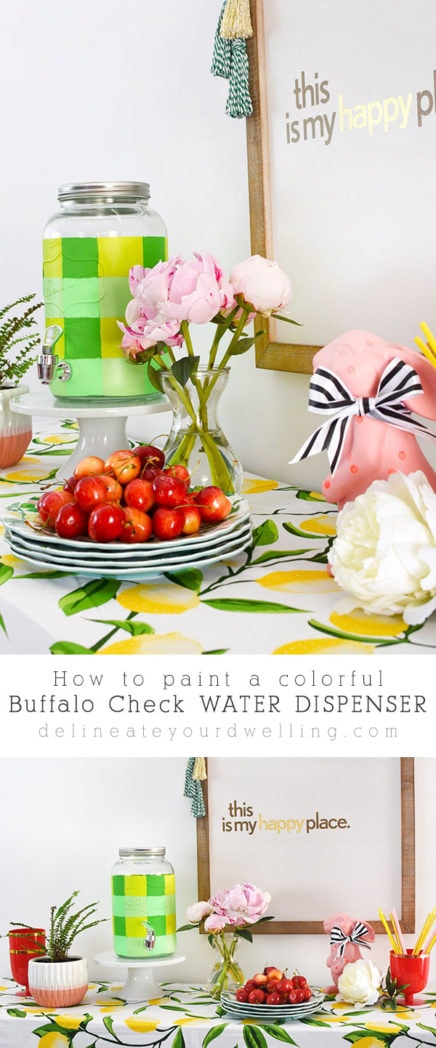 Looking for other summer DIY projects?
SaveSave
SaveSave
SaveSave
SaveSave
SaveSave
SaveSave