INSIDE : Check out all of my very Favorite Amazon purchases from last year! This is the REAL LIFE favorite items I bought in Home Decor, Cleaning Items, Fashion, Kids's Books + Toys.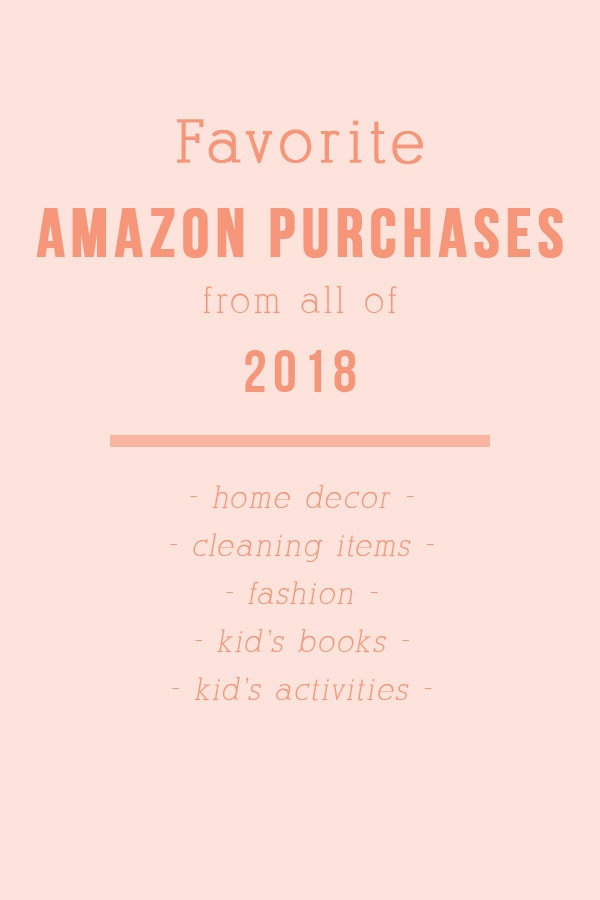 About a month ago, I saw someone do a post on their favorite Amazon purchases from last year and I don't know why but I found it SO fascinating and helpful. It wasn't a list of just the fun fluffy "summer tees" they love but only own maybe one of. It was a list of their REAL LIFE favorite Amazon purchases.
You might also want to check out my Favorite Amazon Prime Day deals!
This post may contain affiliate links. See full disclosure here.
I immediately went to my Amazon orders and clicked on 2018 and thought I LOVED some of these things… I wonder if other people would be interested in seeing what I bought for my family last year.
So here we go. Most of the items were things for kid's birthdays, Christmas, etc… so although I don't typically do a ton of kid related things on the blog today's post will have a heavy kid section.
We have Amazon Prime and clearly do most shopping this way, don't judge the length of this list – this was the best from the entire year!
FAVORITE HOME DECOR ITEMS:
8″ Disco Ball – I LOVE having this catch the morning sunlight!
Blue + White Buffalo Check cloth napkins – Ah, these are such fun to use.
Feather Pillow Insert – Any decently prized feather pillow insert is a good idea.
FAVORITE MISC HOME ITEMS:
A 2 pack of glass Soap Dispenser bottles – I even got my sister to buy these.
Biscuit cutters – I started making JoAnna Gaine's Biscuits + Gravy recipe and these were a must.
FAVORITE ADULT BOOKS:
Weaving Within Reach – My friend Anne wrote this book and I got a free copy. However, it was SO gorgeous I ended up buying one for my sister.
The Love Dare for Parents – This is a book you read and it helps challenge you to tell your children you love them in 40 different ways.
FAVORITE FASHION ITEMS:
I bought a Blue Polka Dot dress from Amazon and was shocked with how much I love it.
Dr. Scholl's Classic Slides – I grew up seeing my Mom rock these in the 80's and now I've got to say, I adore their retro vibe. I just bought myself ANOTHER pair (I now have tan + black).
New Apple Watch Band – I got the Hawksbill color and have really liked it.
Sleep Caftan – This is like sleeping in a cloud.
FAVORITE KID'S BOOKS:
Amelia Bedelia book set – I grew up on these books and love that my daughter now finds them so funny.
Rosie Revere, Engineer – We are completely obsessed with all the books from this series.
A Camping Spree with Mr. Magee – These books have the BEST illustrations and are so much fun to read. My son has many of them now.
King Bidgood's in the Bathtub – I read this book growing up and now my kids are, too. We loooooove the details of the illustrations.
Magic Eye – Apparently I love re-living my youth with my children, but they loved this book.
Berestain Bears – We are enormous fans of these books and have tons. We got Trouble with Friends, Too Much Junk Food + Get the Gimmies
Dory Fantasmagory – Another book series my daughter likes.
FAVORITE KID GAMES/ACTIVITIES:
Kid safe knife set – My 6 year old son wants to be a chef when he grows up so we got these for Christmas to help make meals.
Tree Stump pillow + Tree Log pillow – We did a camping theme for all my son's birthday gifts and these pillows were used for a "campfire" vibe.
Paint by Sticker animal book – I'm not sure who loved these more, me or my children! These are perfect to take to restaurants or breweries.
HUGE Coloring Page – We love working on things like these little by little over the summer break.
Instant Snow packs – Just add water and magically snow appears!
Fort Magic – BEST gift I've ever given my kids for Christmas. They can build endless forts that are tall enough for me to stand up in. A ton of parts and pieces – they LOVE this.
Make your own Mini Erasers – My daughter is a crafter, no surprise there.
Make your own Soap – We've all been using handmade soap by my daughter for months, ha.
3D Doodler – We have bought more of the plastic sticks twice because we all loving playing with this one!
Pretend Barber Kit – Seeing your 6 year old fake shave has to be the best thing ever.
If you made it this far down, bravo! NOW, tell me what were some of your favorite purchases from last year in the comments below. Include a link if you can and let's help each other with this great resource.