INSIDE : Check out the simple steps for how to make a colorful DIY Confetti Tray! There is a secret ingredient supply that really makes this a unique craft project that you can set out on display in your home.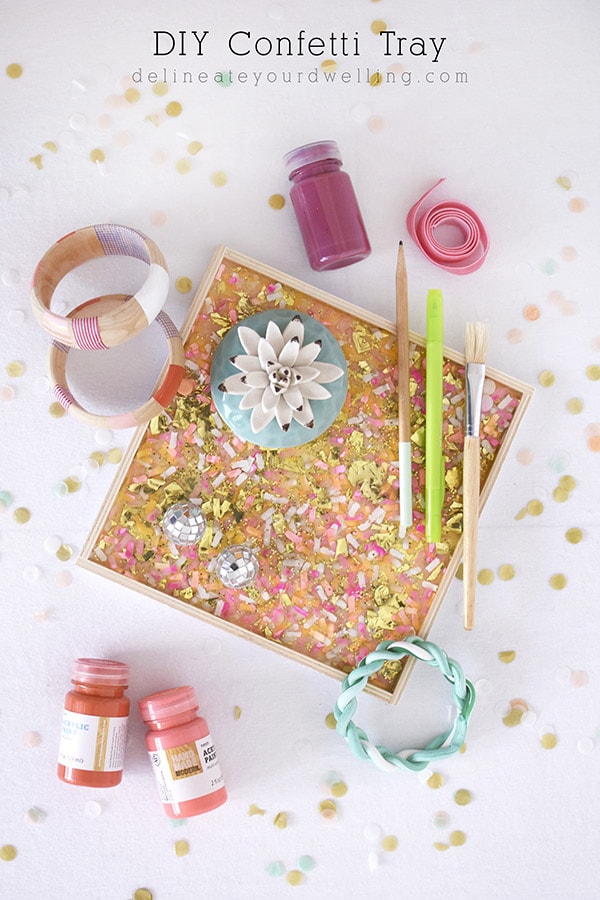 This post may contain affiliate links. See my full disclosure here.
This post has been republished since it's original live date of 2016.
I love confetti. My love for confetti is very similar to my love for felt. Confetti is such a simple material, but it instantly adds a little more fun to any project, party or space that you use it in.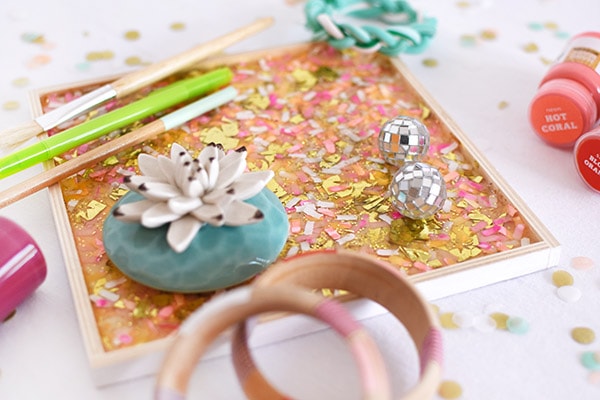 Today, I tried out a brand new product and paired it with confetti. It really does not get much better than this! I will be showing you how to make a super fun DIY Confetti Tray ( and it is so perfect for a quick DIY gift idea, too!).
Keep reading through the post for the full SUPPLY LIST!
NOTE : I wanted to make mention of the huge difference in color from the top image to the below image. I decided to take new pictures of this project (now 2018) because it's now been over two years since I did this Confetti Tray (originally did the project in 2016).
The paper has completely dried, giving the tray an entirely different look from when I originally created it. It currently looks so much more like the actual confetti paper I had bought – more coral colors and less PINK! Still fun, both ways.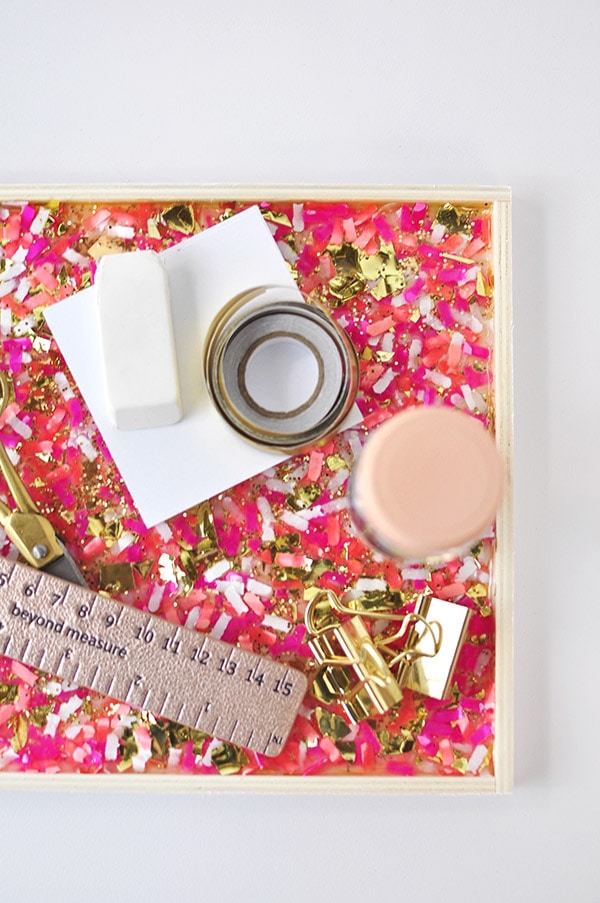 First of all, have you all seen Mod Podge Dimensional Magic Glue before? The stuff is pretty amazing and it appears like there are about 2 million different applications you can use it for! I have wanted to try to try it for so long.
I bought two bottles of it and have been waiting for just the right project and was really excited with how this project turned out when I was all done with it.
How to make a DIY Confetti Tray?
First, start by applying a generous layer of regular Mod Podge to your wooden tray surface to help keep the confetti more or less in place as you move to the next step.
Next, pour in your confetti! This was a fun step. I had two confetti push pops from a previous project, so I popped them open and filled up my tray.
I also added just a little bit of gold glitter because… well, brightly colored confetti clearly was not enough bling for this project. HA.

Once the tray was full of confetti, using my hands, I patted and smashed down the confetti so that most of it stuck to the mod podge bottom.
Next, open your Mod Podge Dimensional Magic Glue and slowly fill up the tray. Note, do not shake the magic glue before using, as this will cause air bubbles in the glue. I ended up using two bottles of the mod podge glue to cover all my confetti.


The glue changed the color of the papers to a bit more purple but once it all dried the original colors came right back! Also, don't worry but the glue comes out a cloudy white color but it dries clear.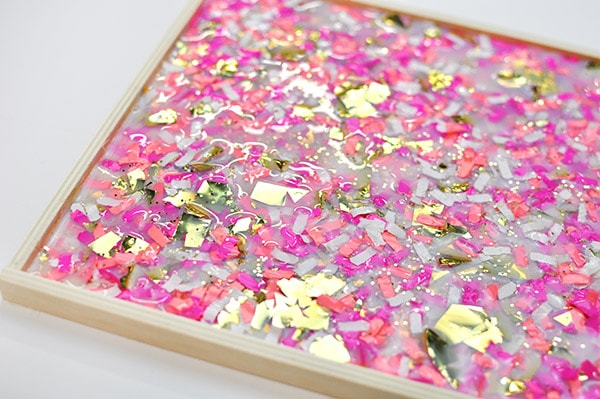 I set my tray on a level spot and allowed it to cure for a full 24 hours. Once it was dry, it truly did seem magical.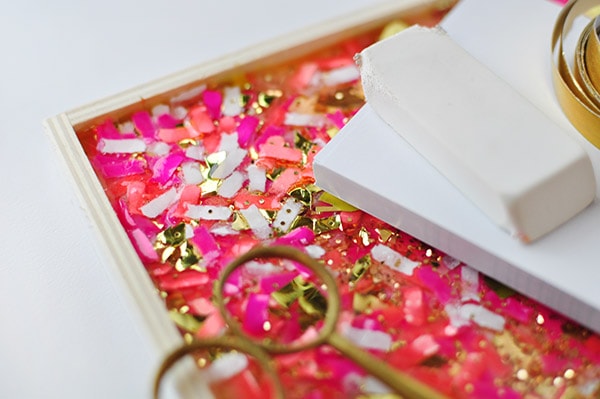 I also love that this dimensional glue is a non-toxic material.
It's hard to tell from the pictures, but I painted the outside edge of my tray with white acrylic paint and left the very top edge raw wood.
What supplies do I need to make a tray filled with confetti?
Mod Podge Dimensional Magic Glue
Push-Pop Confetti
Wooden Tray
White Acrylic Paint + Brush
Mod Podge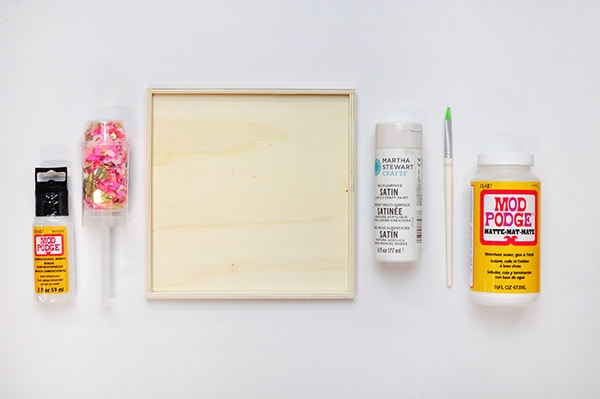 Save
Save
Save
Save
Save
Save
Save
Save
Save
Save
Save
Save
Save
Save
Save
Save
Save
Save
Save
Save
Save
Save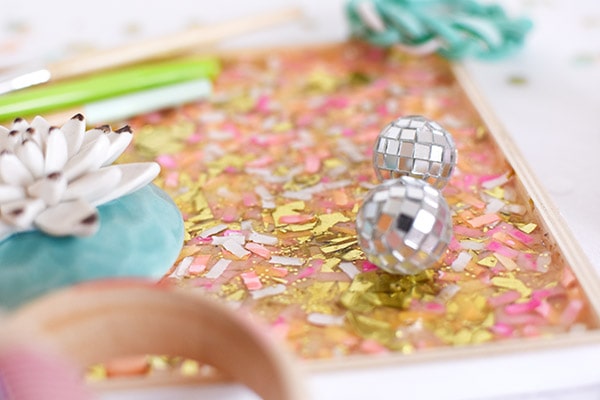 Shop this post and get all the supplies!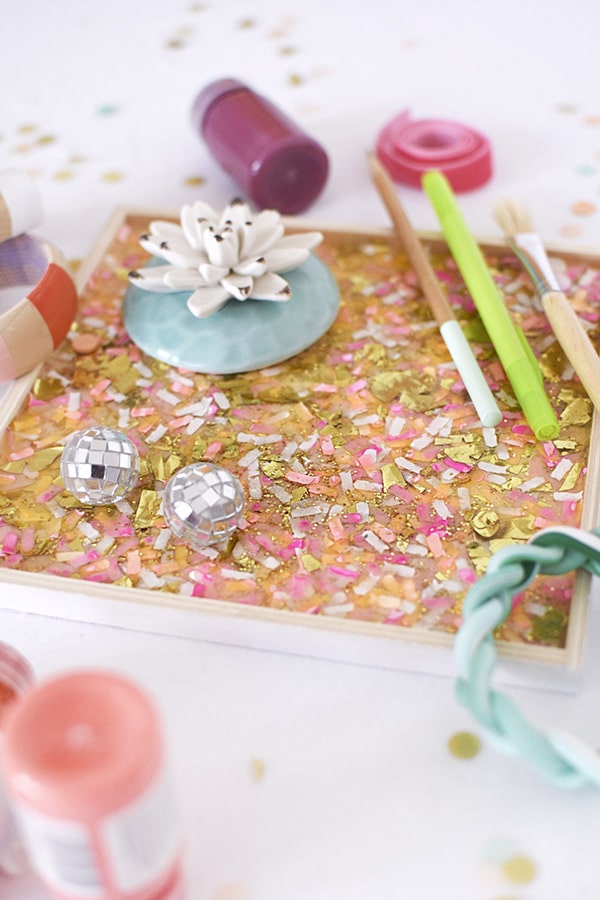 Okay, now head out and give this cool stuff a try for yourself! Believe me, it's very addicting.