Suuuuurvey says….. !!! Does anyone remember the 'Family Feud' game show? I feel like it's so old and I barely remember it, but anytime I hear the word 'survey' my brain just goes there. Thanks for putting up with me, guys.
I am SO EXCITED for 2016. If January is any indicator of how this year will be going, then I think my excitement (and hopefully yours) will only continue to grow.

A HUGE thank you to everyone who participated in this year's blog survey. It looks like we have a fairly close tie between new followers, occasional readers and full-time followers. I'm excited to try and convince those newbies and occasionals to become full time!
I'm working hard this year on my newsletter, so if you would like my weekly blog updates you can sign up here (if you sign up for my newsletter, you get my free 2016 Hand Lettered Calendar, too!). If you want blog posts going RIGHT to your email, click here.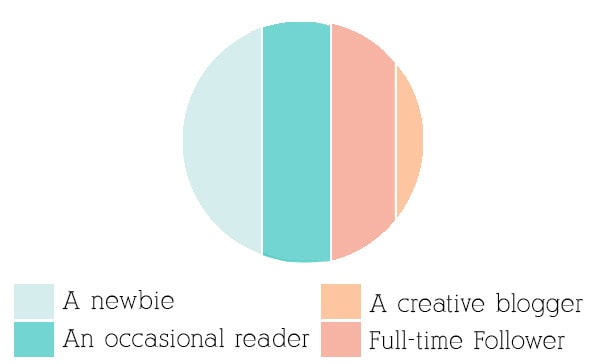 I loved hearing what social media outlets are your faves. I always make my best guess as to what is the best way to connect with you all, but I'm not always right. I'm so happy to say that Pinterest is still the top running social media, because it's definitely one of my favorites, too. And the beloved Facebook came in second. (Did you know that only about 500 of you guys actually SEE my Facebook posts? Be sure to head over and click around. Let FB know you want to see my posts more regularly.) Instagram was a close third (this is becoming one of my favorites to spend time on) and Twitter is hanging on by a thread. Is anyone else loving Periscope with me? I did a few earlier this year and have tapered off a bit, but I'm happy to start them up again!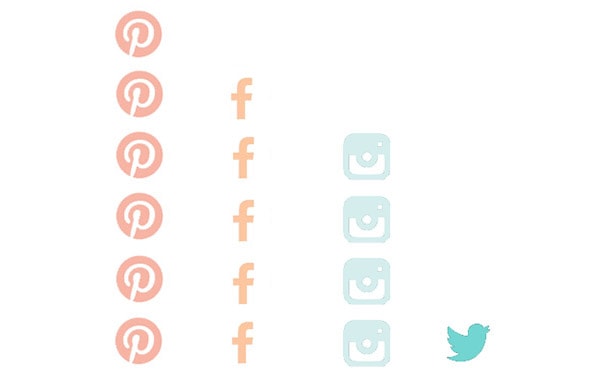 Now this is where it really starts to get fun! I asked What kind of posts would you like to see more of in 2016? So each of these separate categories is out of 100%. I've ranked them in order of what you would like the most.
Yay that you want more DIY/tutorials… since I'm most a DIY blog! And organization is important to everyone, which makes my orderly self so happy! Home decor tips and printables are both things I'm excited to share more of this year, too.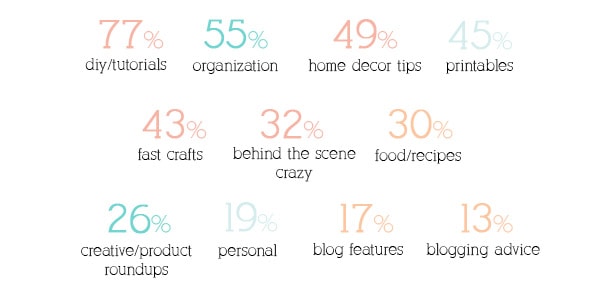 So I know my biggest organizational problem areas, but I was excited to see what your's were and it looks like the kitchen still needs the most help. Now, I wrote two or three great posts about Organizing your overall kitchen and how to Organize your Kitchen Cabinets. But guess what, we moved to a rental and our kitchen is WAY SMALLER now. So, I'm thinking a small (rental) kitchen post is needed.
Next up, closets, bedrooms and the living room + kid's spaces were tied.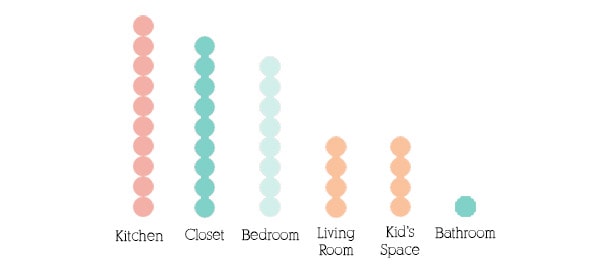 And finally the last section was a time for you all to ask any questions you might have. I'll answer the top five of them. And I loved how many of you wrote kind messages to me there, honestly – thank you so much!

1. Would you add an organized craft area to a limited space, organizational problem room?
Wow this is a doozy of a question! In an ideal world we would all have the rooms and space we need, but that's just not how it usually works. Our old guest room was the catchall for pretty much everything and even though it was a good sized room, there were so many functions going on that it was just a hot mess. I wrote about 55 posts it seems about that entire process (and here, here and here). I truly believe no matter the size of the room, you can always organize and do space planning to make the most of it.
2. What's your favorite way to get out of a creative rut?
I love finding inspiration from other creative minds, so I follow quite a few craft blogs. But when I'm feeling really uninspired I often grab a piece of paper and crayons/markers/paint/pen and get it out. I love crafting and coloring with my kids. Plus, it's nice to craft once and a while and NOT document the process with a camera.
3. What are some of your favorite blogs? (Specifically design related, but open to others too!)
Did you see my Feature Friday roundup post? I interviewed 12 of my very favorites!
4. How do you keep up with being a blogger and full time Mama?
I ask myself this all the time, ha. I do my very best to spend my time with my children. While they eat breakfast in the morning, I typically do a chunk of morning related blog tasks and then they watch a few PBS shows while I wrap up. But then for the majority of the day, I play and enjoy them. I work during their rest/nap time. As I mentioned earlier, I love creating and crafting with my kids, so we often create together… it's just my side is nice and pretty for the blog and their side has lots of glue, crayons and glitter going on. And then once they go to bed, I work on the blog as well. My husband is going back to school for his phd, so he's PRETTY busy in the evenings, so this routine has worked fairly well for us right now.
5. What do you do to decompress/destress since you are juggling so much all the time?
Creating actually calms me. Also I LOVE taking walks outside and being around plants (I was a landscape architect for 8 years prior to staying at home with my babies). I don't do it as often as I like, but I also love reading books. And a glass of wine always helps the decompressing.
PHEW. Thanks again for answering my survey and thanks for reading through to the end!