May 15, 2013 I posted my very first Delineate Your Dwelling post about succulents in my backyard. And so began the best creative adventure I've ever been a part of. Today is my second year of writing and creating for this blog and I have loved it more than I can say! I am so thrilled to be hitting this milestone and want to give back to you all, my readers with a
Second Year Blogging GIVEAWAY!


I would not be where I am and have had the opportunities that I have had come my way, had it not been for all of your constant support and encouragement. I feel as if this creative side in me has always been present, but has truly bloomed since I started this blog.
As my wanna-be best friend, author Shauna Niequest (must reads *
Cold Tangerine's
,
Bread + Wine
and
Bittersweet
!!) recently said,
"Passion will only frustrate you if it doesn't find an outlet, so once you locate it, put it to work with a plan."
Thank you for allowing me to live out my passion.
Now onto the fun part, the GIVEAWAY! It will be running for a week starting today and the FOUR winners will be contacted via email. See the amazing items donated below and enter on the rafflecopter. The more entries you enter, the better your chances are to win!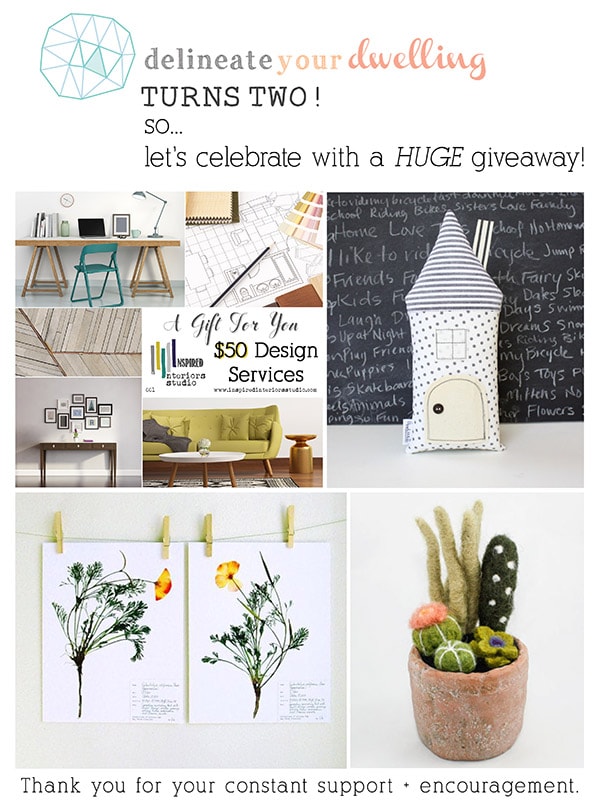 ……………………………………………………………………………
I am beyond excited to share this giveaway with you all. Before we get too far along, I must introduce the stores that so generously jumped on board with me.
Lisa + Devon from Inspired Interiors Studio have an awesome online Interior Design Company.
They have generously donated a $50 Design Services GIFTCARD!
They will work with one of you, one-on-one, through your selected home decor need. See their expansive list of services to pick from.
Dana from Apple White Handmade creates handmade home decor, tooth fairy pillows, bags + purses and more.
She has contributed the most adorable Cottage Home Pillow!
Sarah from Once Again Sam creates the most lovely Handmade Jewelry and Felted items!
She has donated a gorgeous Felted Cacti pot with four succulents. (I just received one of these for Mother's Day and it's stunning!)
Allison from Day Three Creations sells lovely Herbarium specimen art.
She has donated gorgeous Poppy Botanical Prints (2).
>>> Remember, the more entries you enter, the better your chances of winning! <<<
AND THERE WILL BE FOUR WINNERS FOR THIS GIVEAWAY!

(click on the Rafflecopoter giveaway link if it does not automatically show up for you.)