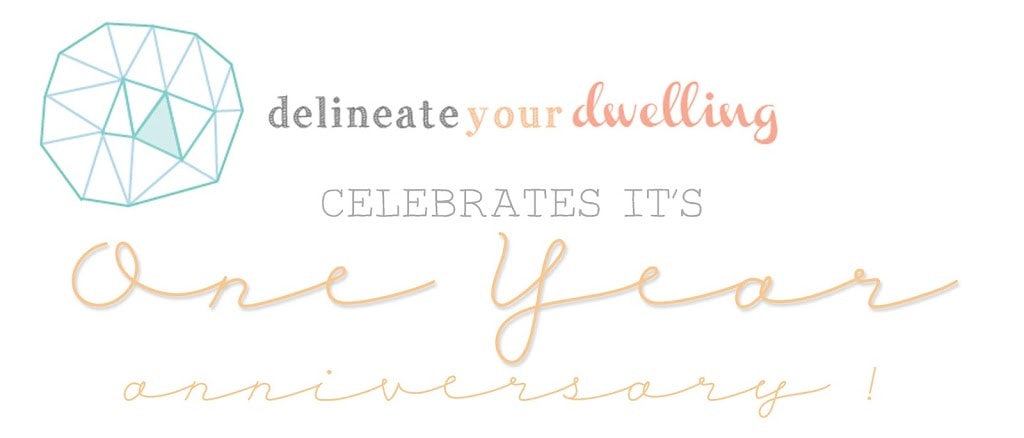 I can hardly believe today is my One Year Anniversary of starting this blog. The time has honestly gone by so quickly. I have always been a creative person, going to school and practicing Landscape Architecture, doing lots of DIY at our home, painting, gardening, opening an Etsy Store, etc. But nothing has brought me such creative joy as working on this blog, Delineate Your Dwelling.
I adore every aspect of it.
I stay up every single night, later than I'd like to admit because I just can't stop.
I have found such happiness from all of you, my readers. (I'm still in awe that anyone is even reading this blog.)
I love connecting with such amazing and talented people.
I love being inspired by YOU and your creativity.
I love working on projects for my home and being able to hopefully share how easy personalizing your home can be.
I love doing the graphics for my posts.
I love promoting and marketing my blog.
I love it all.
I honestly would not be where I am and have the opportunities that I have started have come my way, had it not been for all of your constant support and encouragement. I feel as if this creative side in me has always been present, but has truly bloomed since I've started this blog.

Thank you from the bottom of my heart.
To thank you in with more than just words, I have put together my first solo giveaway, yay! It will be running for a week and the winner will be contacted via email. See the amazing items donated below and enter on the rafflecopter. The more entries you enter, the better your chances are to win!
As my wanna-be best friend, author Shauna Niequest (must reads *Cold Tangerine's, Bread + Wine and Bittersweet!!) recently said, "Passion will only frustrate you if it doesn't find an outlet, so once you locate it, put it to work with a plan."
Thank you for allowing me to live out my passion.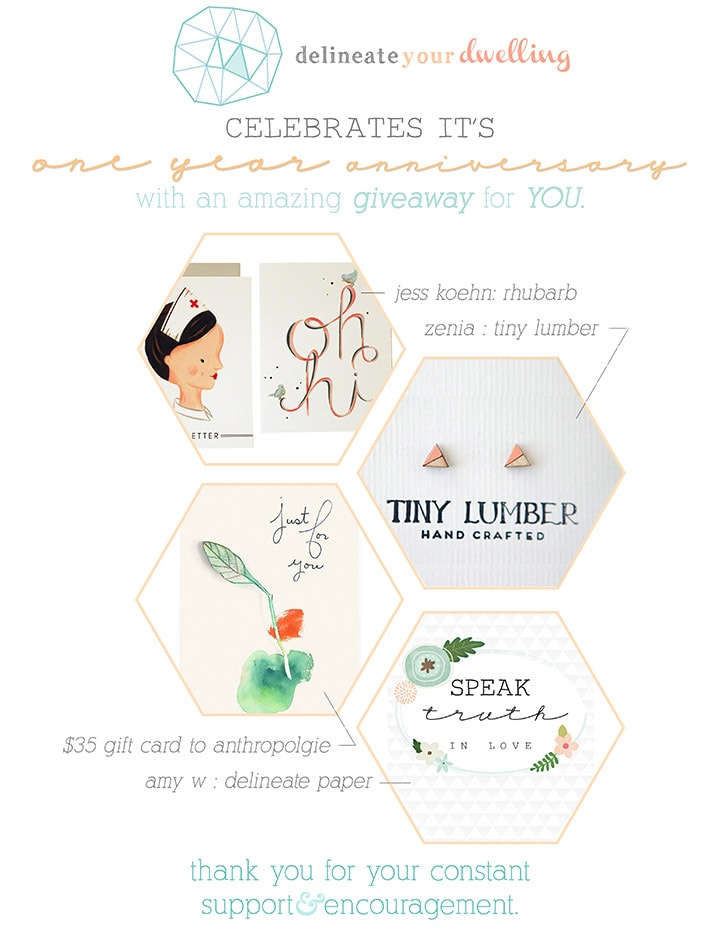 ……………………………………………………………………………
I am beyond excited to share this giveaway with you all. Before we get too far along, I must introduce the Etsy stores that so generously jumped on board with me.
Jess Koehn from Rhubarb has the most lovely hand painted products in her store.
She has contributed a box set of FIVE cards!
Be sure to follow her on Instagram.
Zenia from Tiny Lumber creates handmade, eco friendly jewelry.
She has contributed the most adorable peach triangle earrings!
Be sure to check out her Etsy store, Tiny Lumber.
In addition to these amazing items, one of you will also win an
Anthropologie gift card for thirty five dollars
and
my Etsy store Delineate Paper has contributed a 8×10 graphic print.
Remember, the more entries you enter, the better your chances of winning!!
SaveSave