Happy Saturday, friends!  I hope you all are recovering from eating too much of your kiddo's candy after they went to bed last night.  Oh wait, maybe that was just me.
Today I wanted to give you a quick update on my New and Improved Delineate Your Dwelling site.  In case you didn't already notice, a few weeks ago I made the switch from blogger to a WordPress site.  I still have some tweaks to do because let's be honest… a blog is like your home, there are always things on your to-do list to update, remodel and improve!
Let's take a little tour, shall we.
MAIN HEADER : the central hub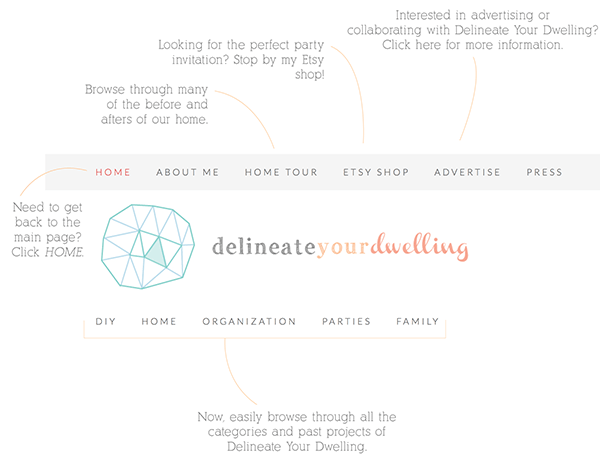 PRIMARY SIDEBAR : the welcome desk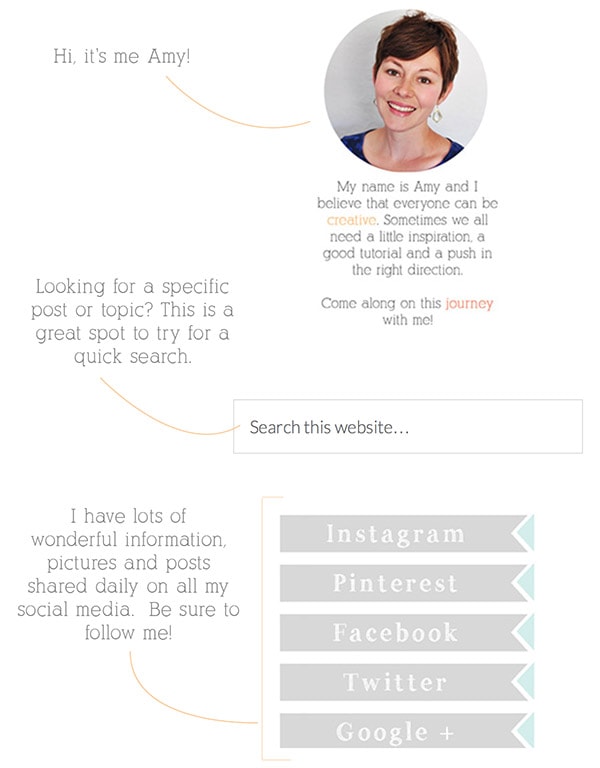 FAVORITE POSTS : what you love best!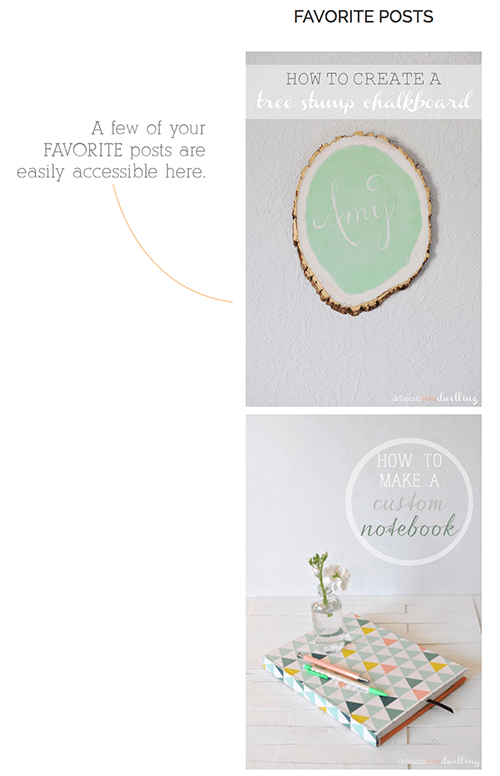 FOOTER : don't forget the fun at the end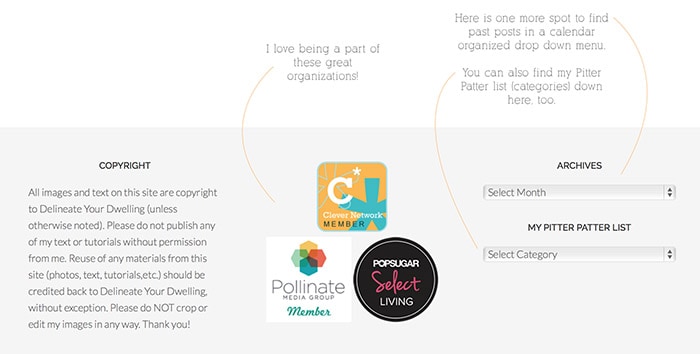 **Don't forget now that I am up and running on the new site, make sure you are updated on all the new links.  I don't want you to miss anything because I've got some great projects coming up!
blog / instagram / pinterest / facebook / twitter / google + / bloglovin / hometalk
If you were reading my blog via Google Friend Connect, I am working on getting you all directed back to the new site.  You can also sign up for my RSS feed or email updates below.**
Sign up for emails straight to your inbox, here!
I have to give a shout out to Stephanie at Inspired Flow.  I found her via Etsy and was quickly taken with her quick responses and eagerness to help!  She helped migrate all my posts, comments and links from blogger to WordPress, as well as installing my WordPress theme.  I know many people say it's easy to do but I quickly got panicked and happily handed the reigns over to someone who was exceedingly capable.
After she set up the basics it was up to me to bring my Delineate personality to the site.  I won't lie and say it was a snap, it took some time.  I probably sent an additional 27 emails to Stephanie with further questions.  Guess what?  She answered every question with no issue.  She's the real deal, folks.  If you are looking for some assistance, stop by her website.  You will be glad you did.
Phew, thanks for getting through so much business talk!  
I'll be back on Monday with a fabulous Thanksgiving Table Blog Hop.  
Happy weekend.
SaveSave
SaveSave