INSIDE : Learn how to make a Nautical Starfish Firework Table Centerpiece for your Fourth of July Table. Celebrate USA with a fun craft display you can enjoy all summer long.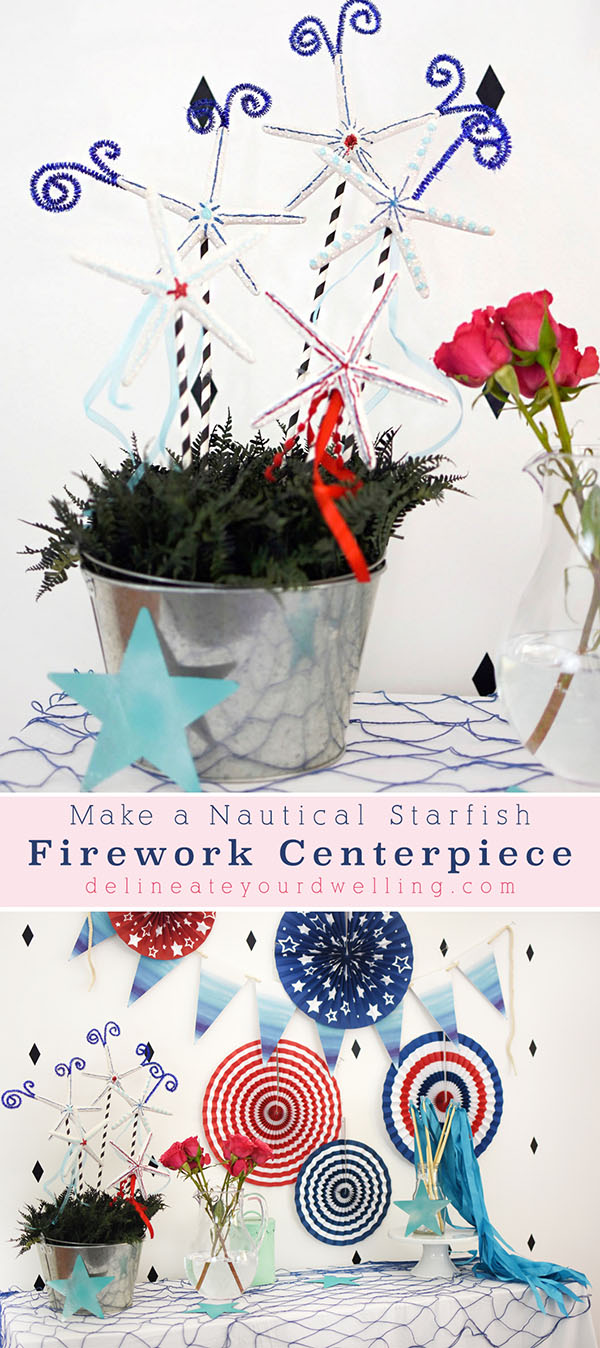 This post contains affiliate links. See my full disclosure.
As summer is in full force, it's fun to start planning your Fourth of July Table Centerpiece Display. This year I put together a fun Nautical themed party with all the red, white and blue you could imagine.
These tasty Fourth of July Layered Popsicles are a fun addition to any summer get together.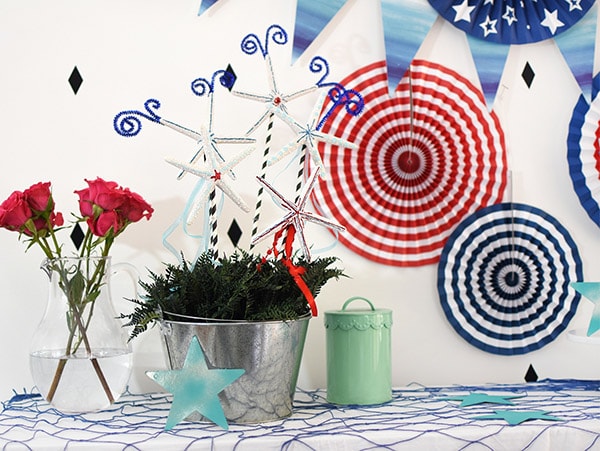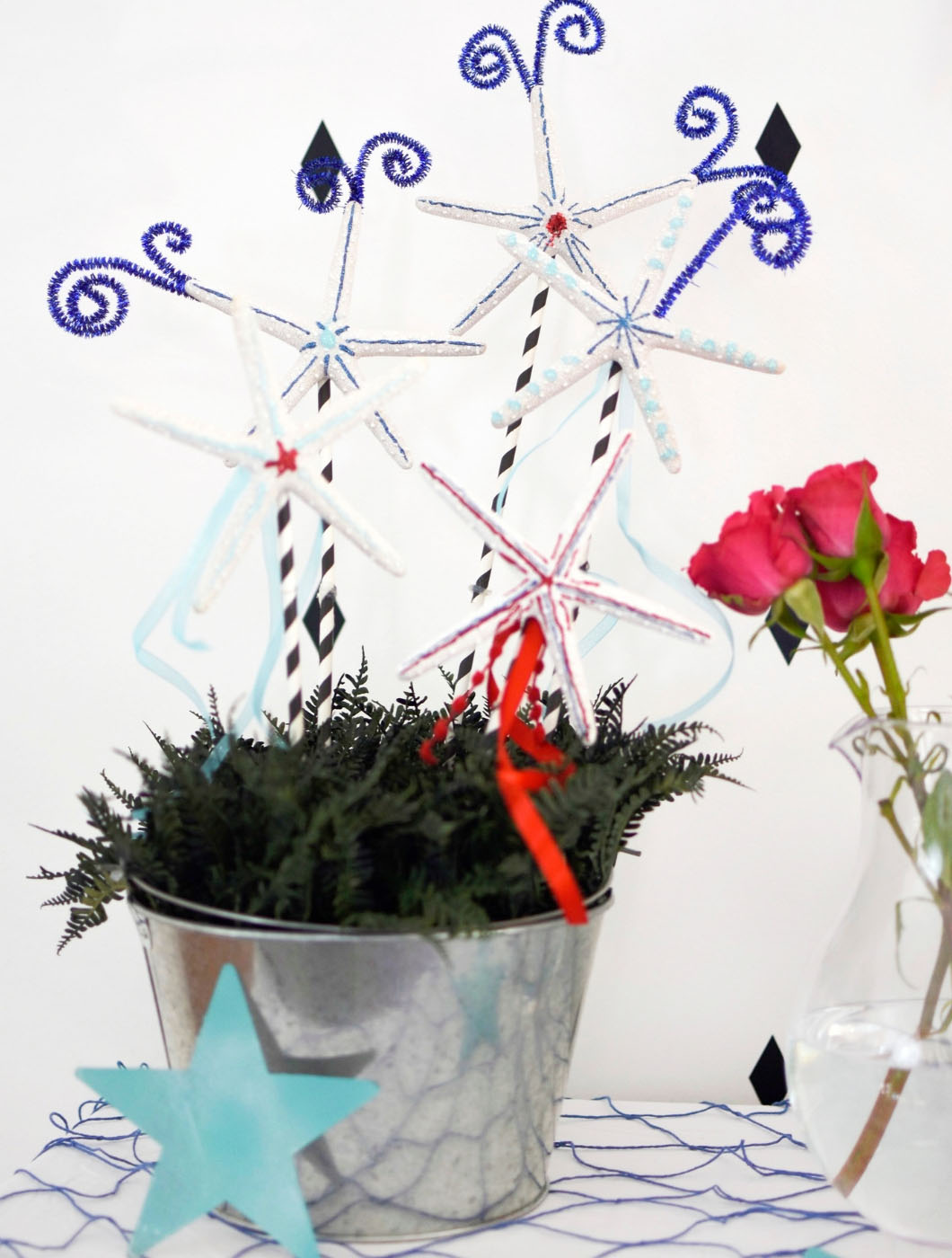 What supplies do I need to make a Firework Table Centerpiece?
Starfish
Glitter Paint Pens
Blue Pipe cleaners
Black + White Paper Straws
Wooden Skewers
Metal Pail
Faux Boxwood
Wire Cutters
Floral Foam
Ribbon (Blue + Red)
Hot Glue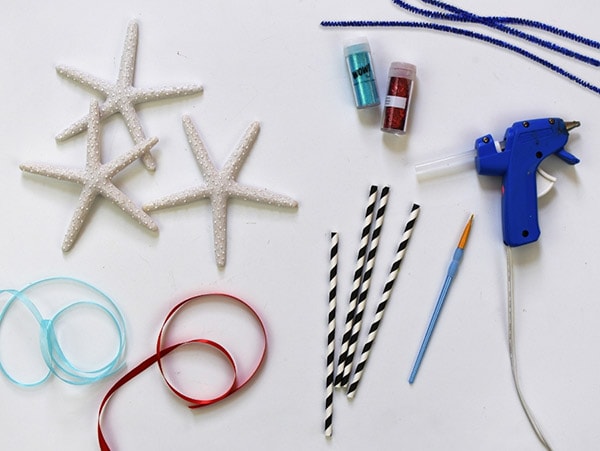 How do I make a Starfish Firework Table Display?
Start this festive project by cutting a few black and white paper straws to create the base for your fireworks. To create different heights, you can cut the straws in half and add a few dabs of hot glue to adhere two straws together.
After the straws have dried, insert a wooden skewer into your straw for extra support.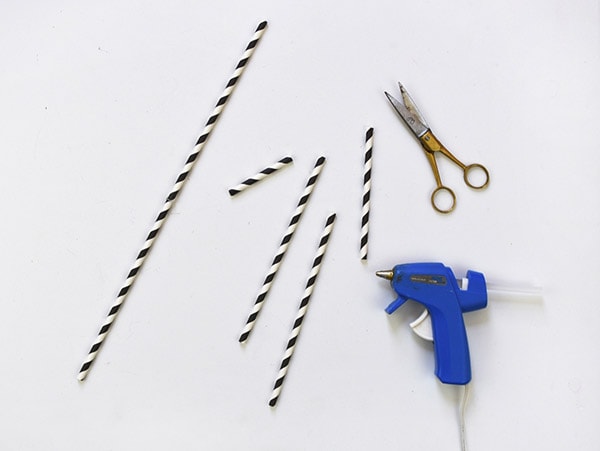 Next, it is time to paint your fireworks onto the starfish!
Using various shades of light and dark blue and red glitter glue pens – create firework patterns on your starfish. You can also use Elmer's glue to make the patterns and then pour regular glitter on top.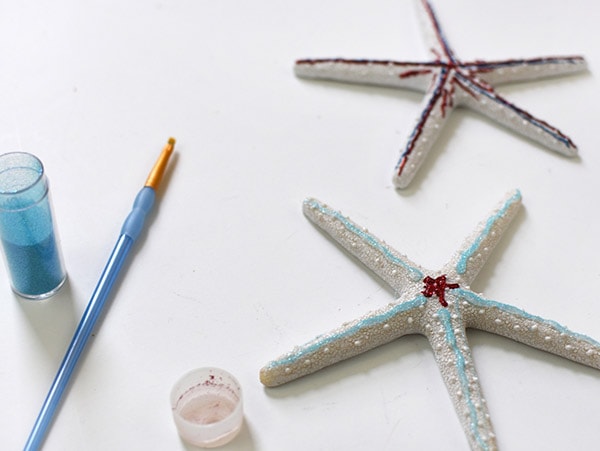 You can create all kinds of fun firework patterns.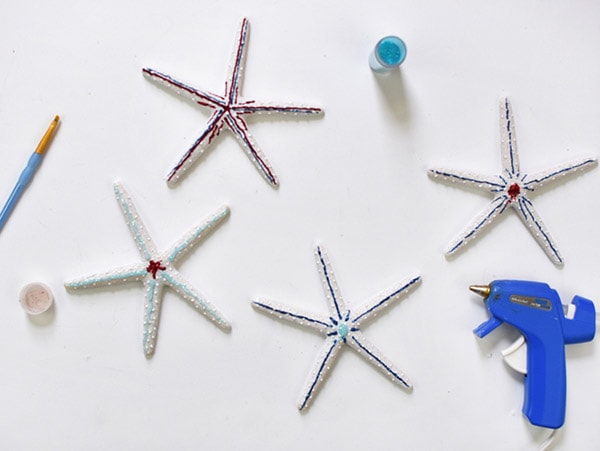 For a little extra firework centerpiece fun, you can curl blue pipe cleaners and glue those to the tops of your starfish.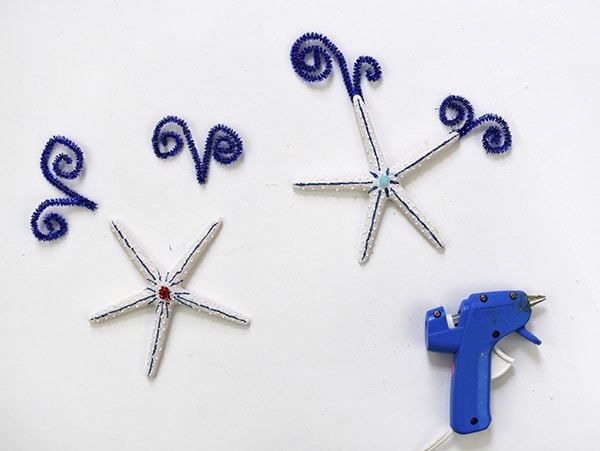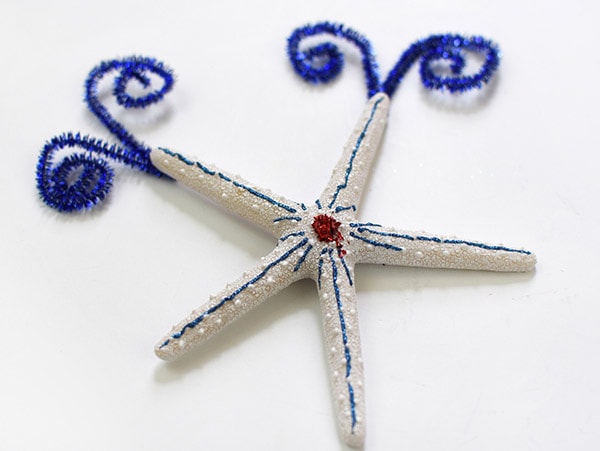 Cut red and blue ribbons and glue those, along with the painted starfish to your black and white paper straws.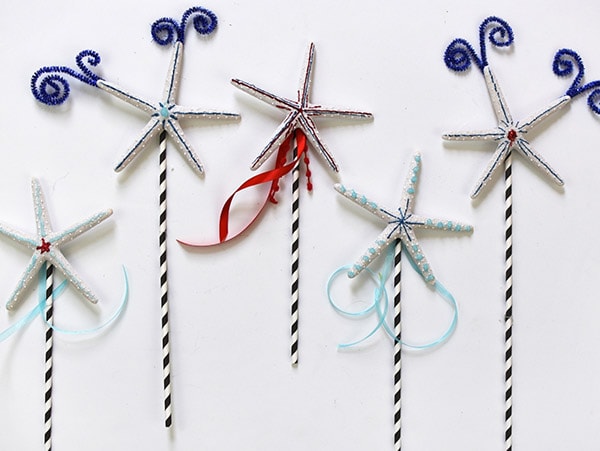 You can set aside your starfish to make room to create the centerpiece display now.
Using wire cutters, snip your boxwood square down to fit into a metal pail.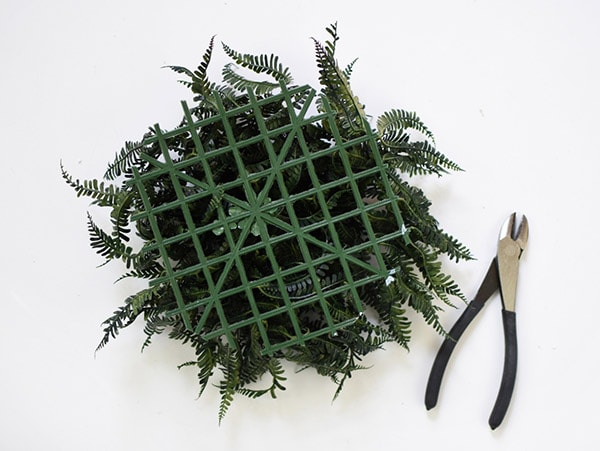 Put a piece of floral foam into the bottom of your pail, tuck your cut boxwood piece into the pail. Then, gently push your starfish straws into the floral foam. This is where having the wooden skewers help to keep them strong and standing tall.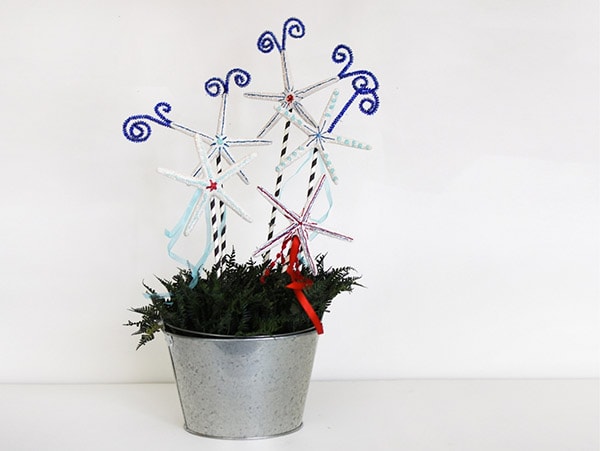 See how simple it was to make a Nautical Starfish Firework Table Centerpiece for your home this year?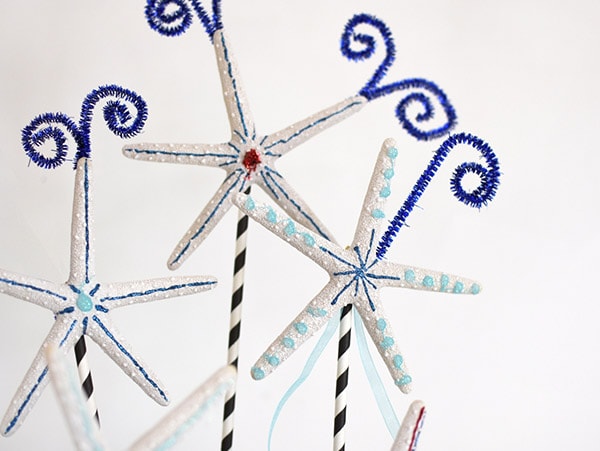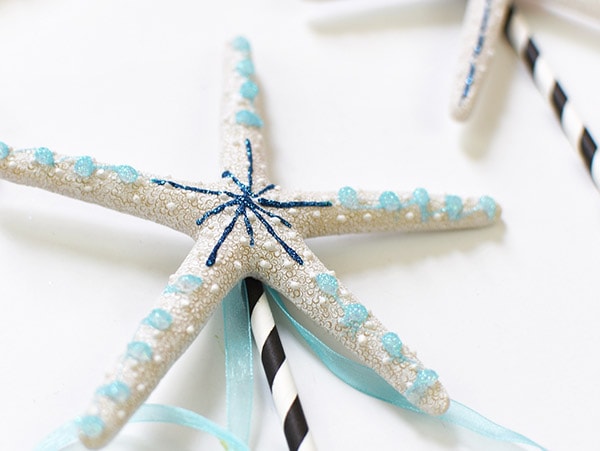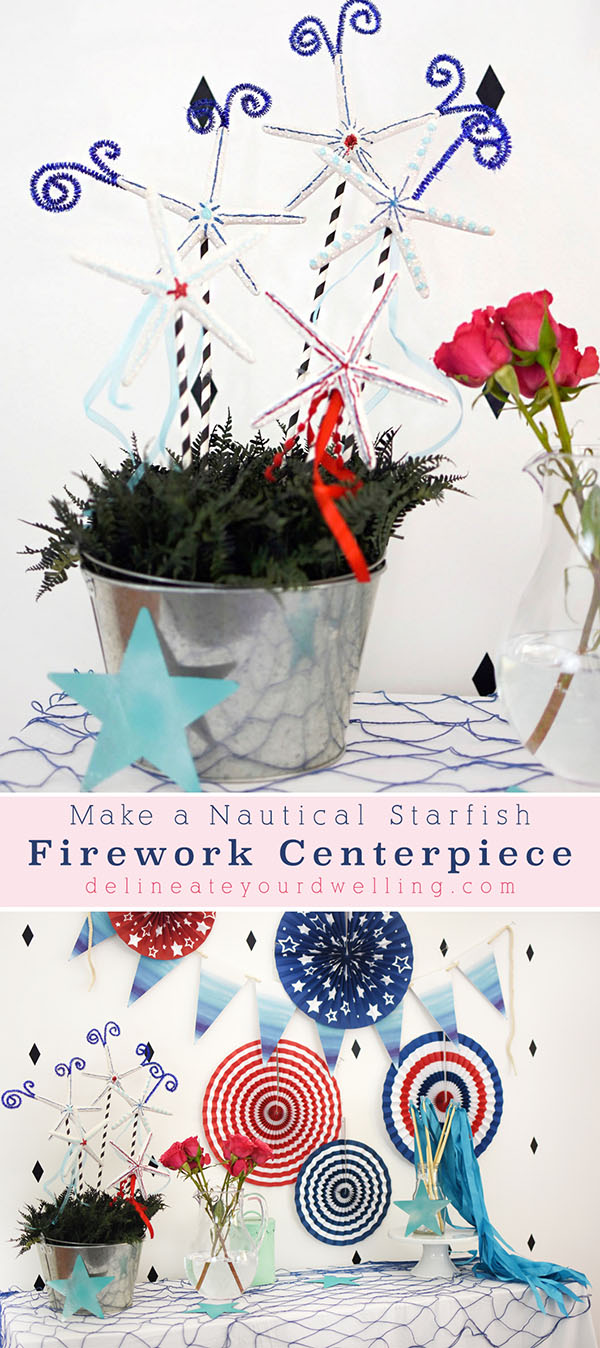 Looking for other July Fourth celebrations or treats? You might like some of these: