INSIDE : Check out some of my very favorite zippered pouches! From geometric patterns, simple grids and buffalo checks to fun cactus prints – there is a zippered bag style for everyone.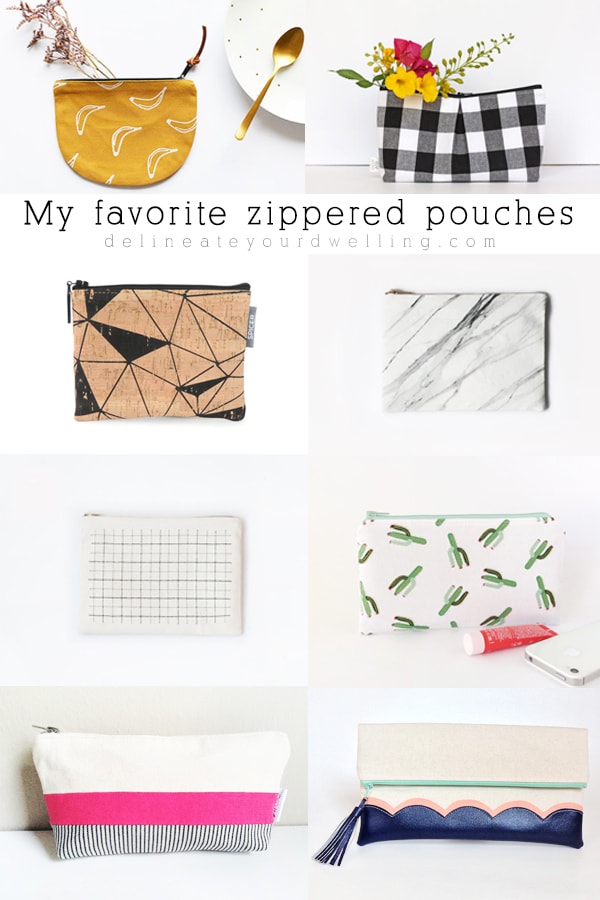 If you were to open my purse right this very moment, you would find such a random assortment of items. The only way, I mean the only way I am able to make any sense of my purse contents is with zippered pouches. They are my sanity and life savor. Today I am sharing my favorite zippered pouches with you all.
This post contains affiliate links. See my full disclosure.
CLICK ON IMAGES TO CHECK THEM OUT MORE CLOSELY.
I am a mother after all, so at any given moment I have a few containers of applesauce, a truck, a princess necklace, various pieces of a lego set and lots of lollipops. Pouch it.

I have a pouch that holds multiple shades of lipstick, an adorable hand mirror, chapstick, those god sent oil paper things and a solid perfume container.

I have a pouch for various note taking products, including pens, pencils, notepads and a few crayons… because always crayons.

At one time, I was buying bigger pouches to contain like-minded pouches. I had to de-pouch after that because that's just a little too much pouching if you ask me.

But, you clearly get my point. Now instead of digging forever to find items, I go right where I need to go and everything is nicely contained. Game changer.
Are you a zippered pouch kind of person or a dig dig dig in your purse kind of person? Come to the dark pouch side with me!!
SaveSave
SaveSave