See how to spruce up your hallway bathroom by learning how to build a modern board and batten accent wall treatment using the gorgeous teal hue of BEHR PREMIUM PLUS® Interior Paint in Dragonfly PPU12-03 from BEHR's 2020 Color Trends.
This post has been sponsored by Behr Paint Company. All thoughts and opinions are my own.
This post may contain affiliate links. See full disclosure here.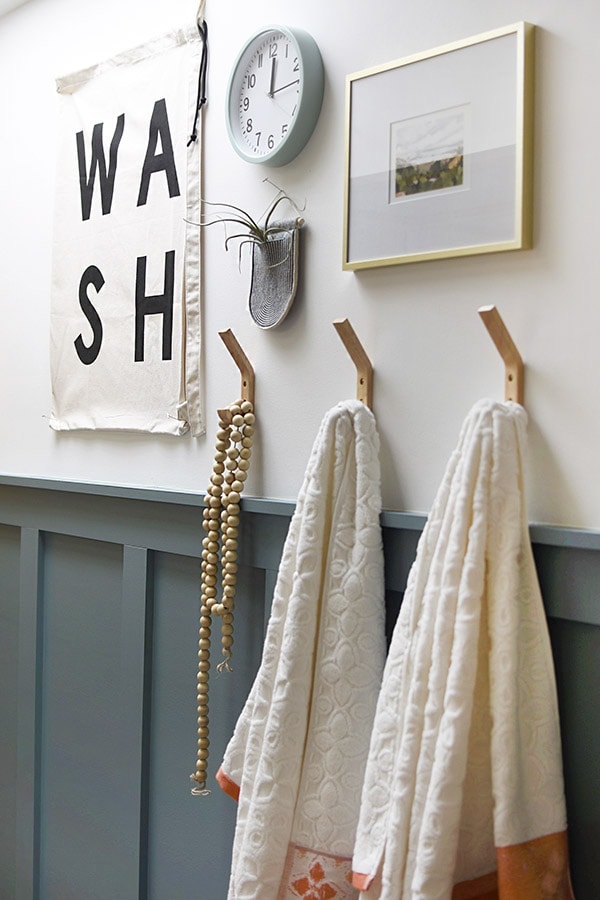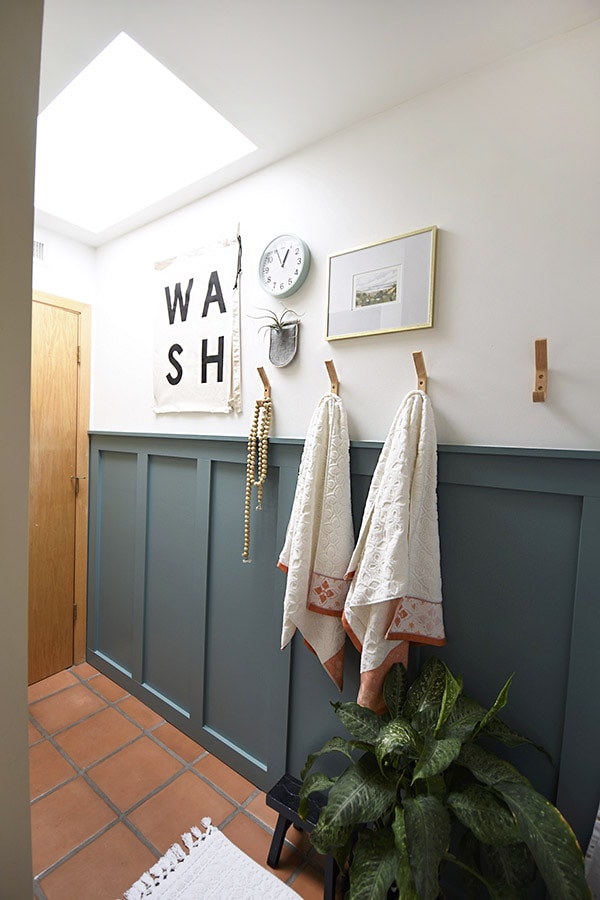 I have been wanting refresh our hallway bathroom for a long time. However, I wasn't ready to completely renovate it just yet. So, I decided to partner with my favorite paint brand—Behr—and begin phase 1 of our bathroom refresh. I also completed my first-ever solo power-tool project and could not be more thrilled with the outcome!
Be sure to follow the entire guest bathroom process!
Hallway Bathroom Plans
Removing your Sliding Glass Shower Doors
How to Build a Modern Board and Batten Accent Wall
WASH Bathroom Artwork framed
Hallway Bathroom Reveal
Picking the Bathroom Accent Wall Color:
When picking my paint color, I knew I wanted something a little moody but still inviting—BEHR's 2020 Color Trends color, Dragonfly PPU12-03, was just the color I was looking for. Be sure to check it out for yourself on the Behr 2020 Color Trends page or in person at your local Home Depot.
And have you seen BEHR's Color of the Year: Back to Nature S340-4? It's a restorative and meadow-inspired green, and I may just need to head over to Home Depot again and find a place to use that color soon!
I stopped at the Home Depot store and picked up a gallon of BEHR PREMIUM PLUS Interior Satin Enamel Paint – this is the paint we always use in our home because we love that it is a durable paint & primer in one. Plus, Satin Enamel Paint will be perfect for our bathroom with the added moisture from the shower.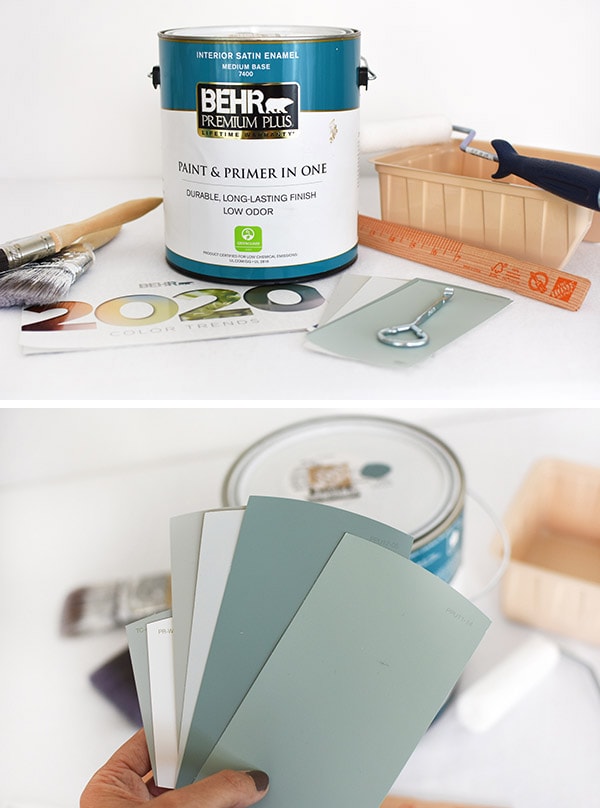 Bathroom Before :
Let's take a quick peek at my "before" bathroom. We have a few must-stay items, namely our very Southwest saltillo tile (a burnt orange color) and our current blush pink fixtures (toilet, tub and sink). I thought the teal in Dragonfly PPU12-03 complemented the orange tones in the room.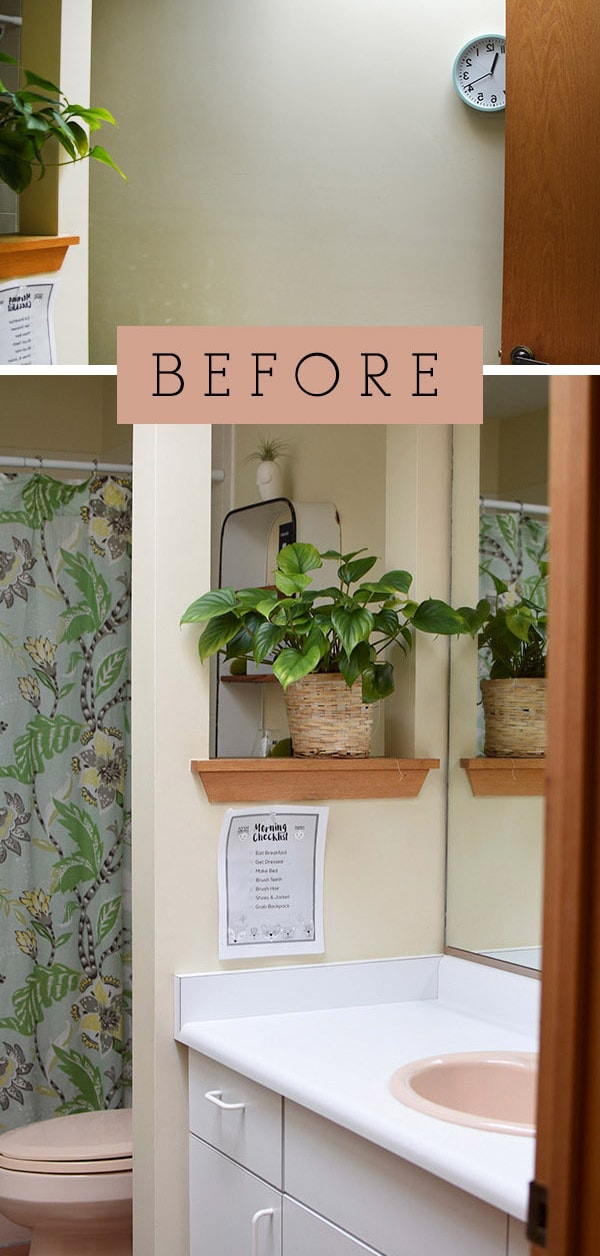 What supplies do I need to make a modern board and batten project?
MATERIALS:
(5) 1x4x8 Pre-Primed MDF Boards
(1) 1x2x8 Pine Trim Board
1 1/4 brad nails
Paintable Caulk
Lightweight Spackle
BEHR PREMIUM PLUS Interior Satin Enamel Paint in Dragonfly PU12-03
TOOLS:
Paint Roller + Brush
Miter Saw
Pneumatic Nail Gun
Nail Setter set
Hammer
Level
Stud Finder
Measuring tape
Sand Paper
Pencil
Utility Knife
Prybar
How do I make a modern board and batten wall?
Prior to starting this project, I drew out and decided on my dimensions for each piece of my board and batten wood treatment.
The first step to creating a modern board and batten accent is to remove the baseboard along the wall. I used a utility knife to score along the top caulked seam and a prybar to pop it all off.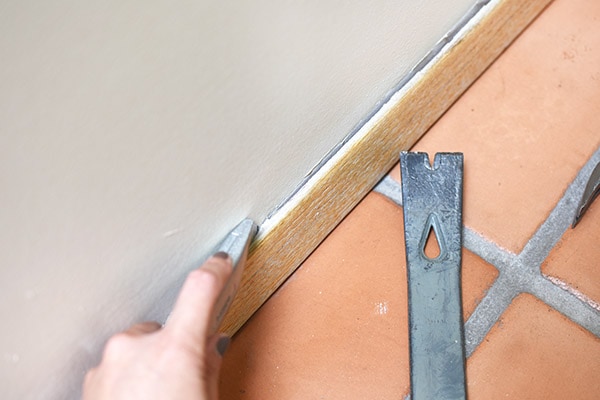 Next, based on the total height of your board and batten (mine was 55″ tall in total), measure and mark with your pencil. Using a paint roller, give your wall a first coat of paint. I was immediately smitten with the color!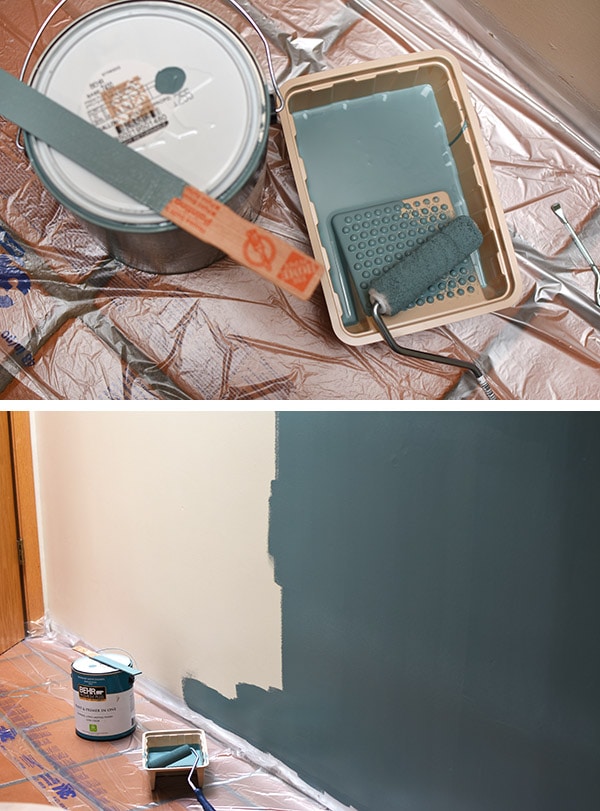 While the wall was drying, I painted all of my trim pieces. I had five 1x4x8 pre-primed MDF boards and one 1x2x8 pine board for the top trim. I love BEHR PREMIUM PLUS Interior Satin Enamel Paint for bathrooms because of its long-lasting finish and that it's washable.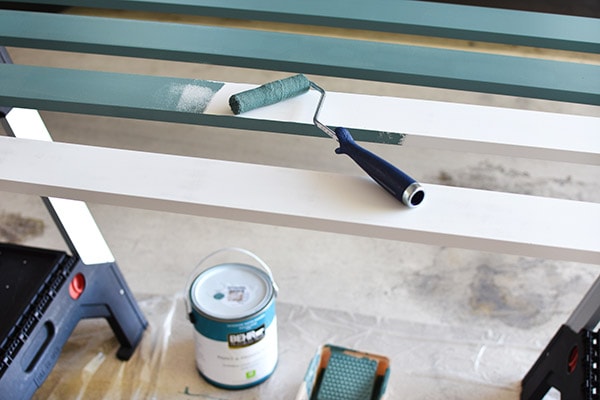 Once the trim pieces were dry, I placed my baseboard on the ground and made sure it was level. Then, using a stud finder, I marked all of my studs at 24″ on center. I also used a magnetic stud finder for certain parts.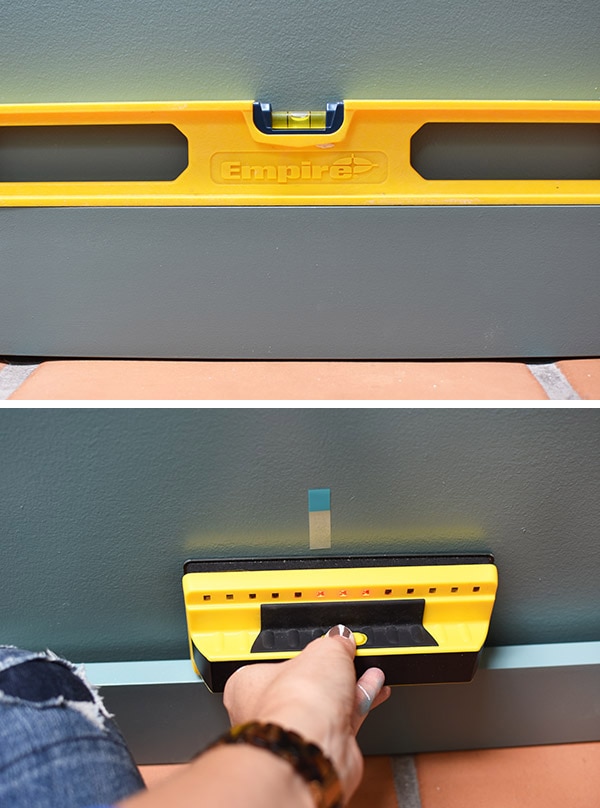 Remember, this was my first ever solo project using power tools. My husband gave me some direction that morning before he left for work but otherwise, I completed this project on my own.
I then used a pneumatic nail gun to secure my bottom 1x4x8 board to the studs. I ended up nailing every 8″ to make sure my board was flush against the wall. FYI our walls were exactly 96″, so I didn't have to cut the two main horizontal boards.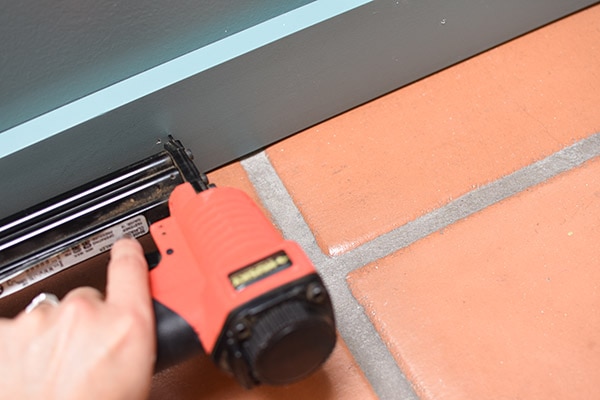 Once my baseboard was secured, I measured from the top of that board to ensure that the remainder of my wood would stay level.
Since I wanted my entire height to be 55″ from the top of my baseboard, I marked at 45 1/2″, 49″, and 49 3/4″ along three different spots for the next installation steps.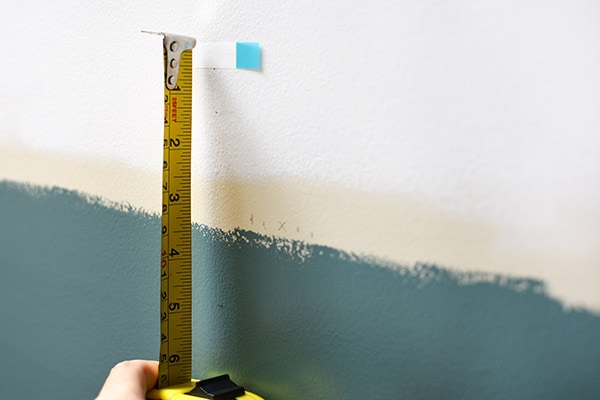 I then installed the main top trim 1x4x8 board using the nail gun.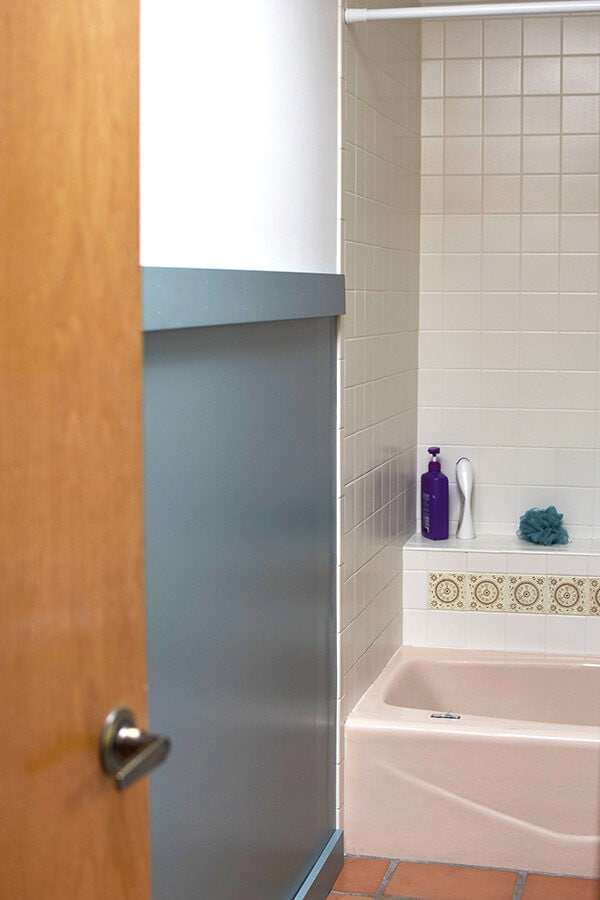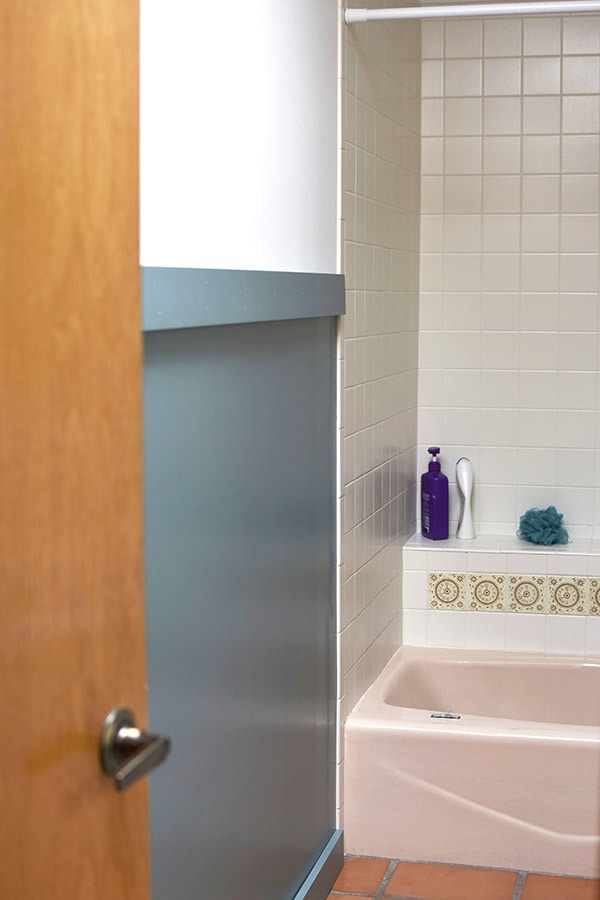 I had calculated that I would need six vertical boards in total. So, next I began measuring from the top of my bottom baseboard to the bottom of my top board to get the exact measurement each vertical would need to be cut. They were each 47″, give or take a little bit.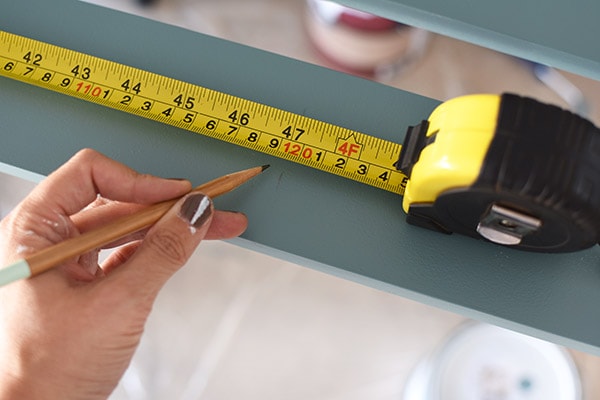 Then, using a miter saw, I made each of those exact cuts and using the nail gun, secured them to the wall. In addition, I also put a nail diagonally where each vertical board met the baseboard and top board for extra strength.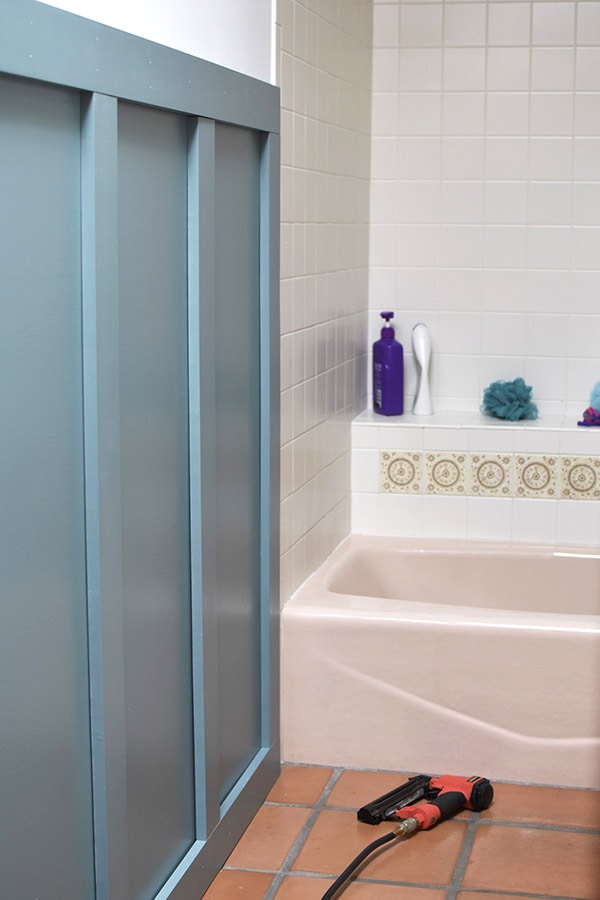 I made sure to tamp each of those diagonal nails in with a nail setter and hammer because it was difficult to get the nails flush in the wood with that tight space using with my nail gun.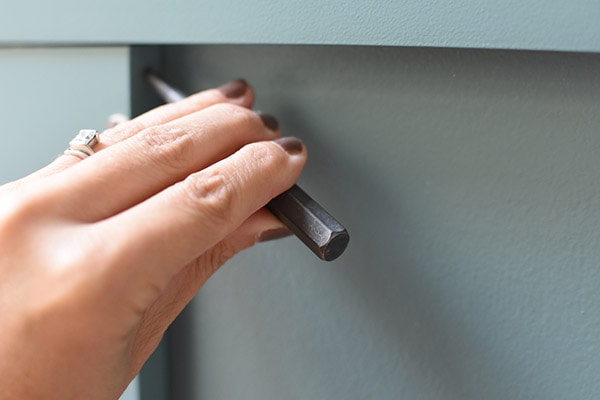 Next, I filled all the nail holes with spackling. I used my finger to put the spackle in all the holes. Once it was dry, I used a lightweight sandpaper to remove any excess spackling.
I applied paintable caulk on all the trim edges next. I was so worried the caulk would eliminate all my perfect straight lines, but once it was dry and I painted over it, it really made everything look perfect.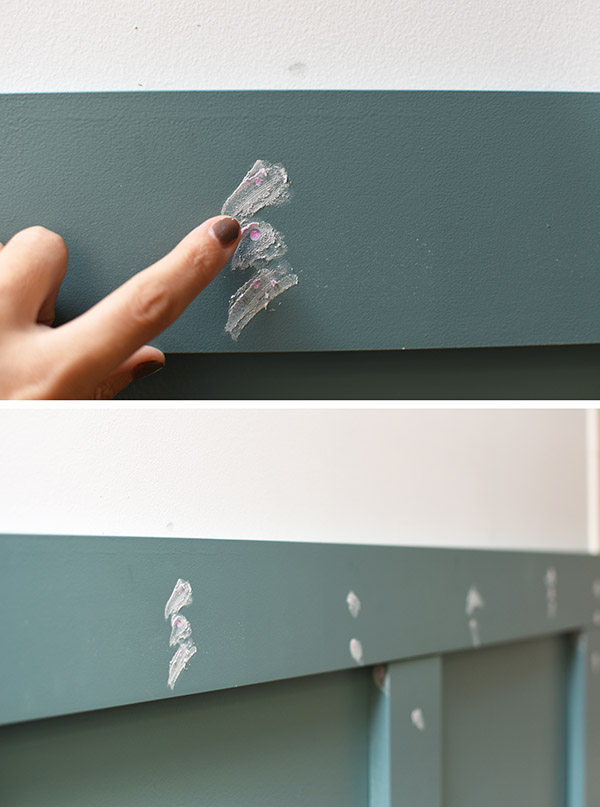 My final step was adding the last 1x2x8 pine top trim piece. One end of the pine trim hit our door jam, so I ended up having to hand-saw a small notch out of the board to make sure it fit properly.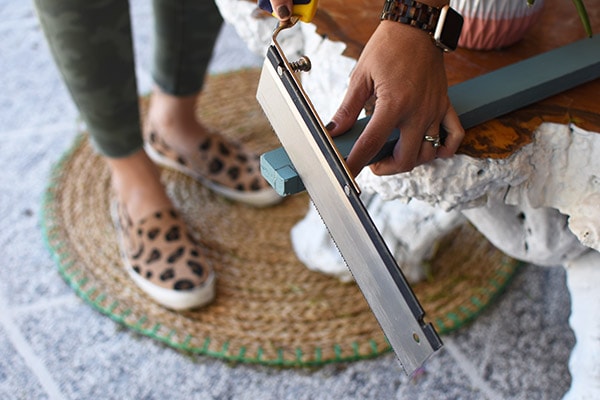 A few more nails to secure that piece, and the construction portion of this project was complete.
Check out the full supply list here :


Board and Batten Accent Wall:
I gave all the trim pieces, caulked edges, and spackled nail holes one final coat of BEHR PREMIUM PLUS Interior Paint in Dragonfly PPU12-03, and my project was officially done!!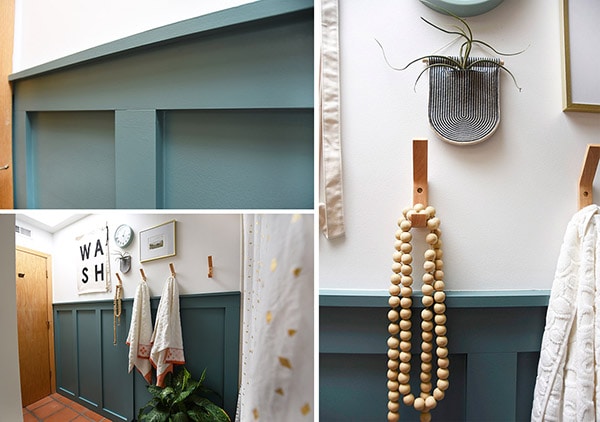 I installed four wooden hooks to hang our bath towels on.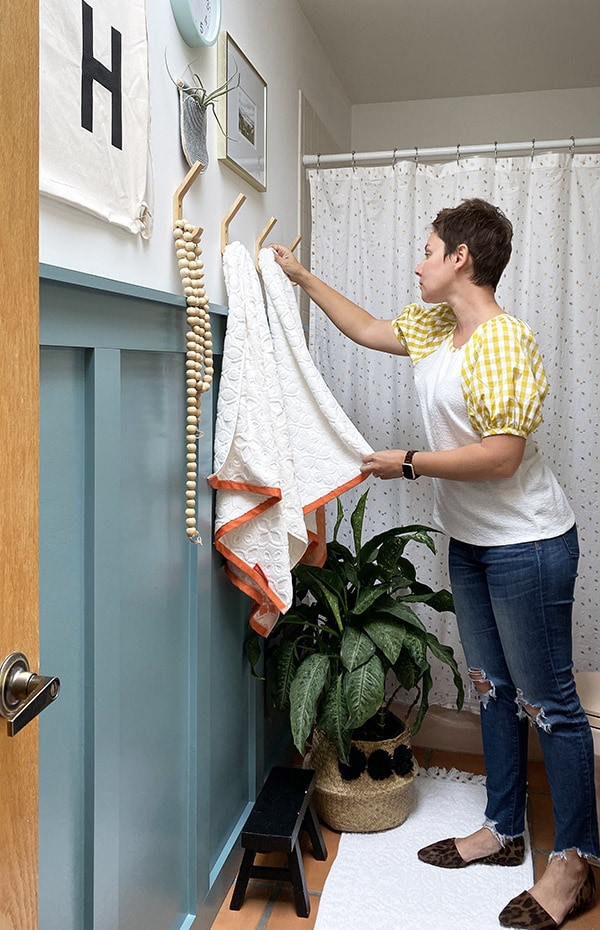 I keep catching myself walking past this bathroom, and the Dragonfly PPU12-03 paint color makes me smile every time.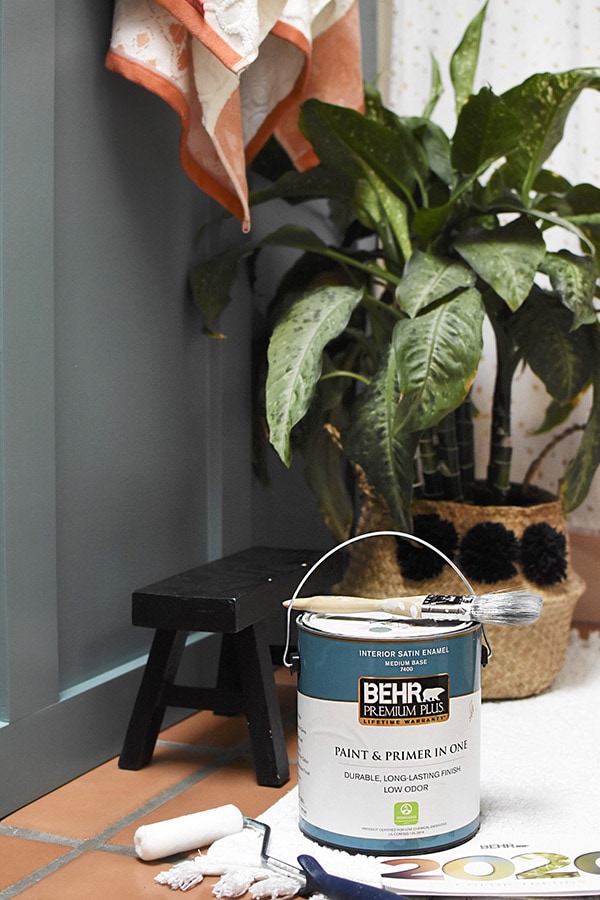 Not only does the entire family love how this DIY board and batten wall turned out but I feel so excited to try my hand at another wood project! It felt so scary to try all these new power tools, but it was thrilling to make something with my own two hands.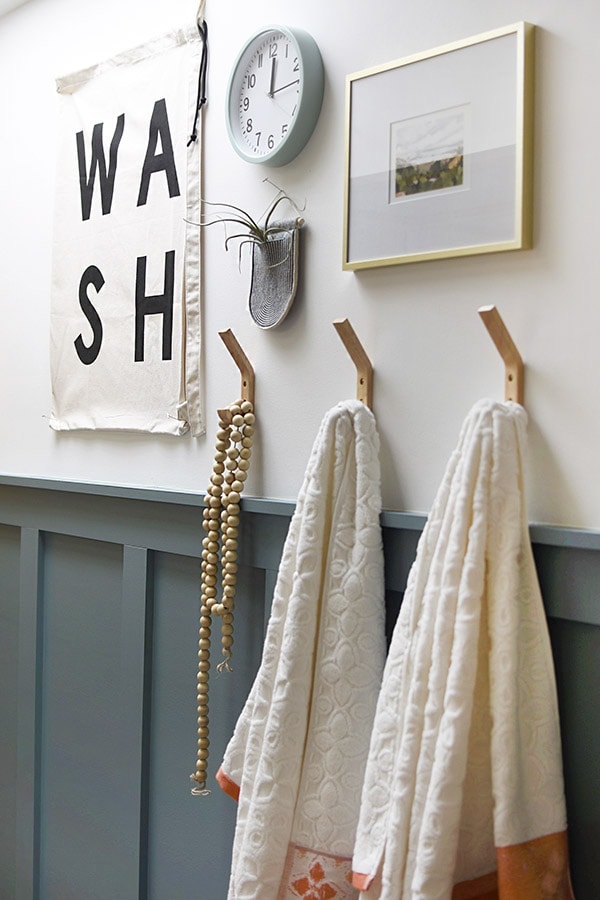 This board and batten accent wall really is such a simple and affordable project that can totally change your room and add character!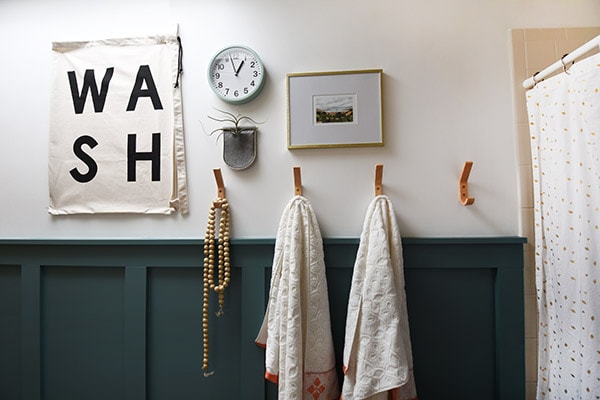 I added a few pieces of art, a wall clock, and a hanging air plant.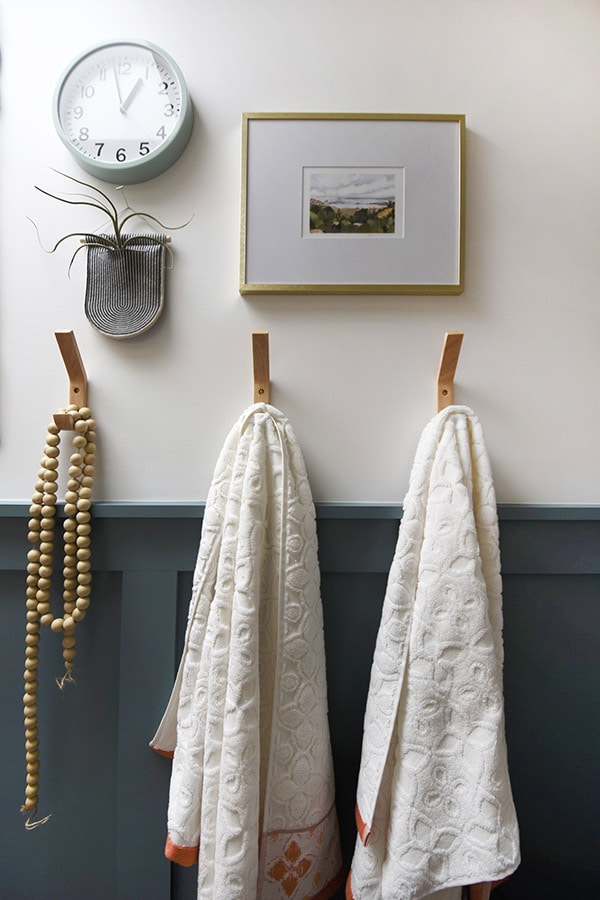 Next, I will be adding wallpaper above my board and batten, changing out the hardware on our vanity, and painting the rest of the room to complete the look.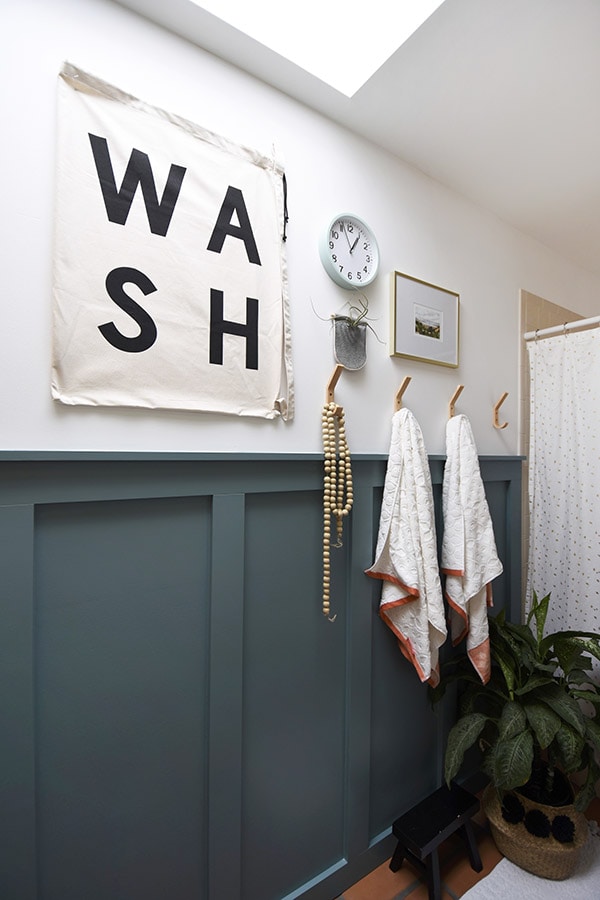 Thank you to Behr for this gorgeous paint color!
Be sure to follow the entire guest bathroom process!
Hallway Bathroom Plans
Removing your Sliding Glass Shower Doors
How to Build a Modern Board and Batten Accent Wall
WASH Bathroom Artwork framed
Hallway Bathroom Reveal
MY Home –> Want to check out my each room in my home?
I have inspiration, tips and inexpensive ways to make your home YOU.