It's Friday and that is cause for celebration!  Thanksgiving is just a week away which hardly even seems possible.  I haven't made my most favorite pumpkin frosted cookies yet and I think I had better get on it before everything turns from pumpkin flavor to peppermint!  But before that… let's chat about my Friday loves!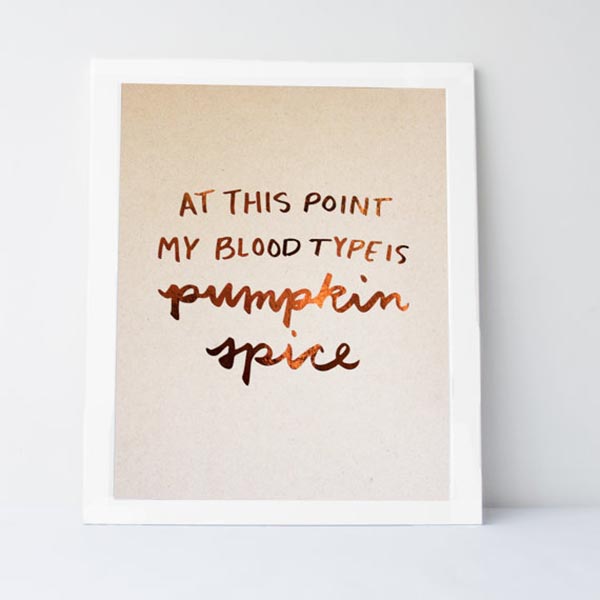 This post may contain affiliate links.  See full disclosure here.

I have loved this Pumpkin Spice print for a while.  I think I even shared it last year, it's just too good and the foil print – AH!
I adore simple designs with a big wow factor and this bench that my friend painted… new favorite.
These leather wrapped flasks have to be the cutest flasks I've ever seen!
I've been contemplating letter boards and I love that Amazon sells them in all shapes, sizes and colors now!
DID YOU SEE?!!! I'm hosting a Favorite Things Giveaway and I'd LOVE for you to enter!  DID I TELL YOU???  It's also with 10 other amazing blogger friends of mine.
Am I allowed to share the same kitchen twice?  THIS KITCHEN!!!  My friend, Aniko literally is the most amazing DIY-er.  She just completed her kitchen in the One Room Challenge and I adore it.
The choreography in this music video is amazingly timed.  I just can't stop watching it!

Delineate Your Dwelling this week:  Favorite Things GIVEAWAY | Thanksgiving Table | Apple Cider Mule
Image from top of post : Pumpkin Spice Print
SaveSave
SaveSave
SaveSave