Five Things I can not BLOG Without
I find it SO helpful as a blogger, when sites I follow share tips, tricks and behind the scene information. So, I've decided to share a few blog related posts every so often. If you enjoy Delineate Your Dwelling for creative DIYs, check back on Wednesday (I've got a great Spring brunch setup to share!) If you'd like to find out Five Things I can not BLOG Without, then keep reading!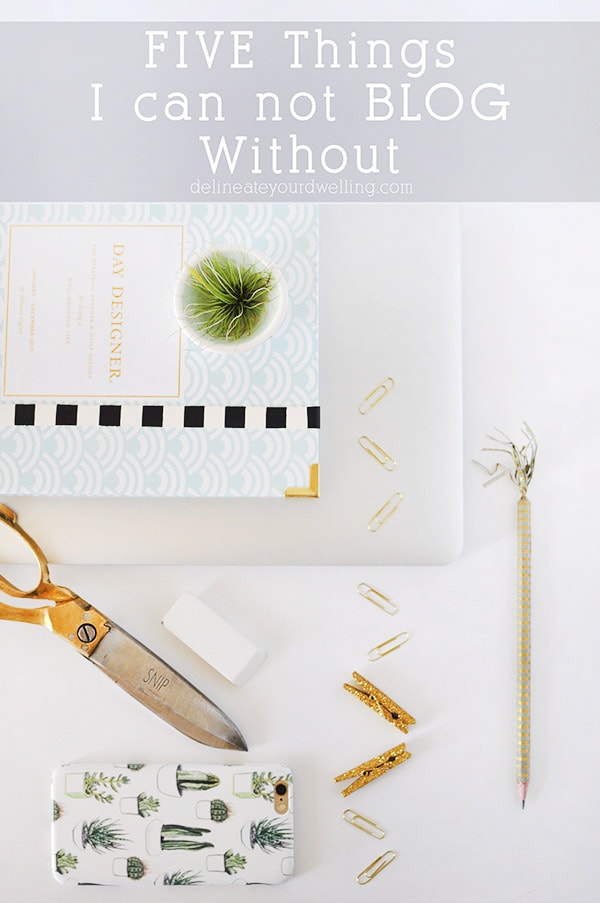 There are so many things that go into a blog post. Beyond just the supplies needed for the actual craft or project, there are five main items and resources that if I didn't have access to, I'd need a serious 'Plan B' to pull it off!
This post may contain affiliate links. See full disclosure here.
1. Macbook Pro + iPhone
There doesn't seem to be much these days that people do without using a computer or smart phone and I am no different. I sometimes wish I could go digital free for even a day, but it makes me start twitching just thinking about it.
In the morning on the computer, I link up to a few link parties, check my blog stats and schedule out a few social media posts for the day. I don't usually get back on the computer (unless it's something very urgent) until my kids are resting/napping in the afternoon. I do a big chunk of work during that time.
I use my phone at various times of the day for Instagram, checking Facebook comments, Twitter comments and quick Pinterest pinning. See The Many Hats of a Craft Blogging Mom for a more detailed look at my daily tasks.
2. Adobe Photoshop
Oh, Adobe photoshop, how I love thee! I was fortunate enough to learn photoshop during college. When I stopped working for a landscape architect firm and started doing some residential landscape design when I had my babies, we decided it was a worthwhile investment and we bought Adobe Photoshop and Adobe Illustrator. I now use Photoshop EVERY day for editing images and creating simple graphics for my blog. I also use Illustrator for almost all of my Etsy shop prints. We bought version CS6, right before they moved to the Adobe Creative Cloud Digital plan
. Many folks use PicMonkey or even Canva for a free option and it seems like it has quite a few design functions.
3. Camera: Nikon D90 DSLR + Lens
When kiddo #1 was on the way, my husband insisted on getting a "fancy" camera. This was right when cameras were starting to be installed in phones (I feel so old just saying that!) and I made so much fun of the hubs for getting this big camera. Why in the world, would we EVER really need a fancy camera like this?! How the times have changed. Now, I use our "fancy" camera on a daily basis. I have the Nikon D7200 DSLR.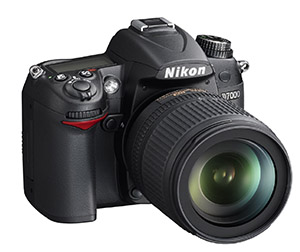 Over time, we have bought three lens for the camera. The lens I use 98% of the time is the Nikon 35mm f/1.8G Lens
. This lens is excellent for most shots I am taking on the blog. We also have a Nikon 10-24mm f/3.5-4.5G Wide-Angle Zoom Lens
and a Nikon 18-200mm f/3.5-5.6G Telephoto Zoom Lens
.

4. Editorial Calendar
I admit, I have a serious calendar problem. I could have a calendar in each room of my home, a few calendar apps on my phone and a blog editorial calendar and be a happy lady! Let me tell you, if you are serious about blogging and want to have any kind of order in your life, I can not stress enough how much an editorial calendar is key. I use both a paper calendar and an editorial plugin.
5. Amazon Affiliates
The last part of my blogging equation is monetizing. I would love to say that I craft all day and somehow the craft materials just multiply over night, but sadly I visit my local craft store on a weekly/bi-weekly basis. That being said, I've started adding affiliate links to some of my key craft supplies. There is never an additional charge to the reader, but I make a very small percentage of the sale, if they purchase or click on the item. I've found Amazon Affiliates to be the easiest for me to use and the easiest for my readers to use.
If you enjoyed this post, you might also like The Many Hats of a Craft Blogging Mom.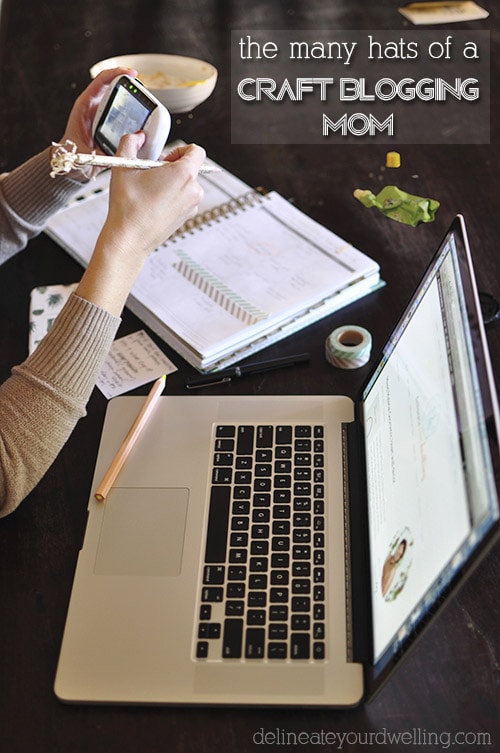 Well, that wraps up the FIVE things I can not Blog without. What about you? Do you have any "must haves"? We're all on this journey together. I'd love to hear them, so be sure to leave a comment!
Looking for more BLOG related topics? You might like these.

SaveSave
SaveSave
SaveSave
SaveSave