Today marks the third installment of a new monthly series I've started! There are so many talented bloggers and creators out there that inspire me on a DAILY basis, so I have decided on the last Friday of each month to share my very favorites with you.
March 2015 . Feature Friday with Sugar & Cloth
AH! Sometimes you forget that bloggers you love, are real people. Sometimes you (and I mean, me) hold them up as these creative geniuses. So when Ashley of Sugar & Cloth happily agreed to participate in my little blog's Feature Friday, I did a REALLY big happy dance.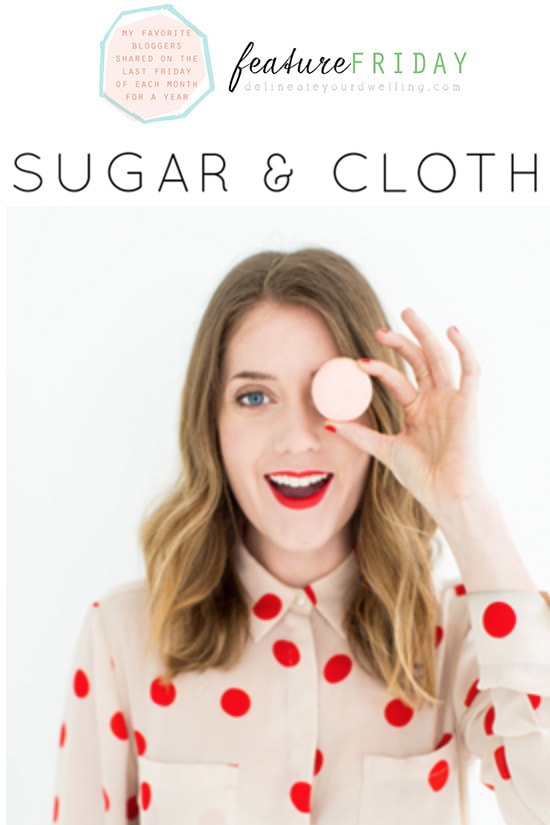 original photo by Kimberly Lee Chau Photography
Shortly after Ashley agreed to participate in my Feature Friday post, she was nominated for the 2015 Better Homes and Gardens Top Ten DIY Bloggers (vote for her here!). You guys, believe me, she's awesome.
I asked Ashley eight simple questions.
(please pin from the original source)
1. Where did you grow up and where do you live now?
I grew up in Charleston, West Virginia and then moved to Houston about four years ago.
2. How would you describe your personal aesthetic?

I'd say my aesthetic is modern minimalistic with pops of color, and of course, a little gold.
3. If you could move into a home decor store which would it be?

Either ABC Home or CB2, I freak out over everything they have!
4. Do you have "go-to" colors? If so, what are they?
Oh definitely: white, gold, pale pink, and mint green.
5. Do you always DIY or is buying sometimes better?
I'd say I have a healthy mix of the too. With things that won't look put together or well done, I buy. Some things you just leave to the pros, haha.
6. What is one of your favorite projects? Please share a little bit about it.
One of my favorite projects is my DIY metallic pendant light. It was so simple to make, but really packs a big punch. That or any macaron projects! You can't go wrong with cookies 😉
7. Which is your favorite social media platform and why?
Instagram, hands down. I'm totally a picture person.
8. Is blogging your profession or just a hobby?
It's now my profession, but only since this past October. It was one of the most terrifying and rewarding decisions I've made!
Interested in seeing all of the 2015 Friday Features? Check them out
here
!