Today marks the FIFTH installment of my Feature Friday monthly series! There are so many talented bloggers and creators out there that inspire me on a DAILY basis, so I have decided to celebrate them on the last Friday of each month (just one week late!).
May 2015 . Feature Friday with Rae Ann Kelly
All you awesome hipster Mama's out there – Are you ready for this month's feature? Rae Ann says she's a 'graphic designer, kid wrangler (she's got five cuties), food and craft nut." I am always inspired by her use of clean graphic patterns and simple ideas, done in a way my brain would never think of! AND she has the greatest printables, I'm obsessed. I know you will be inspired by her authenticity and creative spirit.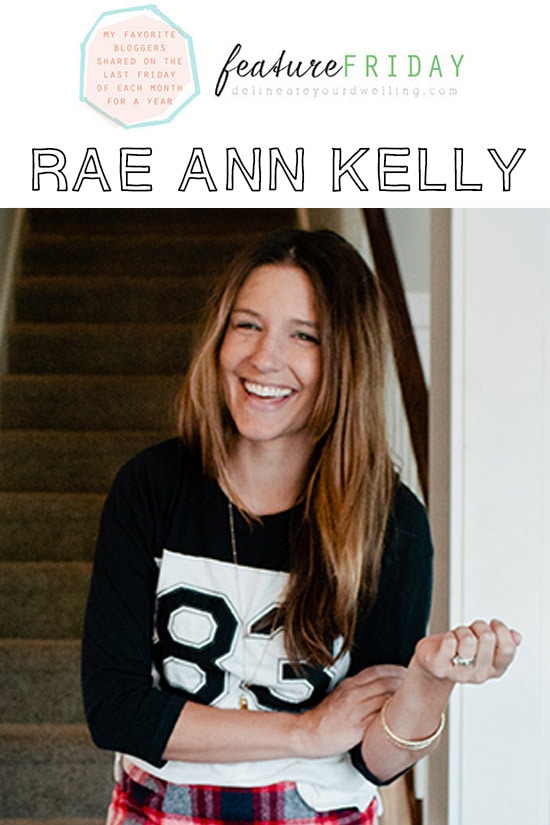 I asked Rae Ann eight simple questions.
(please pin from the original source)
1. Where did you grow up and where do you live now?
Most of my life has been lived in the Pacific Northwest but I spent some of my best childhood years in Chicago and a crazy, hot minute (nearly a year) in L.A.. After almost 10 years in Eastern Washington attending college and starting our family, my husband, myself and two of our (now five) kids moved south of Seattle where we enjoy all the perks of the Pacific Northwest, at least in the summer, fall and beginning of winter. The other 5 months I spend trying to convince my husband that we could totally make it in Southern California.
2. How would you describe your personal aesthetic?
I think I like a little bit of everything but if I had to narrow it down, I would probably say, Modern Boho-Hipster (if that is a thing?) and totally laid-back with lots of white and pops of color and pattern (gimme all the patterns!). I also like my rooms to have at least one thing that's new, old and handmade.
DIY Handwarmers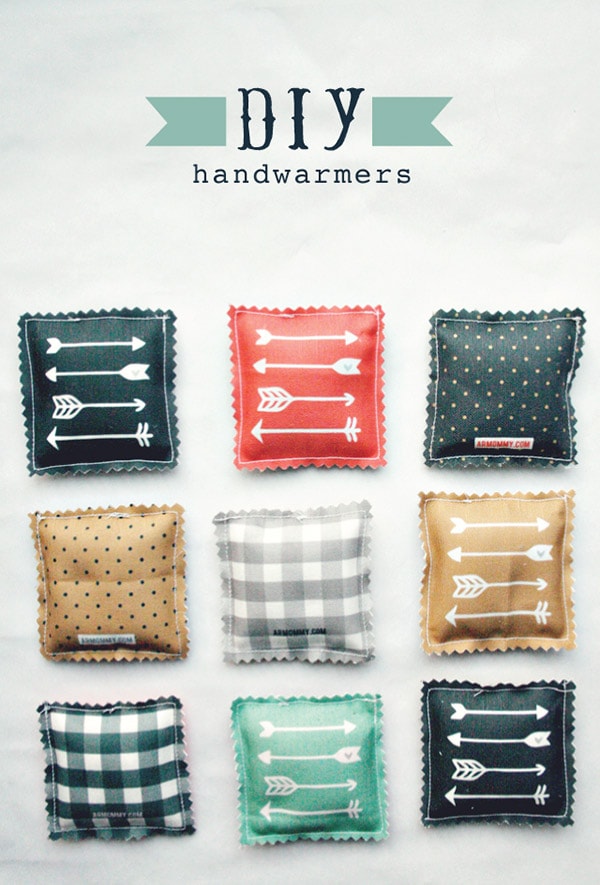 3. If you could move into a home decor store which would it be?

I know this might sound totally ridiculous and weird, but The Land of Nod. First of all, their aesthetic is so fun but I also love decorating with my kids in mind and enjoy the challenge of creating a space that everyone thrives in, even our guests. I also appreciate the fact that these little kid years are fleeting and I will have the rest of my adulthood to decorate for older humans.A few other favorites include Urban Outfitters, Anthro, Lulu & Georgia and West Elm. Not to mention that Target has been killing it in the home dec department lately and Ikea is for sure top of the list. I've also never been to a Home Goods store but hear they are dreamy.
Fabric Party Banner for Spoonflower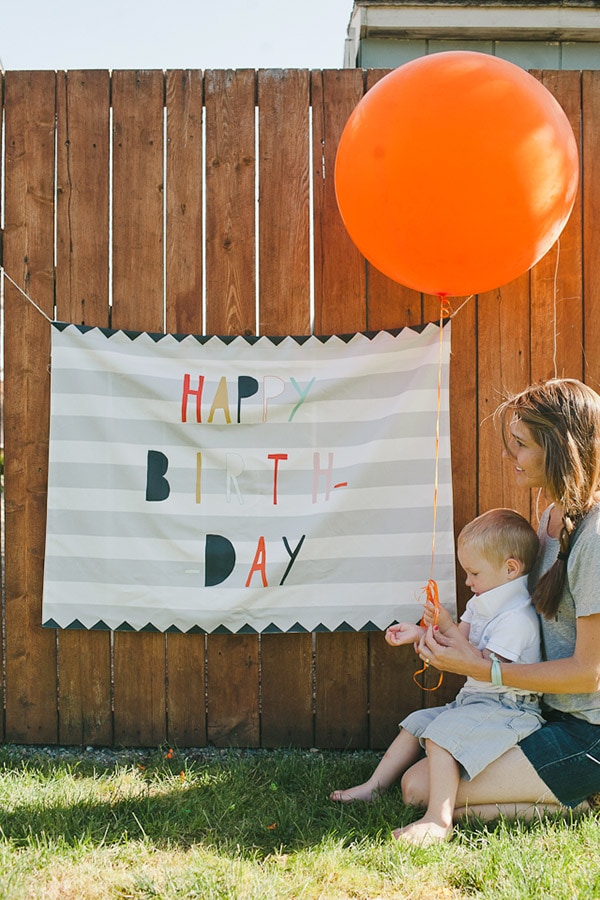 4. Do you have "go-to" colors? If so, what are they?
For a long time my go-to color has been a tomato-ish-coral-ish-red, but lately I've been drawn to yellow, pink (which is SO unlike me) and cobalt blue…. Not necessarily together. Other than that I'm a white, gray and midnight blue girl for life.
5. Do you always DIY or is buying sometimes better?
Usually my rule of thumb is to DIY if what I want doesn't exist, I can't find it, it's too expensive, or making it is way cheaper. I also try to give in to buying if life is so busy that the DIY project in my head (or pinterest board) just isn't going to happen. Of course it doesn't always workout that way like the time we made
floating bookshelves
that ended up being just as expensive and not as easy to style as the store-bought version.
Ultimately I want to create a space for my family to love, relax, learn and party. No matter what I'm making or buying I always try to keep those things in mind.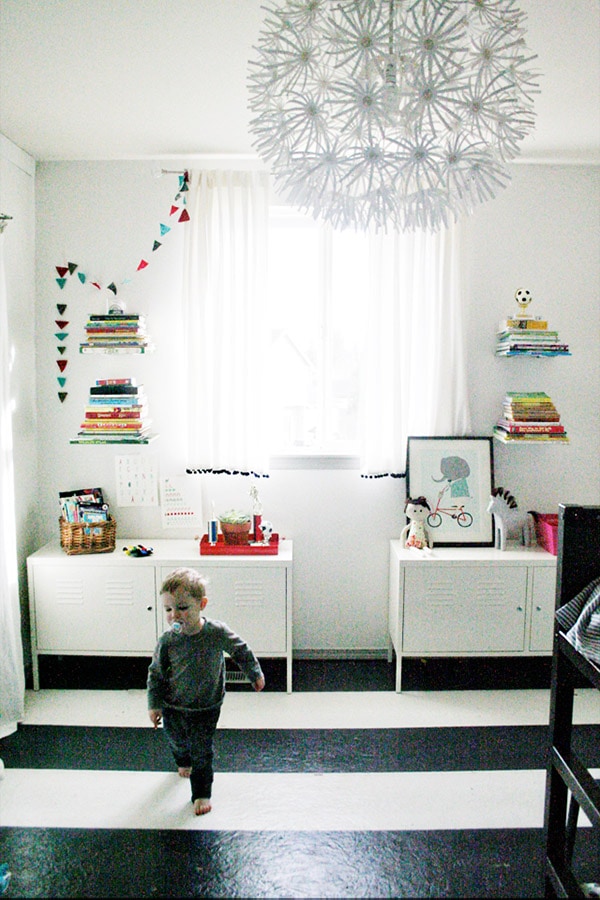 6.
What is one of your favorite projects? Please share a little bit about it.

My favorite projects usually involve paint, require my husband's help and add function to our lives, like the chalkboard wall in our old kitchen. However, kid crafts
(like these
1
/
2
/
3
) or sewing projects
(
like these
1
/
2
/
3
)
are my comfort zone. Now that we've been in our new home for almost a year and Poppy is almost one, I've been feeling inspired to do more home decor DIY's. I can't wait to share our spruced up entryway and the girl's updated shared bedroom.
7. Which is your favorite social media platform and why?
Hands down, Instagram. I'm obsessed on certain days. Mostly because I try to stay off social media during my computer time and it's the easiest to "check-in" on from my phone while nursing or waiting in the carpool line. I also love that there aren't a bazillion links so i'm less likely to wander into the black hole that is the internet.


8. Is blogging your profession or just a hobby?
More of a hobby, but it is part of my profession (graphic design) since I share a lot of my work and design freebies on the blog. I also get hired to create content for other sites such as
land of nod
and
mom.me
, my bio says "blogger" and I've been trying to post more consistently so I think I'm moving towards making it more of a profession…. 🙂
Interested in seeing all of the 2015 Friday Features? Check them out
here
!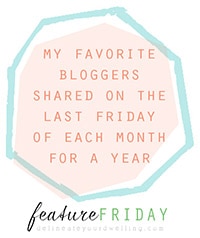 Feature Friday with Rae Ann Kelly
SaveSave