It's the last Friday of September and that means it is Feature Friday! I have started sharing some of my favorite bloggers inspire me on a DAILY basis on the last day of the month and I can't believe we are already to the tenth blogger!
September 2015 . Feature Friday with Proper
Lexy from Proper is just plain fun. You can tell from her blog she likes to laugh and that's a great trait to have. She has a bright colorful style and the girl loves some Diet Coke like nobody's biz. From colorful photography to on point DIYs and crafts, Lexy shows us how to live a proper life in an improper fashion!
I am so happy she agreed to come over to Delineate Your Dwelling today. Friends, let me introduce you to Lexy…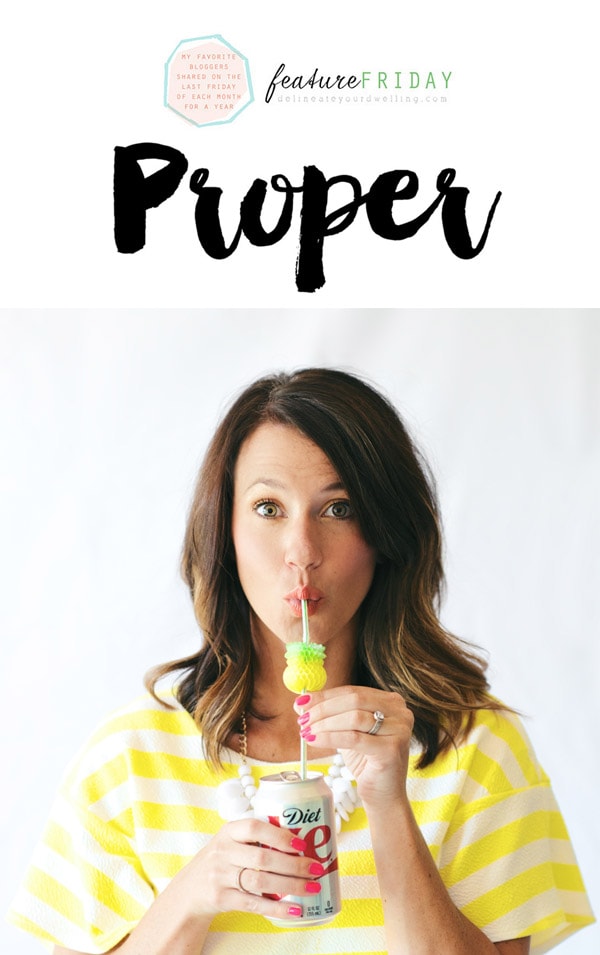 I asked Lexy eight simple questions.
(please pin from the original source)
1. Where did you grow up and where do you live now?

I grew up in a small town just south of Provo, UT and then moved out the second I graduated high school! After college, I moved to Denver with my husband and we were there for about 8 years before moving to Tucson! We just moved here this spring!
2. How would you describe your personal aesthetic?
Oh heavens, I'm a bit of a juggernaut. I would say mostly Mid-century Modern with a touch of Classic. Lately, I'm really into a lot of natural woods.
3. If you could move into a home decor store which would it be?
Gosh, I love Anthro for the accessories and furniture, Urban Outfitters for the rugs, and West Elm for everything else. So I guess if I had to choose just one, wait, how can I answer this?! Going with my gut- West Elm.

4. Do you have "go-to" colors? If so, what are they?
Salmon, all the way. Forever. With some golds, some greys, throw in a little bit of mint, maybe some pastel purples and pinks, and I'm good! And let's not forget the power of black.
5. Do you always DIY or is buying sometimes better?
My husband is a big budgeter. Me? I'm coming around. I've never paid full-price for anything, so I love a good bargain. But for things like shelves, accessories, art, and what-not, sometimes you just gotta do it yourself.
6.
What is one of your favorite projects? Please share a little bit about it.

One of our most popular projects has to be these
typography macarons
! It's been so fun to see macaron art evolve around the web since sharing that idea! I also love our floral food series.
Macarons
,
Marshmallows
! These
pancakes with a floral wreath
are my favorite, and we've kind of become known for the
floral pie wreaths
we create during the holidays!
(Pssst! Personal plug, if you're in the Phoenix area, follow along on Instagram to see when tickets go on sale for our pie workshop!)
7. Which is your favorite social media platform and why?

Instagram. Hands down. I'm a very visual person, and not only do I love to curate the
PROPER feed
, I also love being inspired by others and building relationships with the community you can find there!
8. Is blogging your profession or just a hobby?
It's my profession, and I am so grateful to be able to call what I do "work"! However, there's the side of hustle that people don't see where I am on the verge of tears and ripping my hair out from exhaustion. But then I just have a Diet Coke and some form of carb and I'm happy again!
Interested in seeing all of the 2015 Friday Features? Check them out here!