Today marks the second of a new monthly series I've started, yay! There are so many talented bloggers and creators out there that inspire me on a DAILY basis, so I have decided on the last Friday of each month to share my very favorites with you!
February 2015 . Feature Friday with My Fabuless Life
Oh, Jenn from My Fabuless Life… she is so great and honestly, I feel like we should be real life best friends. I adore her style, her color choices and she's just so darn creative. I was semi stalking her for a year or so… but I've been trying to play it more "cool" recently. Please welcome, Jenn!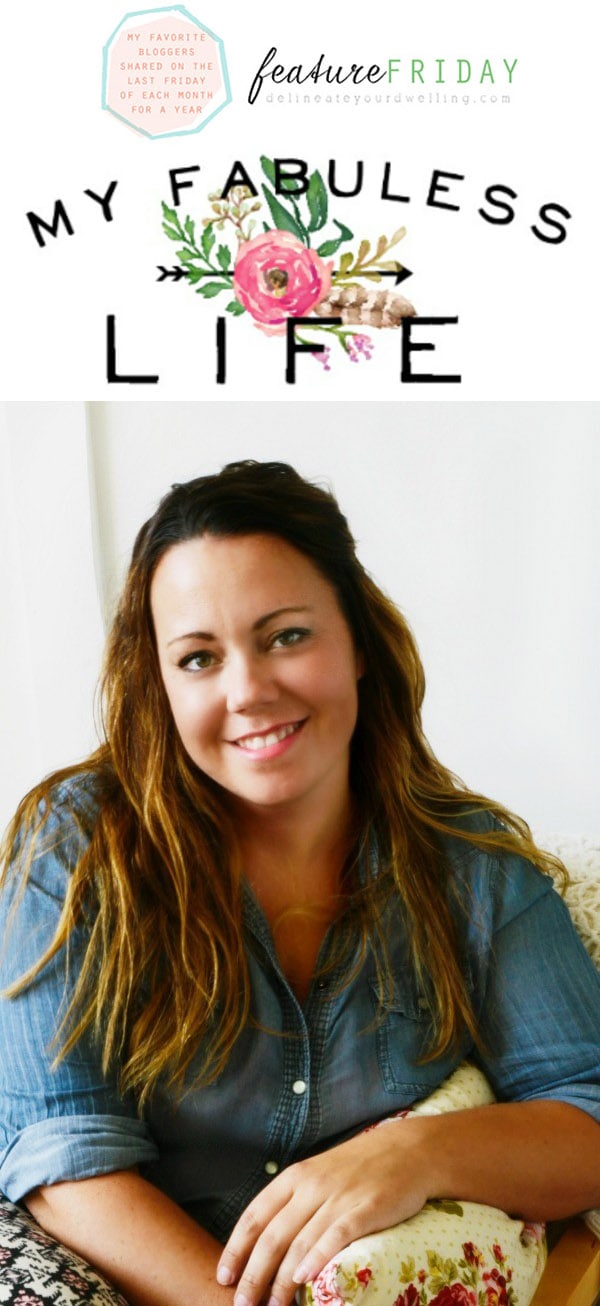 Jenn's About Me page states she is all about making the most of what she has and what life brings is how she was taught and how she tries to live.
I asked Jenn eight simple questions.
(please pin from the original source)
1. Where did you grow up and where do you live now?
I'm a born and raised Salt Lake City, Utah girl and still call Utah home. I went to college in Southern Utah (where I met my husband), but I've never lived outside the State. And, shameless plug, Utah is seriously underrated! If you've never been here, you're missing out! The older I get, the more I absolutely love and appreciate this little gem.
Painted Vintage Trunk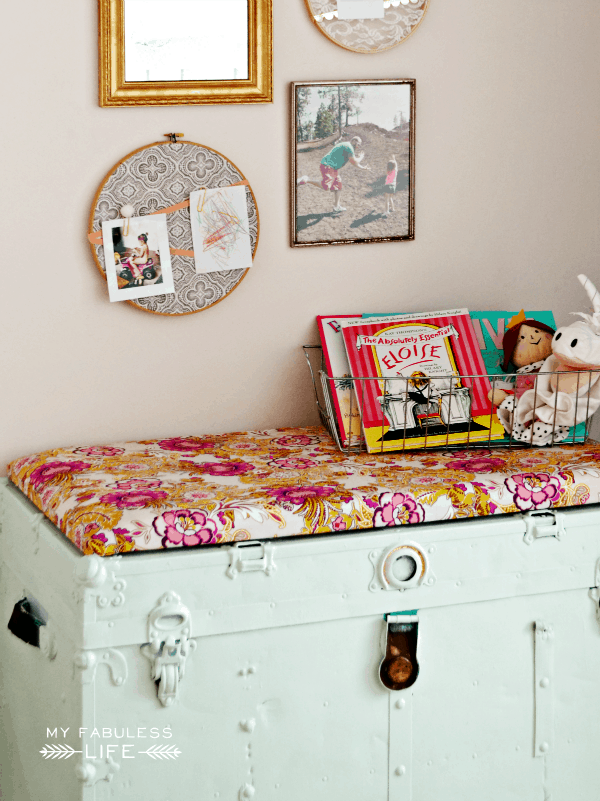 2. How would you describe your personal aesthetic?

Hmmm. That's a hard one. I like sort of a mix of everything. I'm a major lover of vintage and antique, chippy furniture, but I'm also a huge sucker for mid-century and Danish modern style, and I think my house is sort of a reflection of that. White, dark woods, pops of color, and cool (and sometimes randomly weird) vintage things make me HAPPY! I LOVE things with a past and that sort of tell a story, whether it be an accessory or a piece of furniture.
3. If you could move into a home decor store which would it be?

That one is a total no-brainer for me. West Elm. Hands down. But I would need to bring a few of my old vintage books and trinkets along 😉
4. Do you have "go-to" colors? If so, what are they?
I'm laughing a little as I write this answer, because this is a running joke with my husband and I. My go-to colors would HAVE to be black and white. My husband really couldn't care less about decor, but on several occasions he's said, "Can we please add some color in here?" I try, really I do, but somehow I always gravitate back to the neutrals of black, white, and gray. If I had to choose an actual color though, it would be green–almost any shade. I LOVE green, and mint is one of my FAVORITE neutrals.
5. Do you always DIY or is buying sometimes better?
I LOVE this question, because this has actually changed a lot for me in the last year. I used to be all about the DIY (translation: cheap), but you know, some things REALLY just look better when you spend a little money. A few accessories, and DEFINITELY furniture. Let's just say, I've had two failed attempts at a sofa-reupholstery before I finally threw in the towel and saved the money to buy a new sofa (which I'll actually be sharing on my blog next week). I'm all about making your home uniquely YOU, but that doesn't mean that you can't make that happen with purchased items. I love that perfect mix of old and new, things that you've poured your work into and the things you've picked up while spending three hours wandering the aisles of Target–not that I ever do that. That said, I still prefer an old thrift piece of furniture (except sofas 😉 ) any day!
6. What is one of your favorite projects? Please share a little bit about it.
One of my favorite projects would have to be my black dining room and kitchen walls! It was sort of a bold choice at the time I did it (can I pull the "I-did-it-before-it-was-cool" card?), I even did it while my husband was at work, knowing that he would never agree beforehand, but he'd love the result–and he did. It's been something that's really fun to decorate around and I love the stark contrast and interest that it brings to a room that is so open (we have a VERY open floor plan).
7. Which is your favorite social media platform and why?
No-brainer for me: Instagram! I totally heart Instagram. I'm a VERY visual person, and I could sit for HOURS just looking through beautiful pictures. I know that Instagram can be sort of a best-foot-forward type of thing, but I sort of like that it's somewhere to focus on the positive and beautiful (for most people). There is so much beauty from National Parks (did you know they all have feeds?) to uber-talented and creative folks sharing glimpses of their work and their homes.
8. Is blogging your profession or just a hobby?
Definitely more hobby at this point, though I wouldn't be opposed (most days) to turning it into a job.
Interested in seeing all of the 2015 Feature Friday? Check them out
here
!