Today is the last Friday of August and it's Feature Friday! There are so many talented bloggers and creators out there that inspire me on a DAILY basis, so I have started sharing some of my very favorites on the last Friday of each month. I've loved sharing 7 months of talent so far and believe me, you are going to love this month's feature!
August 2015 . Feature Friday with Decor Fix
About a year ago, I started seeing images of the most lovely rooms on Pinterest and after clicking over, I slowly realized many of them were from the same person! I knew I had to do some investigating and I found it was Heather Freeman of The Decor Fix, a designer and "Decor Coach". You guys, she's so lovely. I've really become SUCH a fan of hers. Her style is so spot on and she put into words so many things that I've felt, "Life plays out in the background of our homes. Your home should be your favorite place on Earth."
I am so honored she agreed to come over to Delineate Your Dwelling today. Friends, let me introduce you to Heather!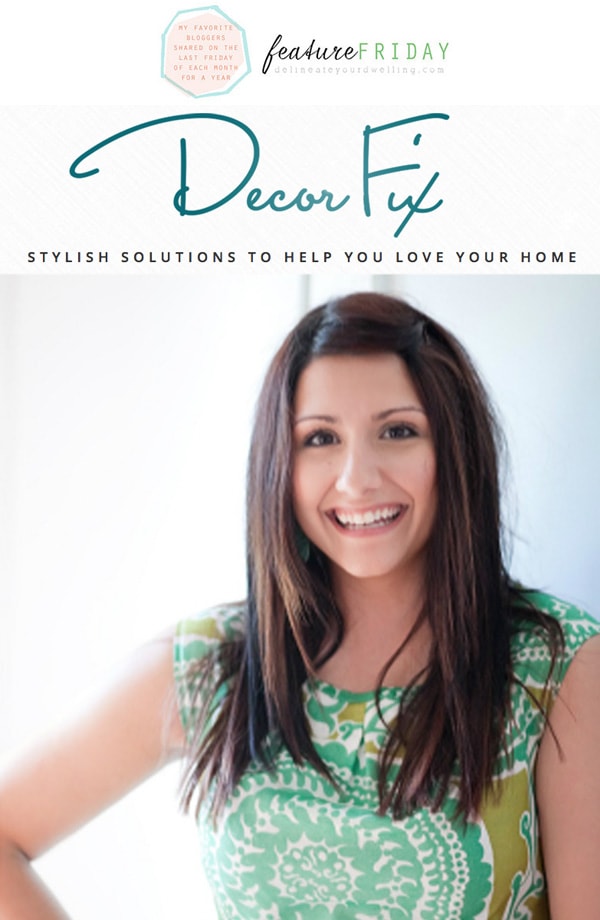 I asked Heather eight simple questions.
(please pin from the original source)
1. Where did you grow up and where do you live now?

I grew up in Sugar Land, Texas which is a suburb of Houston. (Yes, that's a real city…The Imperial Sugar Factory started there over 100 years ago . No, I don't know the band Sugar Land.) I moved to Springfield, Missouri for college and "got stuck". I've been in the Midwest 15 years, and it feels like home now. (Except during snow storms where my native Texan comes out, and I just want to hibernate in front of a heater.)
2. How would you describe your personal aesthetic?
I'm often asked this and find it hard to say in just a few adjectives! My style has evolved over the years, which I feel is normal…So many of my sweet clients worry if they don't have a specific style that they're doing something wrong. I encourage them that it's more about knowing what you're innately drawn to and marrying those things with a few basic design principles. Then whatever decisions you make in your home will work. It's not about getting it "right", it's about getting it "you".
As far as my aesthetic, I know that my tendency is to use neutrals as a base for large items, mix in a healthy dose of black and white, hang oversized modern artwork, and weave in heirlooms with recent finds whenever I can. I tend to feel at home in rooms that have an overriding sense of calm with a few strong punches of color.
3. If you could move into a home decor store which would it be?

West Elm, hands down.
4. Do you have "go-to" colors? If so, what are they?
Black and white and gold all over…with a little bit of blush.
5. Do you always DIY or is buying sometimes better?
Honestly, I have really changed my stance on DIY. As a blogger, I used to post lots of DIY's in the early days. Some turned out great but took days. Others took hours and four trips to Hobby Lobby and looked totally tacky. As a working mom, my time is now a hot commodity. If I'm going to spend time and money on something then the pay off has to be big. It needs to be simple, quick and not look like something I DIY'd.
6.
What is one of your favorite projects? Please share a little bit about it.

You can hardly call it a project, but a while back I framed some
gorgeous marbled paper
in a gold thrift store frame. It's one of my favorite things in my house. The whole thing cost about $20 for oversized art that I just love. My mantel found it's perfect match. (Oh, and my
faux log stack
was a game changer in my living room too.)
7. Which is your favorite social media platform and why?

I fell in love with Instagram this year. (I'd never really used it much before.) I've been able to connect with people who inspire me and also grow this great little community of my own that I'm able to love on and share advice. It's just the best. When I transitioned to full-time design, I wasn't able to blog as much as I used to. I use Instagram for "micro blogging" these days, meaning sometimes I give my best design tips and project sneak peeks on this
platform. I also meet a majority of my decor coaching clients on IG.
8. Is blogging your profession or just a hobby?
Blogging started as a hobby 5 years ago and led to a new profession in interior design. I quit my day job of teaching to focus solely on design. Now I work using method I created called "Decor Coaching", which is a hybrid of interior design and teaching. I still blog, but my income comes the work I do with clients one-on-one.
Interested in seeing all of the 2015 Friday Features? Check them out here!