It's the last Friday of November. I am feeling thankful and happy to have spent yesterday with my mama, husband and kiddos (missed you, L + B)! It's also one of my favorite days of the month because it's Feature Friday!!! I am inspired by so many creative and talented bloggers on a daily basis, so on the last day of each month I interview one of my favorites in a Feature Friday!
November 2015 . Feature Friday with Sarah Hearts
I started following Sarah in early 2014 and immediately fell in love with her cheerful and bright aesthetic. You can tell she loves what she does. Plus, we have a mutual love affair with all things gold scalloped!
I had the pleasure of meeting Sarah at Alt Summit 2014. I went by myself and on the first morning, was in the lobby of the hotel getting some breakfast. I turned around to see Sarah and Jeran (next month's feature)! I boldly went straight up to them and said, "Oh my goodness. I just came down to get some orange juice, I didn't think I was going to see my celebrity bloggers!" Without even batting an eye, Sarah went right in for a hug. I turned right around and text my husband saying, "I just woke up and I've already hugged a blogger!".
I know you'll love Sarah as much as I do. I am so happy she agreed to stop by to Delineate Your Dwelling today. Friends, let me introduce you to Sarah Hearts!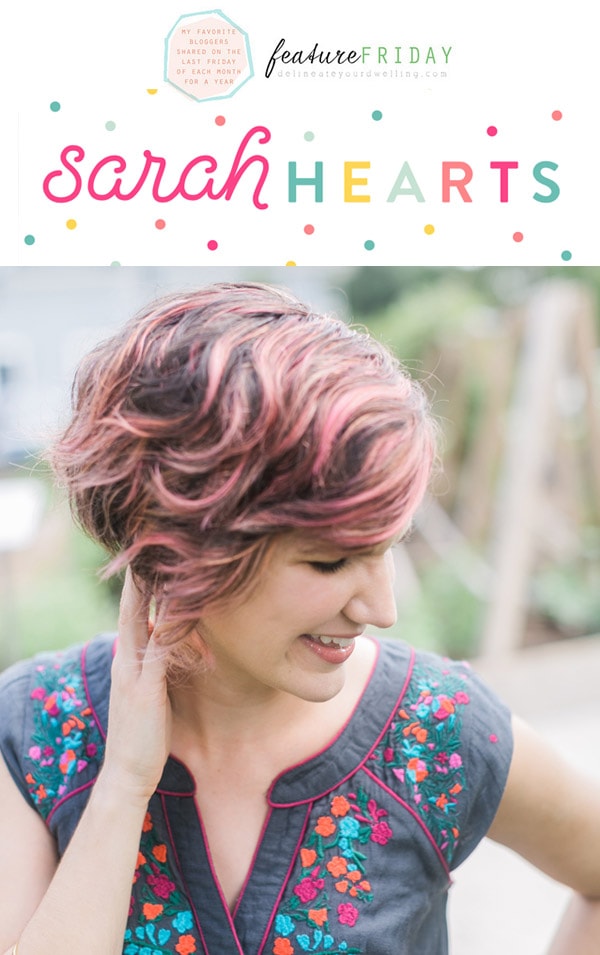 I asked Sarah eight simple questions.
(please pin from the original source)
1. Where did you grow up and where do you live now?

I grew up in Miami, Florida and have been a Florida girl all my left until September when my husband and I packed up and moved from Winter Park, Florida all the way to Los Angeles!
2. How would you describe your personal aesthetic?

Happy, colorful and feminine.
Painted Filled Ornament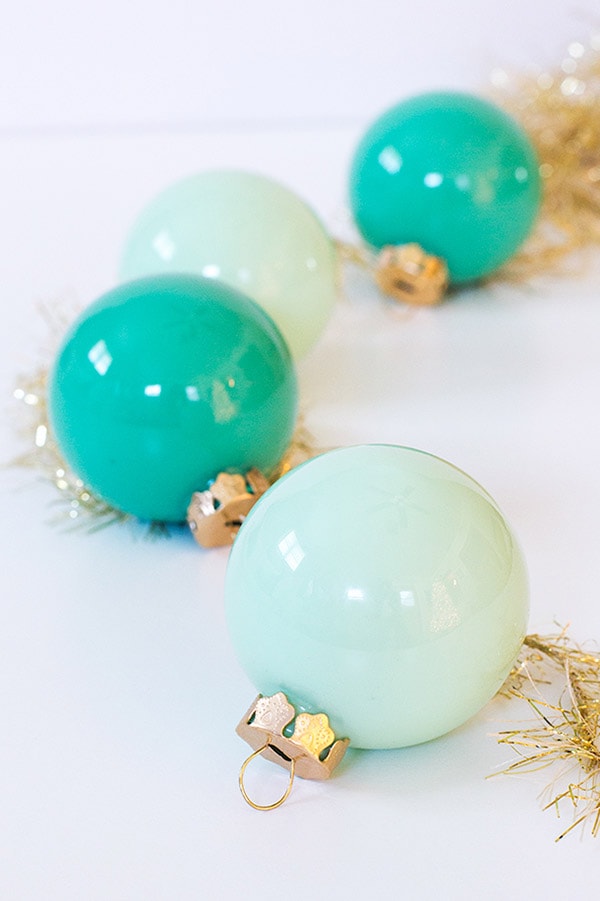 3. If you could move into a home decor store which would it be?

It's so hard for me to choose just one store! Our home is a mix of West Elm, Ikea (mostly things I've done a little Ikea hacking on), Create & Barrel, CB2 and some vintage pieces. I recently went into a John Lewis store for the first time and I found so many things I adored! I'm a big fan of many UK designers and they had such a great collection! So if I had to choose one store I'm pretty sure I could furnish an entire home from there!
Gold Scalloped Edge Napkins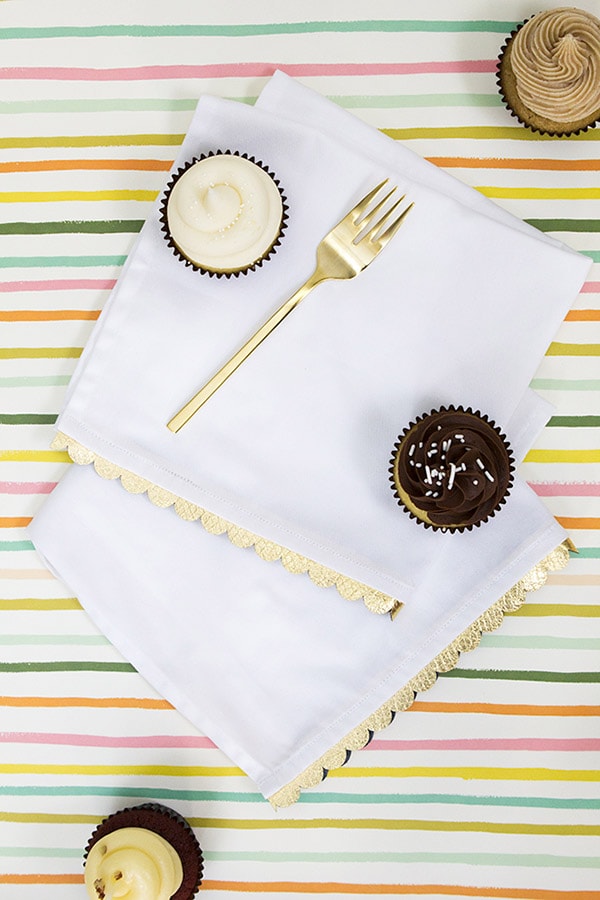 4. Do you have "go-to" colors? If so, what are they?
Yes! Coral is definitely my favorite! My go to palette is coral, mint, bright mustard yellow and any and everything gold!
Abstract Painted Throw Pillows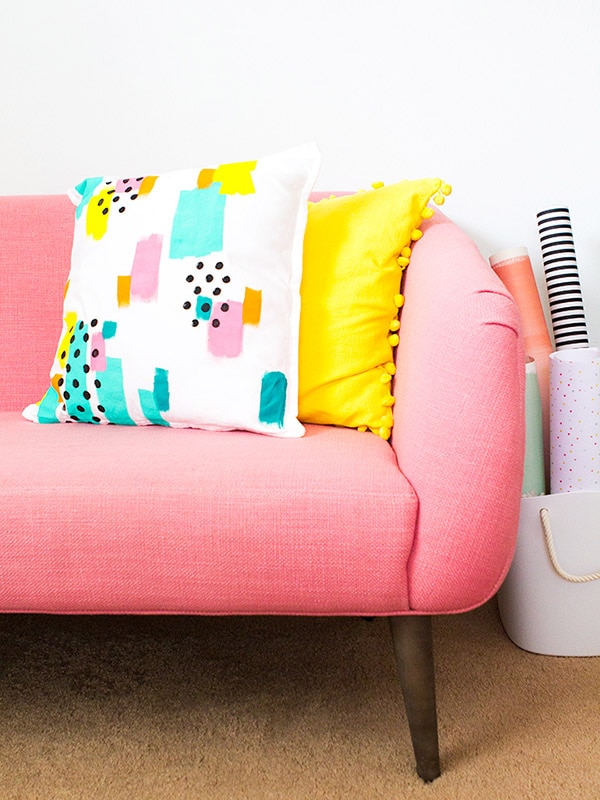 5. Do you always DIY or is buying sometimes better?
I tend to DIY most things because I enjoy making so much but I also love to buy items that others have made.
6. What is one of your favorite projects? Please share a little bit about it.
My
mid-century side table makeover
is one of my favorite projects I've done this year. I gave new life to a $10 particle board Craigslist find and with just a little bit of work it's now one of my favorite pieces in our home.
7. Which is your favorite social media platform and why?

I adore Instagram but lately I've been loving Snapchat. Instagram is often a very curated look at someone's life and Snapchat is real—no filters. Just what's
really
happening in someone's life and I love that!
Instagram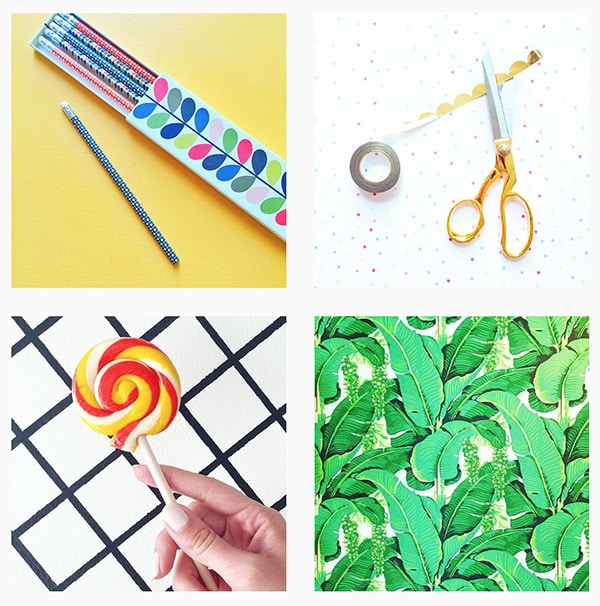 8. Is blogging your profession or just a hobby?
I'm proud to say that blogging (along with teaching Meet + Make workshops) has been my full time job for the past 3 years. It was always a dream of mine for it to become my full time gig and I'm so thankful that it is!
Interested in seeing all of the 2015 Friday Features? Check them out here!