2017 is here and I'm ready to rock this year. Actually I'm struggling a little bit to get into the groove of it all, but I'm a firm believer in setting goals and my goal is to "rock this year." So… here we go!
A HUGE thank you to everyone who participated in my blog survey. It is so incredibly helpful for me to gain an insight into what you are most excited about as I plan for each month's content. I was so thrilled with how many of you all took the survey, so without further ado let's get to the DYD Survey Results + Plans!

Survey saaaaaays…
AGES
You know what warms my heart? My reader's age range. See that lovely pie chart below? It was almost split evenly between the 26-33, 34-45, 45-55 and 56+. And even still the 14-19 and 20-25 group together matched the other percentages. Do you know what that tells me? Despite your age, we ALL crave easy inexpensive ways to create. THANK YOU GUYS! Don't let your creative side go to the wayside, it's worth keeping it inspired and invigorated despite your age!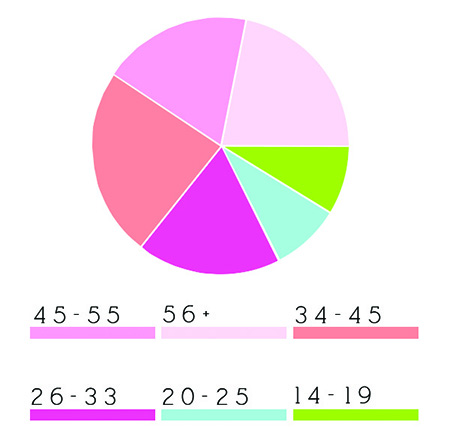 CHILDREN

First of all, do you have any kiddos running around at home? As I expected, some of you do – but most of you don't. Although I have two kids myself, I don't often gear this space as a children centered blog. But, I still celebrate kids in various places.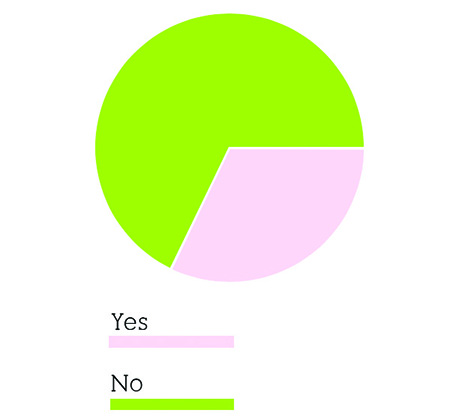 It was also interesting to see yet another fairly evenly split on those who have children and the way they are making that work in their family.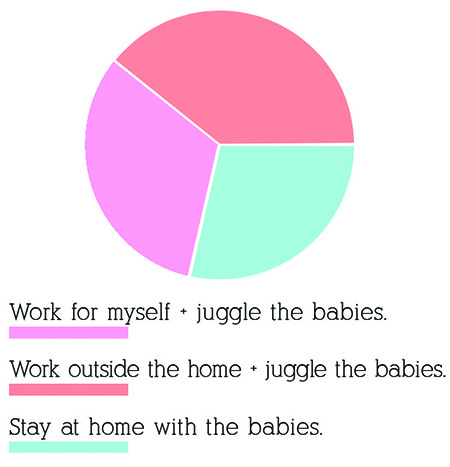 SOCIAL MEDIA
I love hearing what social media outlets are your favorites. I make my best guess as to what is the ideal way to connect with you all, but I'm not always right.
I'm so happy to say that for the second year in a row Pinterest is still the top running social media, because it's definitely one of my favorites, too. It was nice to see Instagram pull ever so slightly away from Facebook as the next fave. I feel like Instagram's engagement is so much higher! When you like or comment, I can easily see them and quickly respond. I love connecting that way. (Plus, did you know that only about 500 of you guys actually SEE my Facebook posts? Be sure to head over and click around. Let FB know you want to see my posts more regularly.)
How cool to see Youtube was an easy 4th place. Are you all video folks? Maybe I should jump on the video train!! Then, Twitter, Snapchat and Google + are hanging by threads – not too surprising there.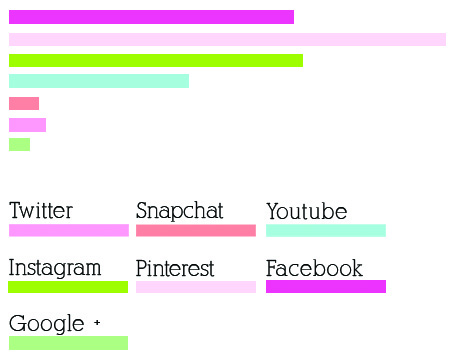 FAVORITE TYPES OF POSTS
Now this is where it really starts to get fun. I asked what kind of posts would you like to see more of in 2017?
By far you all like my DIY/tutorials which is ideal since I'm mostly a DIY blog! Next up with Free Printables, which I have every intention of sharing more this year.
Then, Organization, Home Decor and Fast Crafts all were very closely ranked. Check, check, check!
I did not include this graphic, but you all made it loud and clear that blogging advice and plant/garden posts were NOT your think. (I can't help but share a blog post here and there… I just love sharing about it too much. But I promise to keep those limited.)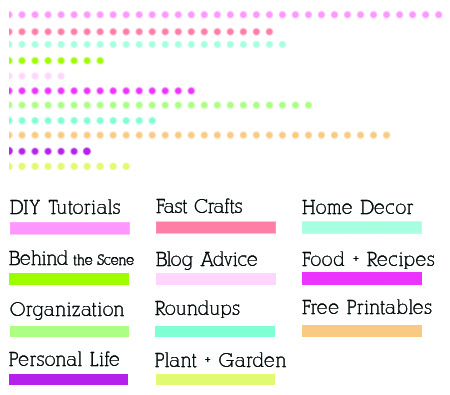 ORGANIZING
Even though I love organizing, I'm in a constant state of purging and re-organzing. I'm happy to know, I'm not alone in this constant battle. Your biggest hangup is "other". Hmm… that's my fault, I should have included a spot for you to fill in what "other" meant. (whoops) Second and third runner up was Closets and Bedrooms, followed by kitchens. Now, I wrote two or three great posts about Organizing your overall kitchen and how to Organize your Kitchen Cabinets. But I think some bedroom/closet posts would be a great idea for this year!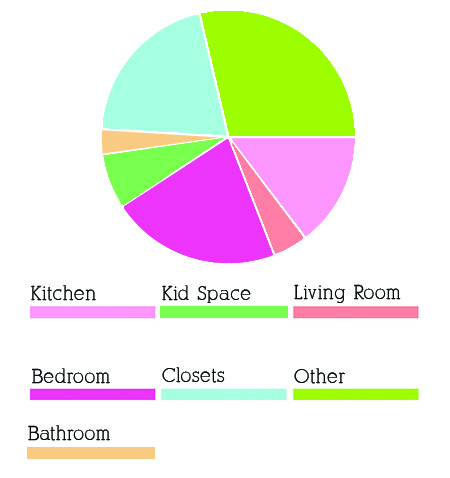 SHOPPING HABITS
This question was helpful for me to just see where you all shop. I tend to shop the big items a little more high end and everything else from Target and various online shops. Glad to see we mostly are on the same page here. Although, I'd love to do some flea market shopping and just rarely make the time to do it.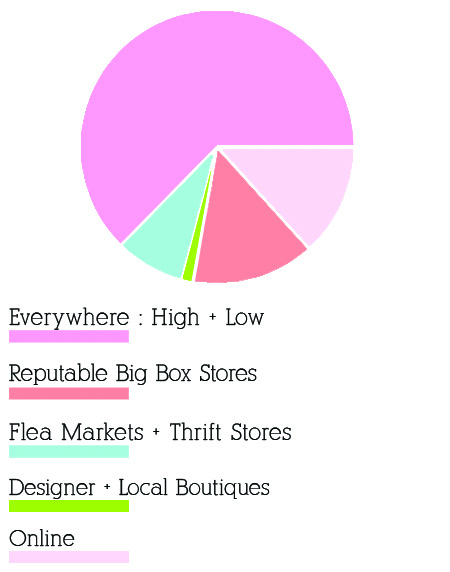 There were some GREAT questions submitted and I think I'll save those for another Friday's post!
PLANS
My plan is to keep providing inspiring and HELPFUL blog posts to you all week by week. I love the feedback this survey gave me and I plan to implement much of it immediately.
I'm working hard again this year on my newsletter, so if you would like my weekly blog updates you can sign up here (if you sign up for my newsletter, you get my free 2016 Hand Lettered Calendar, too!). If you want blog posts going RIGHT to your email, click here.
Please know from the bottom of my heart I am so grateful for you guys and the community you've allowed me to create. Keep going strong in 2017 all!
SaveSave