In June of 2013, my first post went live on Delineate Your Dwelling and it has been the most amazing creative journey from that moment forward!  When I started this blog, I wasn't sure if I would make it even a year and here I am today celebrating my blog's third birthday!!   I am thrilled to be hitting this milestone and want to give back to you all, my readers with a Delineate Your Dwelling's 3rd Year Giveaway!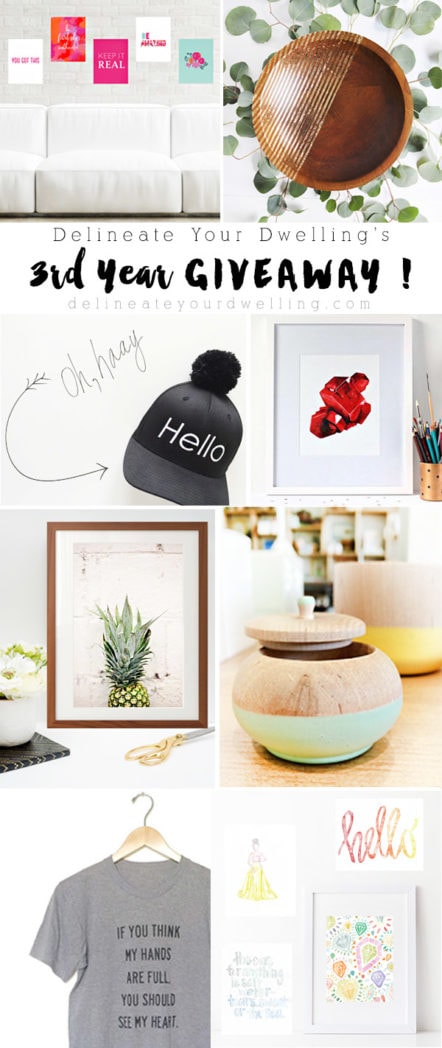 Had it not been for all of your constant support, encouragement, sharing and simple reading of this blog, I would not be where I am and have had the opportunities that I have had come my way.  Delineate Your Dwelling has ignited my creative and business side in a way, I didn't even know was possible.
One of my favorite authors, Shauna Niequest, (must reads 
Cold Tangerine's
, 
Bread + Wine
 and 
Bittersweet
!!) said,
"Passion will only frustrate you if it doesn't find an outlet, so once you locate it, put it to work with a plan."  
Thank you for allowing me to live out my passion!
Now onto the fun part, the GIVEAWAY!  It will be running for a full week starting today and the (8) EIGHT winners will be contacted via email.  Learn more about the amazing items donated and enter on the rafflecopter at the bottom of the post.

BrePurposed – Bre started her blog focusing on gorgeous furniture remakes, but has expanded to stunning DIYs and amazing printables every Friday!  Today, she has graciously donated a set of her new Etsy printable pack in bright cheerful colors.  I think my favorite one is "Be fearlessly authentic"!
Chris + Mary – Chris and Mary co-run this wonderful Santa Monica neighborhood Artisan Gift shop that boasts ethically sound and handmade gifts!  They have contributed 2 pieces from their bright Willful Goods collection.  The bottom portion of the bowls have been carefully hand dipped in a custom mixed rubber. The colored portion is a food safe, soft rubber which makes them durable and slip resistant. The wood is left natural and I love it from top to bottom!
Delineate Your Dwelling – That's me.  Today I am donating a recent project that I am so proud of!!  I had this wooden bowl sitting in a closet for a handful of years and finally got around to beautifying it.  And after I added simple gold leaf stripes, it stops my heart every time I look at it.
Good In Store
 – MJ started Pars Caeli as a place to find the creative in the everyday. From projects you can do with your children to holiday DIYs to fab shirts and prints to add to your life, MJ loves creating a space to imagine and to inspire.  One of the places she's done that at is her new Good In Store shop, full of sharing good vibes all the time!  Today, she's donating this fabulously chic t-shirt with a message to inspire us all!
Mrs Emily – Emily is all about inspiring women to bring out their inner lovely and increasing their confidence all the while through fashion.  Her witty tag line "I put my confidence on just like you, one skinny denim leg at a time." is just one way in which she sets you at ease and comes along side with encouragement and support for her fellow woman.  Today she is donating a modern HELLO cap from her new hat collection… because really who has time to wash their hair everyday?!
Place of My Taste
 – Aniko is a long time blogging friend of mine and the lady has such talent.  She whips up the most amazing recipes, her photography skills are some of the best I've seen out there and her DIYs and room renovations are simply to die for.  And lucky us, Aniko is giving FIVE of her gorgeous
Green Prints collection
in the giveaway this week.
Shrimp Salad Circus
 – Lindsay is amazingly well rounded.  She is a creative spirit who can whip up gorgeous calligraphy in 10 seconds flat.  She loves sharing amazing DIYs, her around the globe travels and shares pictures of all the animals she hugs. #lindsayhugsalltheanimals Are you ready?  She is donating SEVEN 8″x10″ watercolor painting and lettering prints, at a $105 value!  Woot. Woot.
Squirrelly Minds – Along with creating wonderful DIYs, tasty treats and tons of great home decor for her blog, Tan has a passion for watercolor and gemstones.  Which, is very evident when you see this gorgeous Garnet (January's birthstone) 8×10 fine art watercolor painting that she is contributing!!  Full of deep red hues, this would be a stunning piece to hang in your home!
>>> Remember, the more entries you enter, the better your chances of winning! AND THERE WILL BE EIGHT WINNERS FOR THIS GIVEAWAY! < < <
(Please click on the Rafflecopoter giveaway link below, if it does not automatically show up for you.)