Last month I celebrated my FOURTH year of blogging!  I forgot to celebrate with an official announcement, partially due to this big event and partially because #summerliving and I just forgot.  However, after four amazing years of blogging, I decided it was time for a light overall haul.  Welcome today as Delineate Your Dwelling has a new look!
If you are looking for DIY posts, you might want to pass this one.  However, you can check some of these cool projects!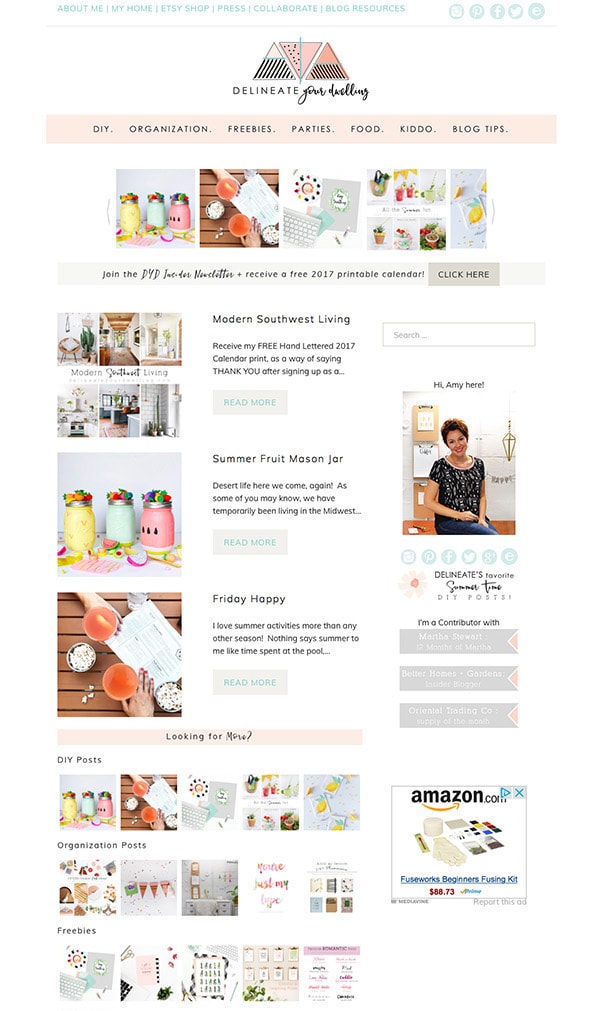 Over the last four years, I have done every single design and website detail 100% myself.  I decided I was going to treat myself to an actual real logo design… BY SOMEONE ELSE!  I was so excited and found a designer via Etsy to start the design process.
I gave her my constructive comments after the first round and off she went with round #2 of logo designs.  The colors were a bit more cheerful.  The patterns a bit more exciting, the fonts were closer to where I wanted to be… but still it wasn't sitting quite right with me.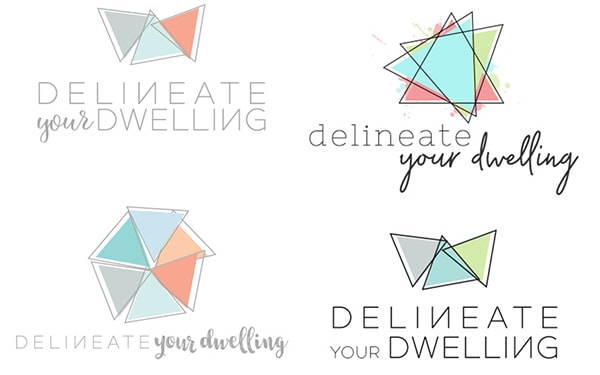 I knew what I wanted, I just needed to take the time to develop my ideas.  I sat down and started sketching.  These were the designs I sent off to my designer.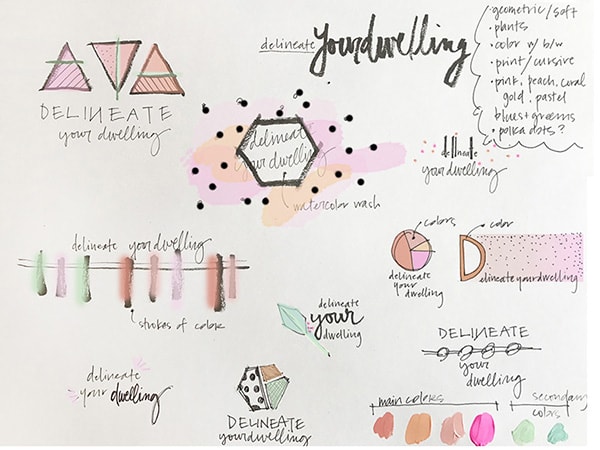 The third draft, which was basically my hand sketches put into the computer were so much closer to where I wanted to head!  I ended up liking the way the last triangle logo looked and spent the rest of my time tweaking that design.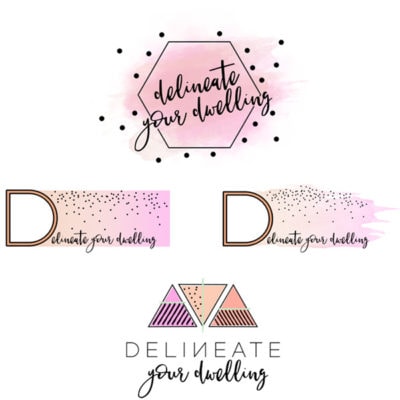 If there is one thing in this world that I have fairly strong opinions on (and I kind of have strong opinions about many design related things), it's color and fonts!
The logo was really starting to come together but as I looked into Delineate Your Dwelling's future, I want to start heading towards less Barbie pink and more back to my personal favorite colors… white, creams, soft pastel pinks, corals, cyan/aquas and black black black.
With those colors in mind and a very particular font direction, I made my final selection… and I am in love with it!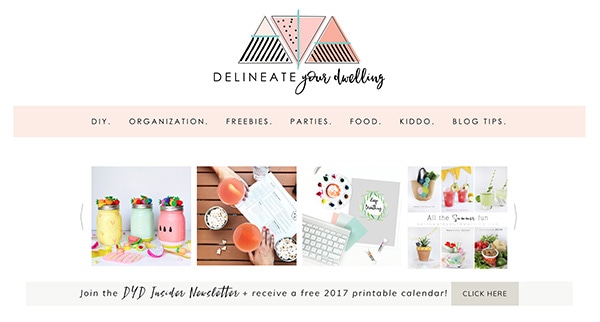 Once my logo was set, I purchased a new theme for my blog from Angie Makes and ended up working with Abby of Abigail Christens for the final web design tweaks.  I was so pleased working with her!
At the top of the main home page is a horizontal slider.  This always shows the last four DIY posts that I have done.  With arrows on either side of it, you can easily scroll through up to 20 posts.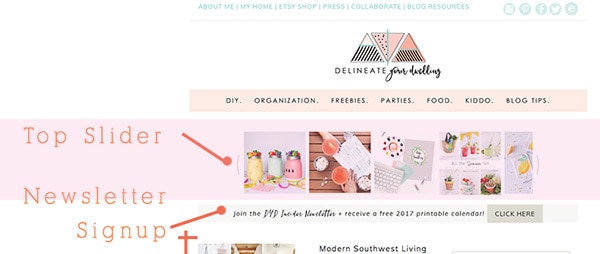 Next is a small bar with my newsletter signup.  If you aren't part of DYD Insider, I would highly recommend it… plus you get a free hand lettered 2017 calendar!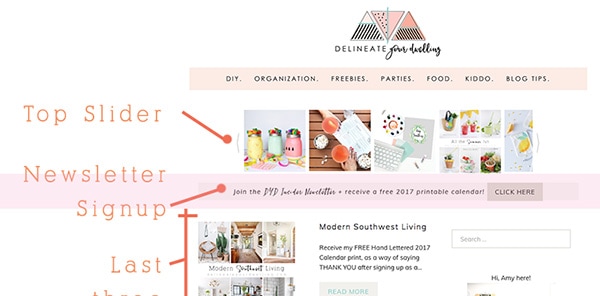 After the newsletter bar, is a vertical section of the last three posts written, regardless of if they are DIY, Party, Food, etc.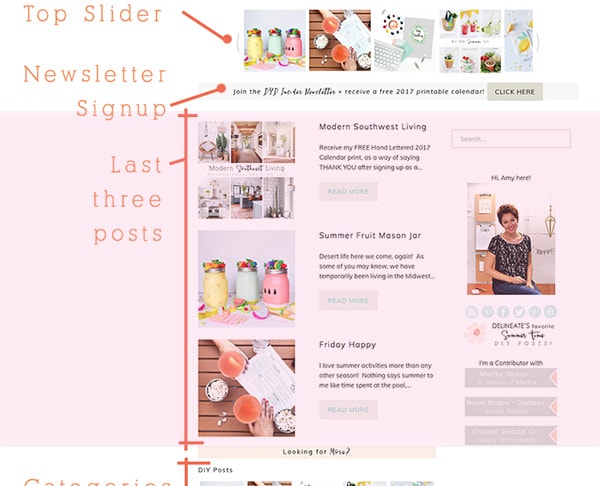 And after the last three vertical posts, I have all six categories from my blog.  They are each showing the last 5 posts for each category.  I am hopeful that this makes navigating my site easier for you, the reader.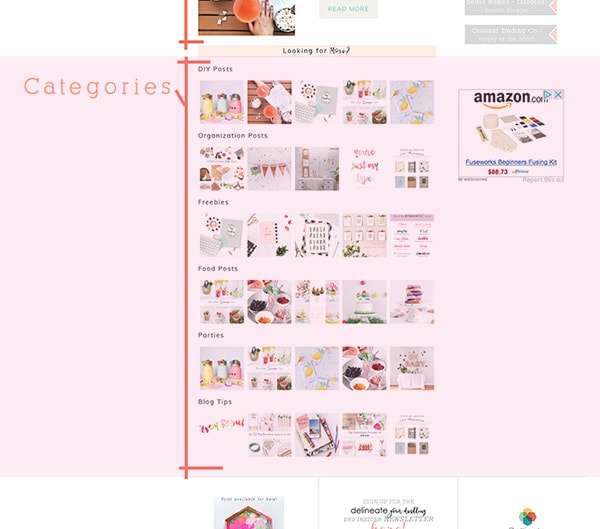 Thank you for sticking with me on this post!
If you are looking for other blog related material, you should head over here.
SaveSave
SaveSave
SaveSave
SaveSave
SaveSave
SaveSave
SaveSave
SaveSave
SaveSave
SaveSaveSaveSave
SaveSave
SaveSave
SaveSave