*I was compensated for this post, however I truly love Itsums.com and fully believe in this awesome site. Plus, I had coffee with the creators and let me say, they are great.*
Each Monday for the last four weeks, I've been slowly sharing my sweet kiddo #1's Sprinkle Themed Birthday Party. And today, I am so excited to share tips on Budgeting for a party with Itsums!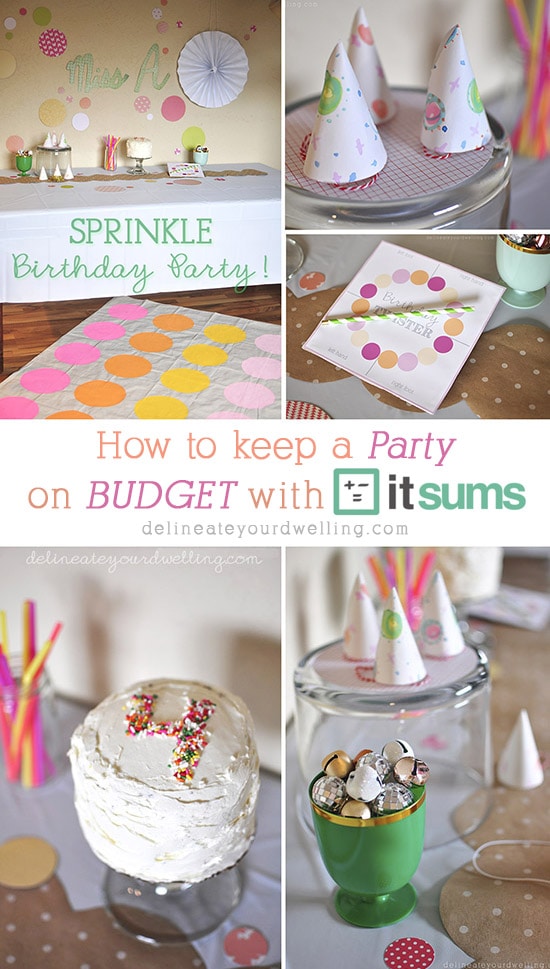 Itsums is a visual site very similar to Pinterest but has an amazing budgeting component to it.
Number 1.
It's so user friendly and I love they have a video along with some great tutorials on their welcome screen under the 'How it Works' tab. So even the less techie folks can use this site with no issue!
After reading all the fun features, you download your 'itsums' button to your browser's bookmark bar. Now whenever you are searching the internet whether on Westelm.com or Amazon.com or Delineateyourdwelling.com you can pin items or ideas to your Itsums boards!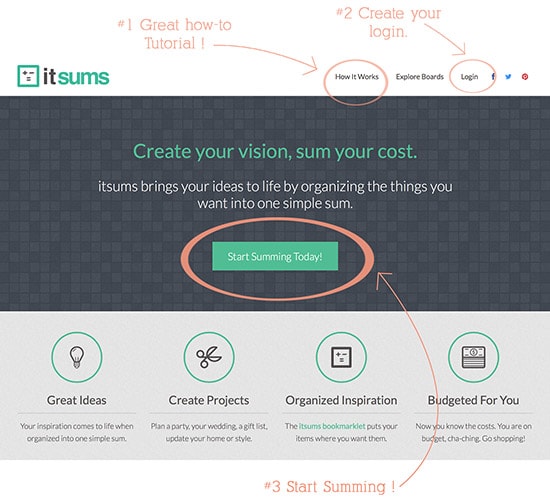 Number 2.
Creating a FREE account only takes moments!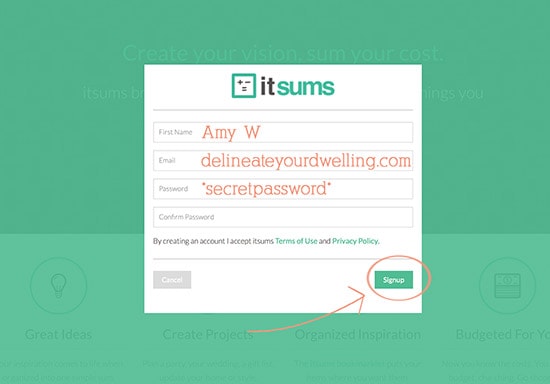 Number 3.
You are now ready to start summing!
For kiddo #1's party, I wanted to track my spending. It's so easy to buy a few small items here and there and suddenly you've got an expensive party on your hands. So, I gave myself a $100.00 budget (This includes gifts I planned on purchasing, too. With all the gifts our kids receive from extended family, I always go very minimal on gifts from us.)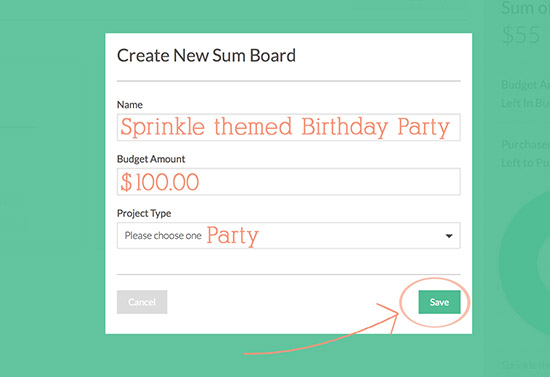 Now, comes the fun part! Once on your board, you can create color coded categories that show up in a fun pie graphic on the right hand side. You can see, I created categories like food, activity, decor, gifts, etc. As you add new items to your board, it asks for the price and the category.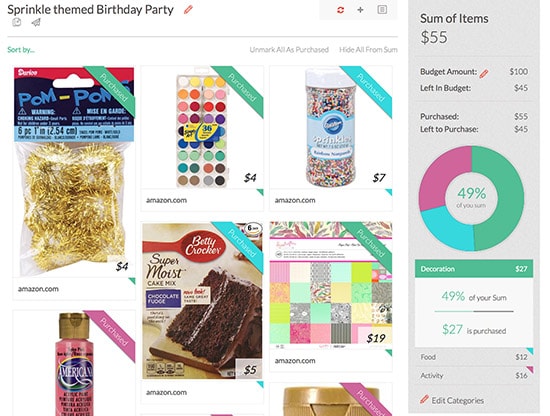 In real time, the pie graph updates showing you how much of your budget is spent on each category. It's so help, friends!!
I quickly realized my entire party was going to be spent on decor and with a quick delete, I added in other important party items like, SPRINKLE CAKE!!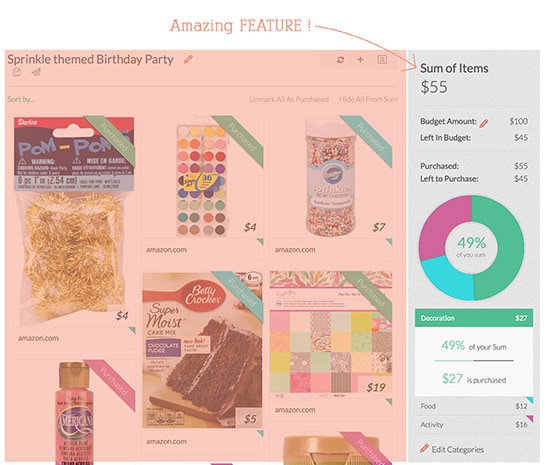 I loved being able to so easily see now only what I was buying, but how it broke down into each category. After using Itsums, I am happy to report that I had fun Sprinkle decor, an adorable Sprinkle Cake, a custom DIY Twister game, party hats and gifts all for $85.00! I GUARENTEE had I not so easily been able to track my purchases, I would have way over spent.
Can you imagine using this come Christmas time? A board for each family member? It's going to revolutionize my gift giving. You can also share boards and get ideas from other users. I've already got a few other boards in the works. Now, head over and sign up for Itsums and start summing!