I recently was visiting with some friends and one of the mama's leaned in and whispered to us all.  "My husband was thinking about canceling our Amazon Prime membership."  We all gasp in unison 'NO WAY'.  She says, "I know, right?!  What was he thinking!"  Well friends, if you do even occasional Amazon shopping, becoming an Amazon Prime member might be a good idea for you.  And today, is the third annual Amazon Prime Daaaaay – so you are in luck.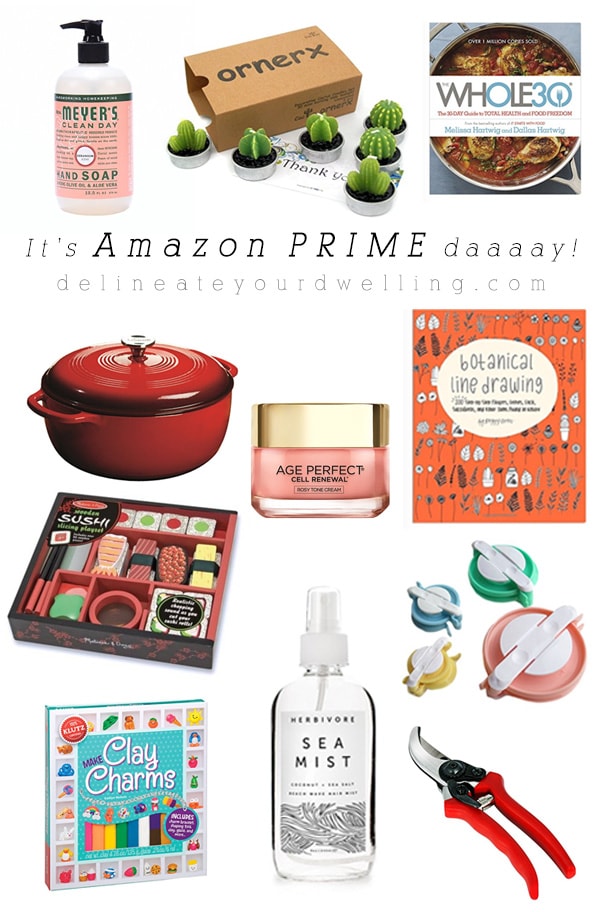 The two day free shipping is by far my very favorite Amazon Prime perk.  I also love their instant video streaming.
I have yet to try their grocery shopping, have you tried it out yet??  Let's face it – overall, Amazon is pretty dang amazing.
Okay, basically if you are a prime member, you can get some crazy deals today and today only.
Here is a list of some of my fave faves!!  Happy two day free shipping shopping.  (ha)
This post contains affiliate links. See my full disclosure.
Cactus Tea Light Candles | Botanical Line Drawing book | Pom Pom Makers
I went to school for landscape architecture, so I'm pretty good at drawing plants.  Even still, when I saw this botanical line drawing book, I was so excited!!
Age Renewal Cream | Lavender Sea Mist hair spray | Geranium Hand Soap

Good grief.  I'm to the age where I'm seriously starting to need some attention to my skin, aka wrinkles.
Enameled Cast Iron Dutch Oven | Whole 30 Book | Hand Pruners
I have LOVED cooking with this Enameled Cast Iron dutch oven.  It makes me feel so very fancy!
Kid's Clay Charm book | Kid's Sushi making kit | Race to the Treasure
Our new favorite game to play with the kiddos is this Race to the Treasure game!  It's such fun for young children!