I'm excited to welcome Devon + Lisa today from Inspired Interiors Studio, an Interior Design company!  They've guest posted a few times last year and I really appreciate their on-point sense of style.  Beyond local Interior Design projects, they also have an E-design business.  If you struggle with how to layout your room, can't figure out what artwork to put on your walls or need a start to finish interior design, these ladies have you covered.  Today they are sharing their 2016 Must Have Home Design Trends!
Each year we are eager to see how the design industry continues to evolve, how we can creatively push the envelope, and what new, innovative tools are at our fingertips. Today we are excited to share 5 up and coming design trends that really caught our eye. You won't want to miss out on these in 2016!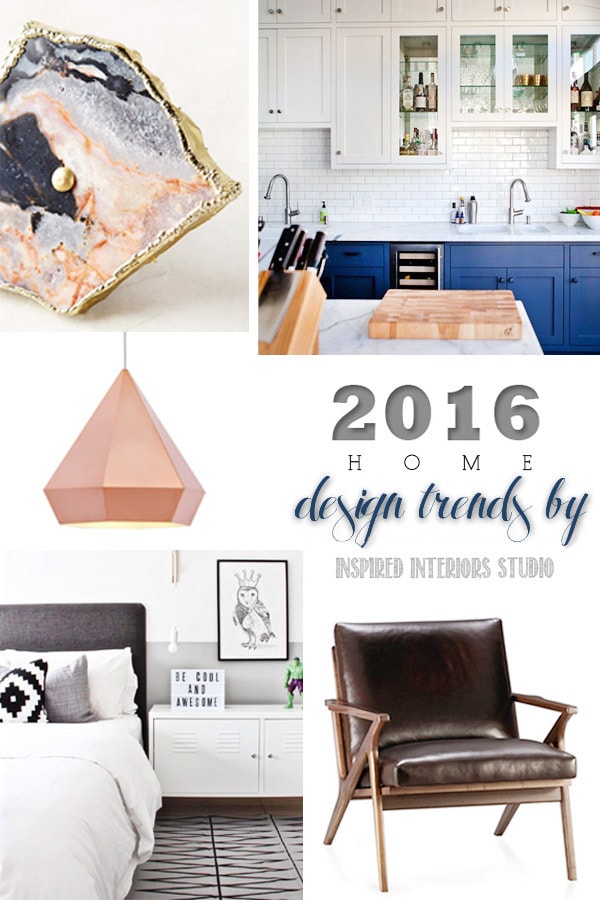 This post may contain affiliate links.  See full disclosure here.
Rose Gold : While the use of shiny metal is always a go-to design staple for your home, the latest and greatest color and finish vary from year to year.  As you know, high-gloss gold and copper have been the most recent frontrunners and while they are still considered current, rose gold is making a pretty big entrance onto the scene.  The finish first began influencing the jewelry and fashion marketplace, but didn't take long to start popping up in the interior world too.  You can find rose gold used in anything from accent pillows and decorative objects to furniture and lighting.  So clear some space on your shelves and in your homes and start mixing in these inspiring rose gold items today!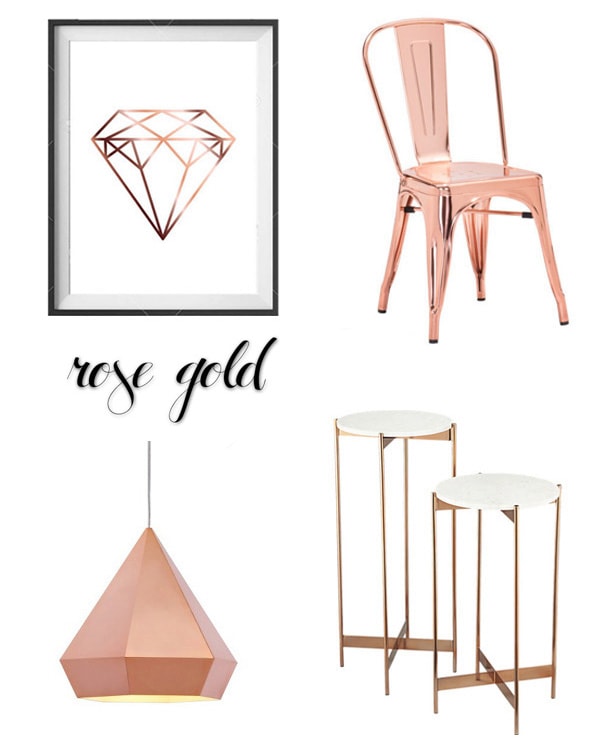 Metal Chair / Pendant / Art Print / Side Tables
Two-Toned Kitchen Cabinets : If you're looking to add some visual interest to your kitchen, consider the design trend of incorporating two-toned kitchen cabinets in your space. Some of the different ways to mix and match your cabinet designs include utilizing different types of materials such as natural wood, framed out glass, or stainless steel metal, painting your cabinets different colors, or bringing in different types of finishes such as white-washed, high gloss lacquer or a matte finish. Some installation approaches in achieving this look include creating a focal point in your kitchen by accenting the cabinets at your sink or kitchen island or by differing the top cabinets design from the bottom cabinets. We have highlighted a few inspiring kitchens that successfully exemplify the two-toned cabinet look below.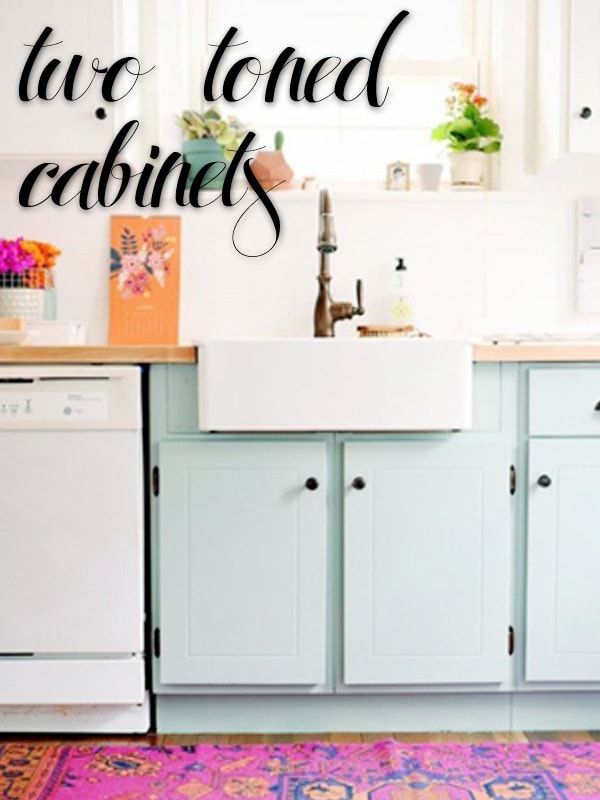 White + Wood / Navy Blue Base Cabinets / Open Shelving with Sliding Glass / Light Blue Base Cabinets
Menswear Fabrics : There's no denying that the fashion world and the interior design industry have many things in common. After all, both industries heavily rely on the use of fabric as a defining characteristic. As of late, we have noticed menswear fabrics emerging in the upholstery of furniture, bedding, and even drapery. This masculine touch can give a space a sense of sophistication while providing a nice balance to brighter and/or feminine design. Worn chocolate colored leather often seen in a classic bomber jacket provides a soft, comfortable landing, a nubby tweed adds texture to a sofa, and wool provides a sense of warmth when used in an interior setting. The quintessential menswear fabric patterns such as pinstripe, herringbone, and plaid are simply timeless designs regardless of the application.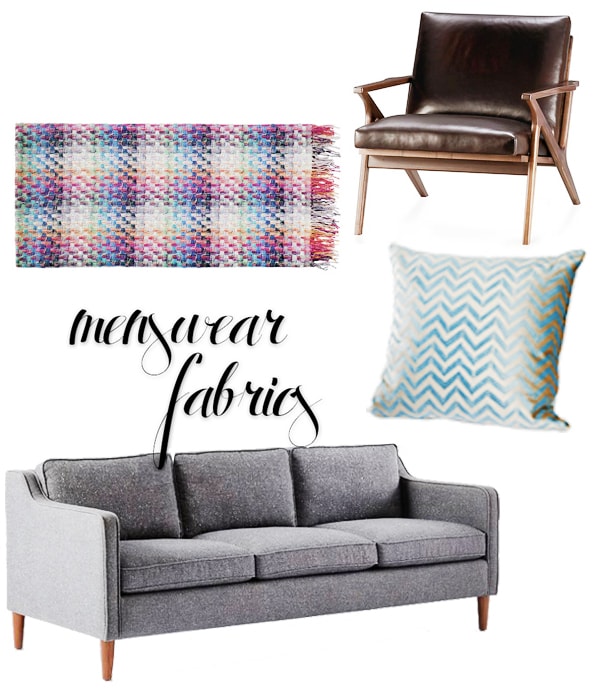 Leather Chair / Tweed Sofa / Herringbone Pillow / Wool Throw
Minerals and Semi-Precious Stones : It has long been a tradition to include natural materials in interior design as they bring the outdoors in, keep us deeply connected to this planet we call home, and provide a beauty unparalleled to man-made materials. The recent emersion of minerals and semi-precious stones adds a sense of wonder to a space and provides a touch of elegance. Minerals and semi-precious stones are good candidates for accessory items such as bookends and display collectables or even as framed artwork hung on the wall. They are also being incorporated into casegood designs where the mineral pattern is translated into the finish of a piece or used in full as a unique hardware element. Agates are also appearing in wallcovering patterns. We encourage you to add a little sparkle to your space in 2016 with one of these unique "gem" applications!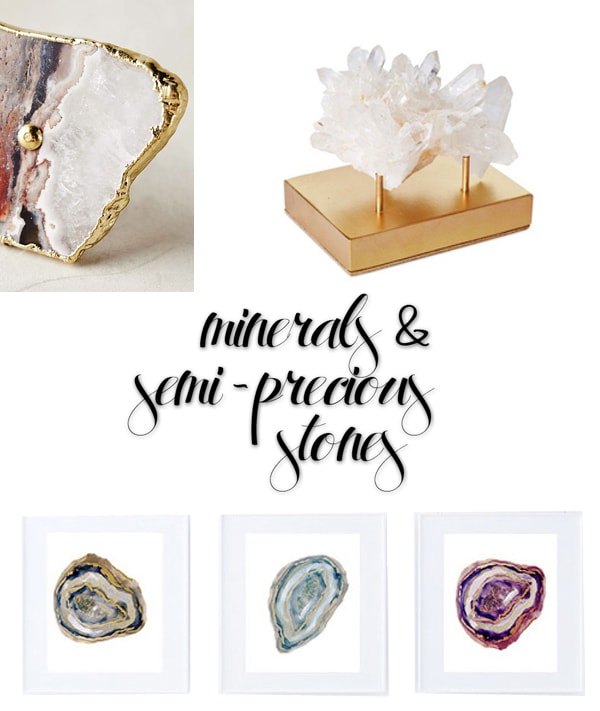 Agate Wall / Geode Knob / Quartz Object / Agate Art
Monochromatic palettes: At first, some may think a monochromatic palette is bland or downright boring. We can assure you that not only is that not the case, but that it is quickly becoming a hot trend for 2016! A monochromatic color palette is choosing one base color from the color wheel and only incorporating tints, tones, and shades of that particular hue. When choosing the base color be mindful of the space you are designing, what that color means to you, and how that color makes you feel. Your base color can be inspired by a piece of artwork, an existing furniture item, or even an accent pillow. Beware of sneaky undertones that may cause seemingly "same colored" items to clash. The beauty of this palette is it isn't specific to one design style and it can be applied to designs of all tastes. You will find the many variations of your chosen color will sing in harmony and the layering of multiple patterns and textures will give the space the visual interest it needs.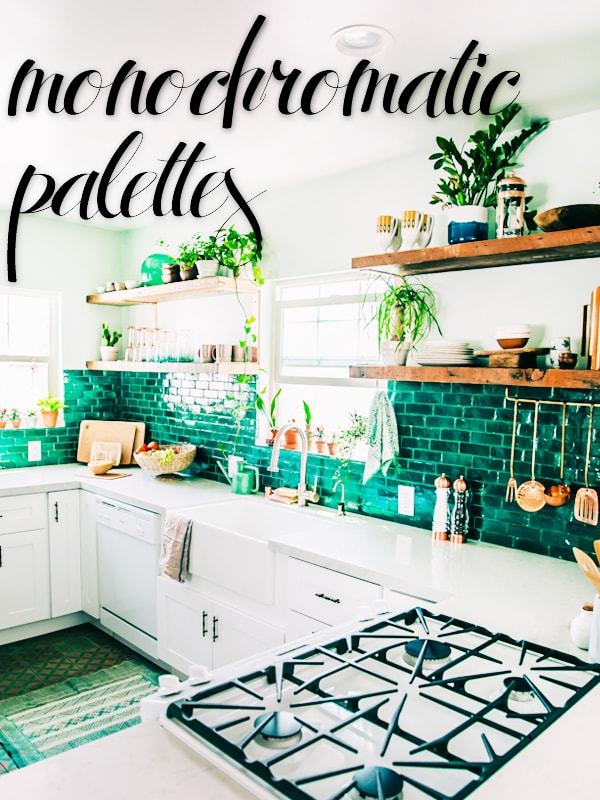 Bedroom / Entry / Kitchen / Living Room
Thanks for having us today, Delineate Your Dwelling!!
For more inspiring design, connect with us at : Instagram / Facebook / Pinterest / Twitter
Cheers!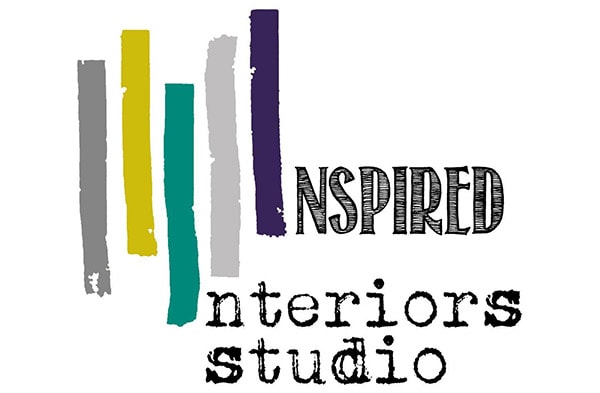 Thanks so much Lisa + Devon.  I love getting the latest trends as the year starts and there is no surprise at all, that  I love them all!  Thanks so much for stopping in today, Inspired Interiors.  Be sure to stop by their site and check out some of these amazing services.